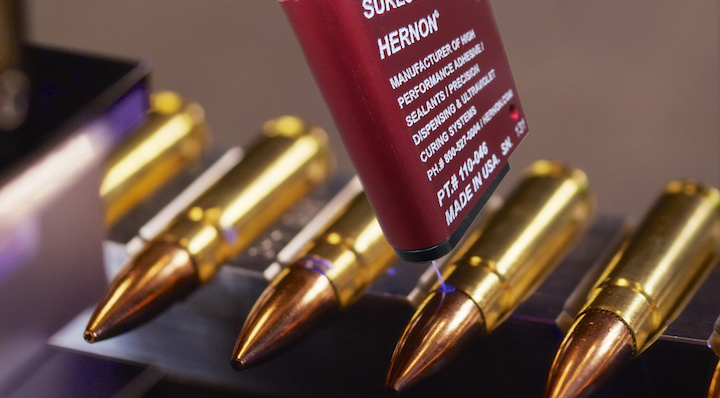 The pressure of supplying adhesive and sealant solutions for everything from aircraft parts to a soldier's ammunition box could be overwhelming for some, but Hernon Manufacturing's reputation for high quality helps Sales and Marketing Director Edgardo Rodriguez sleep well at night. He knows his customers are well cared for. "I'm proud of being able to solve customer problems with unique solutions," he says.
This reputation for quality has been established over the last four decades. Brothers Harry and Josef Arnon established the company in 1978 in the Bronx, New York, and later relocated to Sanford, Fla., in 1989, where it has been located ever since. Hernon Manufacturing creates specialty adhesives, sealants and other liquid chemical products. Hernon® also began producing its own precision dispensing and curing equipment about 12 years ago, transforming itself into an end-to-end solutions provider for its OEM clients.
Many of Hernon's adhesives can be applied using tools as simple as a paintbrush, but most Hernon® customers are large-scale manufacturers who require precise automated dispensing machines. The dispensing equipment is often integrated directly into the customer's production line but it can also be set up to function as standalone or modular units. These customers also demand responsible manufacturing from their suppliers which is another reason they come to Hernon®. Sustainability is one of the company's core tenets. Hernon® produces many environmentally friendly adhesives with non-ozone-depleting, 100 percent solid formulas. In some cases, Hernon® even offers eco-friendly equivalents to competitors' products.
Industries Served
Virtually every manufacturing industry benefits from the use of adhesives and sealants to reduce costs and increase production speed. The automotive, electrical, electronics, communication and power generation industries all use adhesives and sealants. Aerospace manufacturers and the transportation industry in general count on adhesives to replace metal connections as part of their light-weighting programs, as aircraft and vehicles become larger, stronger and more complex.
Hernon® is also a world leader in several sub-industries such as ammunition sealant technology. Within this industry, Harry Arnon, company president, estimates 90 percent of all major ammunition manufacturers use Hernon® sealants. Notable customers include Winchester, Remington, ATK, RUAG and Ammotec just to name a few. Through these customers Hernon® ammunition sealants are ultimately used by militaries, special forces and elite policing units worldwide. "We are very pleased to help support those who protect us, our nation, and our allies," Marketing Coordinator Drew Richards says.
End-to-End Service
When adding capabilities to their production processes, manufacturers want confidence that components will work together seamlessly. Because Hernon® manufacturers equipment, adhesives, sealants and curing technology, comprehensive solutions are optimized well in advance of implementation and the chance of surprises are minimized. One example of the positive synergy that happens when a single company provides an entire solution comes from ultraviolet (UV) curable adhesives.
UV sensitive materials rely on photo initiators mixed into the material to trigger the curing process. These particles are designed to be sensitive to specific wave lengths in the light spectrum. Most of the UV curing lights for manufacturing utilize LEDs which output a narrow range of the light spectrum. If the adhesive and curing light are not aligned to the same wavelengths, curing can be inconsistent and unreliable. This is sometimes a problem if you get materials obtained from one vendor and UV lights from another. However, when Hernon® sells a dispensing and curing machine, it can also keep the manufacturer supplied with UV adhesives optimized to respond to the specific wavelengths emanating from the UV cure lights installed. This ensures fast, consistent curing results and a better product for the manufacturer.
Buying from a single company also consolidates the supply chain and strengthens the relationship between buyer and vendor. When using different suppliers for the equipment and the materials, there's always the chance that something will go wrong. Different vendors increase complexity in a project and create the opportunity for miscommunication. "The engineers who build our dispensing equipment are also educated in the chemistry that is involved in the dispensed materials, so we are able to provide accurate dispensing solutions created with all aspects of the application in mind," Rodriguez says.
The Extra Mile
Hernon Manufacturing maintains an entire material library, which consists of more than 5,000 formulas for adhesives, sealants and specialty products. Hernon's experts understand the properties of these products and can help customers determine which ones best fit their needs. If no existing product matches the customer's requirements or environmental conditions, then Hernon's lab can create a custom formula to meet the need.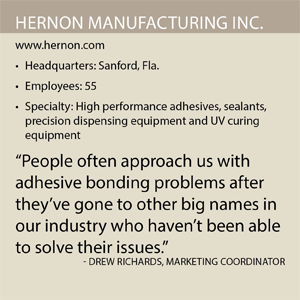 "People often approach us with adhesive bonding problems after they've gone to other big names in our industry who haven't been able to solve their issues," Richards says, adding, "It is our willingness to partner with our customers by researching their problems and creating new custom adhesives that helps to set us apart from the 'one size fits all' attempts of other adhesive companies." With 38 years of operations in balancing stress distribution, corrosion prevention, the elimination of vibrational loosening and much more, Hernon's team knows know how to provide products for any application. In addition, when customer orders include dispensing equipment, Hernon's team follows up delivery by offering hands-on training to customers on how to use the devices, maintenance and, when applicable, how to initiate remote assistance.
Innovative Technology
New technologies and manufacturing processes such as the onset of composite materials necessitate advancements at every step of a manufacturer's supply line. Hernon® works to stay at the forefront of adhesive curing technology so it can match those changing requirements and anticipate future trends.
"We are seeing huge opportunities in liquid UV Form-In-Place and Cure-In-Place Gasketing materials now," Rodriguez says. UV Gasket provides excellent adhesion to metals, glass and to plastics such as polyester, PVC, cellulose acetate or nylon. This product is solvent-free and can be completely cured in seconds. UV Gasket can be used in oil and coolant systems. Typical applications also include engine covers, oil pans and other fluid seal systems.
The application process is simple. A single bead of Hernon's UV Gasket sealant around the circumference of a seal ensures a tight, liquid resistant closure. The bead cures in seconds with exposure to a UV curing light. After curing, the flexible seal can be handled or used right away. The flexibility of the product allows for a seal of any size or form without the need to stock multiple shapes and sizes of preformed solid gaskets. This eliminates a lot of design, shipping and inventory costs associated with the limitations of solid gaskets and O-rings.
Collaborative Process
Effective customized solutions are possible because of the way Hernon® brings together its sales staff, engineers and chemists. Clients may start off working with Hernon's sales team, but the company's engineers are uniquely available to customers to ensure clear communication. The salesperson handles the business side of the agreement but is often not the most knowledgeable resource when it comes to the actual application of the adhesive or sealants so the company encourages customers to have direct contact with its engineers.
Customers might initiate the buying process by visiting the Hernon® website (www.hernon.com) but the company closes every sale off-line. Giving clients a human point of contact enables Hernon® to better understand how the adhesives will be used and ensures the right product is provided.
Hernon's collaborative approach truly shines in cases where no existing products fit the customer's specifications and a custom formula is necessary. The length of the development process for a custom adhesive varies with the products' requirements, often taking between six months to a year-and-a-half to complete the formula, test and certify materials. During that time, Hernon's engineers are in constant contact with the client to refine and perfect the adhesive and then create the best dispensing solution. Samples are sent to the customer for testing and everything is finalized before production begins.
Depending on the use and chemical makeup, some products require government certifications and third party testing before they can be approved for use. Hernon® is familiar with this process and in fact the National Sanitation Foundation (an independent testing organization) recently approved one of Hernon's most popular pipe thread sealants, Dripstop 940, for potable water use. Another third-party organization has also confirmed the 940 formula as effective on diesel exhaust fluid (D.E.F.) systems.
Global Growth
Hernon® has long maintained a worldwide presence, but its global reach has grown substantially in recent years. Since 2012, the company has gone from shipping to 23 countries to shipping to more than 50 countries today. Its international success earned the President's "E" Award in 2015, the United States of America's highest recognition for contributing to the expansion of U.S. exports.
Rodriguez credits the company's export growth to its ability to form partnerships overseas. "We reached out to export companies and distributors in target markets and succeeded in recruiting local representatives, who best know their markets and cultures, to be the global face of Hernon®." he notes. Hernon® has also had success in lowering the cost of its dispensing equipment and fluids, opening up the growing manufacturing markets in Asia and South America.
Hernon® is growing at home as well. The company recently completed a year-long, $2 million expansion of its Sanford, Fla., headquarters and manufacturing plant in early 2016, which increased the size of the facility by 160 percent. Also, $500,000 spent on equipment enabled the company to triple its production capacity.
The investments in its facilities and its reputation for empowering employees have earned Hernon® recognition as a premier employer. In August, the Orlando Sentinel named Hernon® one of the top 100 workplaces in Central Florida. Then, in October, Hernon® was awarded the Small Manufacturer of the Year Award by the Manufacturing Association of Central Florida (MACF).
The company continues to build on its reputation. With the expansion completed and production capacity ramping up to meet anticipated increases in demand, Hernon® is well positioned to continue its consistent growth. The company expects to add another 20 employees over of the next two years. "In the last four years, we've had an average of double-digit growth in sales," Richards says. "And we have a strong plan going forward; now we just need to execute it."