Geared up for growth
One of the largest manufacturers of landing gears in the world, Héroux-Devtek is the supplier of choice for a host of blue chip companies in the commercial and military aerospace sectors
Having begun its journey in 1942 as Héroux Machine Parts Limited, 2017 marks the 75th anniversary of the company today known as Héroux-Devtek. Originally specialising in the machine tooling of aircraft components, one of the early milestones of the company was being tasked with the manufacturing of landing gear for the Apollo Lunar Module in the late 1960s. In 1986,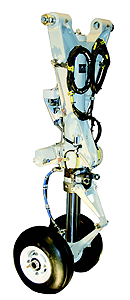 Héroux Inc. became a publicly traded company and following two decades of targeted acquisitions it took on the name Héroux-Devtek in 2000 following the purchase of Devtek Corporation.
"Today we are a leading international company when it comes to the design, development, manufacture, integration, testing, and repair and overhaul of landing gear and actuation systems and components for the aerospace market," begins Héroux-Devtek UK Managing Director, Gaétan Roy. "With 1400 employees working in our 13 facilities worldwide, we are the third largest landing gear company in the world, supplying both the commercial and military sectors. In addition to this we also manufacture hydraulic systems, fluid fluid filtration systems, electronic enclosures, heat exchangers and cabinets for suppliers of airborne radar, electro-optic systems and aircraft controls."
In the more recent past, Héroux-Devtek sold its Aerostructure and Industrial Products operations to focus specifically on landing gear, and subsequently acquired the company APPH in the UK, an integrated provider of landing gear and hydraulic systems and assemblies for original equipment manufacturer and after-market applications. This development comes at the same time as the announcement that Héroux-Devtek had been awarded the contract to supply the complete landing gear for the Boeing B-777 and B-777X, the largest contract the company has been awarded to date.
"From humble beginnings 75 years ago, the company has grown into a key solutions supplier to most of the key industry players in the commercial and military aerospace sectors," adds Director of Business Development, Hugo Lorrain. "In North America, we do business with the likes of Boeing, Lockheed Martin, Northrop Grumman, Sikorsky and Bombardier. In Europe, we are equally proud to be working closely with BAE Systems, Leonardo, Saab, Airbus Helicopters and Dassault, while from a global perspective we work with companies including Embraer in Brazil, HAL in India and KAI in South Korea."
Asked about what it is that gives Héroux-Devtek a competitive edge in the marketplace, Gaétan sees it as being twofold. "First of all, our two joint engineering design and test facilities, located in Canada and the UK, are increasingly making us a partner of choice for the design and qualification of complete landing gear systems. The advantage of having engineering capabilities in two different time zones, serving a different customer portfolio, allows us to be closer to our customers. Moreover, since the tools and technology are the same, we have the opportunity to collaborate between our two engineering offices, allowing us to share the workload and taking advantage of a longer workday, in addition to sharing best practices and lessons learned.
"The second aspect is our manufacturing and operational capabilities. Héroux-Devtek grew though acquisitions and for every transaction, the approach has been to create centres of excellence so that each facility can focus on what they are the best at. For example, we are strategically investing in the automation of surface treatment equipment and machining with a flexible machine system (FMS) to foster competitive centres of excellence. We simply buy the best available equipment to efficiently produce the right product in the right facility. "I also believe that our entrepreneurial culture helps us to create a hands-on stimulating workplace. This is a key advantage when we need to operate into a nimble and flexible environment especially for development programmes.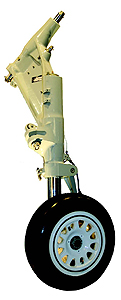 "This is why, shortly after the recent UK acquisition, we put in place an operational improvement plan to transform our Runcorn facility into a center of excellence for finishing and assembly of small to medium landing gear. Some significant investment was made with the implementation of a full integrated MRP system, the expansion of the facility and deployment of operational best practices and extensive training. As you can imagine, this did not happen overnight and we are very proud of this transformation. It has been a two-year journey during which our employees, our suppliers and our customers have been very supportive."
Each of the company's site has a different core capability, split across three different divisions which can operate independently. Each of the three divisions (UK, Canada and USA) has a complete landing gear finishing centre allowing it to carry out all the coordinating activities such as Programme Management and Supply Chain along with the plating of parts, assembly and testing of landing gears. Each centre has its own network of internal machine shop feeding parts to the finishing centres. In a multiple operation environment such as this, senior management oversight is crucial in order to ensure that everything integrates seamlessly, and that the company benefits from all the possible synergies and opportunities. Héroux-Devtek's lean structure allows it to perform efficient periodic programme and operational reviews, and execute its plan inline with its customer's priorities. In short, the concept the company embraces is the idea of possessing maximum local flexibility and maximum global mobilisation in order to meet one global objective.
"Our UK operation has been at the forefront of our global strategy to increase revenues on key platforms," Hugo states. "Our marketing efforts are aimed at winning additional build-to-print and built-to-spec work in order to balance the business risks and investments. Consequently, we have been very successful at winning new contracts. For example, we have been awarded a design and manufacturing contract by Saab for the their latest Gripen variant, the Gripen E.
"We have also been awarded the landing gear design and development for KF-X, in collaboration with our in-country partner Hanwha. This contract allows us to once again demonstrate our technical expertise, whilst developing new business relationships with partners and OEMs in Asia. Finally, we have been awarded a build-to-print programme on the KC-390 for Embraer in Brazil to make virtually all the structural parts on the landing gear. These work packages further confirm our position as a world leader."
Based on the key market statistics, such as traffic forecasting and aircraft demand, Héroux-Devtek believes it is still in a growth cycle. As design and development programmes make their way through the various steps leading to production ramp-up, the company will generate more revenues from proprietary programmes and also will generate more free cash flow as development costs have mostly been incurred. With its revenue-based balance between the commercial and defence markets, geographic diversification and solid business relationship with many of the world-leading OEMs, Héroux-Devtek is well positioned to capture any business opportunity that may arise.
"Héroux-Devtek is dedicated to building a sustainable future with our state-of-the-art facilities, talented employees, and positioning on several leading programs, a growing number of proprietary products and a solid relationship with global OEMs," Hugo adds. "Another key element of this strategy consists of growing our sales to proprietary products. Five years ago, such products accounted for about ten per cent of our sales. With the acquisition of APPH at the beginning of 2014, it rose to approximately 25 per cent on a pro forma basis, and in our fiscal 2017 budget it represented about one third of our revenues.
"In a nut shell, our focus will be on executing the entry into production and the ramp up of new programmes in order to deliver a C$500 million milestone in fiscal 2021 based on our existing contracts. Our financial strength allows us to remain very active on the acquisition front. We are always looking for acquisitions that would complement current activities while also further enhancing our product portfolio and expertise."
Héroux-Devtek
Products: Landing gear and actuation systems