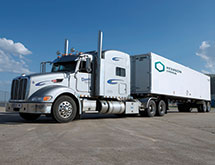 Dave Myers, the business development manager of Hexagon Lincoln, made a very true statement when he said, "Every time the cost of logistics goes up a penny it affects everybody."
From the transportation companies themselves to the end-users who those goods are being transported to, when logistics costs go up, everyone's costs go up. With its innovative products, Hexagon Lincoln has been helping its customers push those logistics costs down.
Today, Hexagon Lincoln's product lines include Tuffshell® for CNG vehicle fuel tanks. TITAN™4 and SmartStore™ for gas transport, which Myers describes as "mobile pipelines" for natural gas.The goal with the containers is to transport as much natural gas as possible at the lowest cost. Myers explains that for years, steel has been the preferred method, but Hexagon Lincoln chose a different route. One that would get the job done more efficiently.
"Our tagline is 'move gas, not steel,'" Myers explains. "Because we're using composite technology, we can hold more gas because of the lighter weight of the unit. It takes somewhere between two or three steel units to move as much gas as our TITAN™ 4modules."
Expanding with the Industry
Up until  2010, Hexagon Lincoln's product offerings in the United States has been limited to its Tuffshell® line of vehicle fuel tanks for CNG. With the building of a new 150,000-square-foot facility in late 2014, however, that will change.
"We are building another building to accommodate the expansion of our gas distribution products: the TITAN™ 4; TITAN™ 5, which is a trailer; and the SmartStore™," Myers says. "We've been selling those in the international market and have seen international demand increase. In North America we started with one product, the TITAN™ 4 and took the last two years to gauge what the market wanted – if they wanted bigger or smaller or both. We now have sufficient feedback from our North America customer base and it turns out they want both, too. Some need bigger and some need smaller."
This new facility will leverage all of Hexagon Lincoln's in-house capabilities. The company's team of engineers is involved in every aspect of composite technology, such as monitoring trends among customers, regulations and standards set for the industry. In addition to using the latest tools, Hexagon Lincoln engineers can communicate with major CAD programs.
In its manufacturing process, Hexagon Lincoln's experienced operators work with custom filament-winding machines that the company says are the world's fastest. It uses proprietary software in its production process. When it comes to quality assurance measures, the company's in-house testing includes hydrostatic proof, leak testing, cycle and burst capabilities, drop testing and environmental and resin testing.
As the company expands, Myers says it will be able to hire more people to help it keep up with growth.
"The company has grown quite a bit over the last couple of years and it's allowed us to hire more people, which is a good thing," Myers says. "When the economy was down, we were still hiring because of the kind of business that we're in so it certainly helped the local economy in Lincoln, Neb., and we continue to hire as we grow. The natural gas industry is growing for vehicle fuel and it's growing for transport, which is what we do. We are concentrating on getting natural gas to our existing customers and to those who have never had it before."