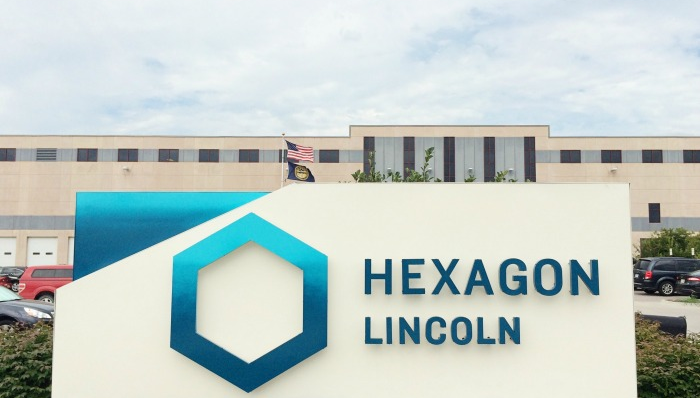 Hexagon Lincoln LLC designs, tests and manufactures high-pressure fuel and storage tanks for compressed natural gas (CNG). The Lincoln, Neb.-based company (formerly known as Lincoln Composites) is part of Hexagon Composites Group, which started in the aerospace industry more than 50 years ago manufacturing filament-wound pressure vessels.
"It feels good to be a part of a company like Hexagon Lincoln," Dave Myers, sales manager for North America, says proudly. "Certainly a company in today's world that has been around for this long is a feat. But for many companies this longevity doesn't happen, and for those that were started 40 or 50 years ago they have now gone away. So it's nice to be involved with a company that has been around, is well managed and financially stable."
Hexagon, Lincoln has had many names over the years, including Brunswick, Lincoln Composites and General Dynamics Myers says. "About 25 years ago, the company developed the first all-composite pressure vessels primarily used in natural gas vehicles. Lincoln Composites left the aerospace industry nearly 15 years ago and has since become the largest global manufacturer of what is called a type-4 pressure vessel."
The company's product lines include Titan®4, an ISO style shipping container that contains four tanks, and can be transported via rail, truck or ship. Its Titan®XL is a trailer and SmartStore® is a smaller ISO style module for gas transport, which Myers describes as a "Mobile Pipeline®" for natural gas.
"Our tagline is 'move gas, not steel' because we're using composite technology, meaning we can hold more gas because of the lighter weight of the unit," Myers says. "With our Mobile Pipeline® products we are the world's largest manufacturer of composite gas transportation products and have since expanded the availability of those in the USA and Canada."
Hexagon Composites recently acquired Xperion, a German manufacturer of type-4 pressure vessels. The merger increases the company's manufacturing capacity internationally, according to Myers, because Xperion's plant is located in Germany. "The integration is ongoing process, but there is a lot of potential with this merger due to Xperion's manufacturing capacity in Germany," he says. "That also includes bringing additional people on board with a lot of international experience, mainly in Europe and parts of Asia where they have customer bases. Ultimately, this will add to the globalization of our company, as our corporate headquarters are here in Nebraska."
In addition, the acquisition also expands Hexagon Lincoln into the hydrogen gas transportation industry. "This gives us additional Mobile Pipeline® product lines, which enhances our overall product line," Myers says. "The plan for the company is to innovate new products and bring continuous innovation to the market for the foreseeable future starting in 2017."
Still Building
Hexagon Lincoln has a large engineering group that performs R&D into new product development and existing product improvement. According to Myers, the products the company sells today are more advanced than the products sold five years ago.
"A lot of it has to do with good customers and getting feedback from them," he explains. "After that, our engineers figure out whether they can either add something new or change something to benefit customers' operations. We've added a lot of optional features, like emergency shutdown systems and brake interlock systems, which prevents the Mobile Pipeline® unit from being moved until the driver disconnects the hoses that connect it for filling and offloading the gas."
Many of Hexagon Lincoln's customers are new startups in the mobile pipeline industry in North America. "They have seen the benefit of offering compressed natural gas to customers who are off the pipeline grid. So these startups go to their customers and get multi-year contracts to supply natural gas to them because there is no pipeline wherever they are located," Myers explains.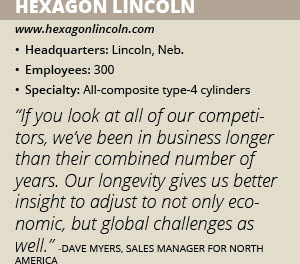 Myers adds that the company's product line tends to evolve to meet customer needs or requests. "For example, on the Titan® XL – which is just starting to be sold in Canada and the U.S. – there are some features like soft sides that are available," he says. "We started selling those internationally at first and there were no sides on them. It was our U.S. customers that asked for sides to be included, which is why we added a synthetic material versus metal, so as to not add a lot of weight to them.
"Working with our customers to offer them products that they need, versus us thinking we know what they want, has been tremendously helpful," Myers says. "Too many times people come out with a product they think people would want without asking them if they actually do."
It's that dedication to listening to customers, paired with the company's technical expertise, manufacturing capabilities and financial stability that Myers says sets Hexagon Lincoln apart from its competitors.
"When you're the No. 1 player in today's world, there's always going to be someone trying to beat you," he says. "We are a very financially stable company, which allows us to ride through the times when business isn't as good as we'd like to see it. In addition, if you look at all of our competitors, we've been in business longer than their combined number of years. Our longevity gives us better insight to adjust to not only economic, but global challenges as well."
The company's world-class facility helps, too, notes Myers. "When people come to visit us and see how we make these products, they are in awe by our facility," he says. "Everything is state-of-the-art equipment that no one else has when it comes to manufacturing products. The fact that you could pretty much eat off of the floor is impressive itself."
Team Effort
Hexagon Lincoln employees play just as critical a part in product innovations as the R&D team. The company solicits ideas from employees, who for example, submit ideas for product improvement in a given work area, Myers says.
"In many cases we implement those ideas because who better comes up with a way of making something more productive than the person that's doing the job," he says. "It's not the president of the company, vice president or the sales guy. It's Joe down on the floor that submits an idea, which is then reviewed and if it's implemented we do have a reward program."
He attributes much of the employees' creativity and engagement to the company's extensive training program. "A lot of our employees started out as temporary and then over a period of time evolved into full-time," Myers explains. "We have a very good management team that continuously trains on the job and holds regular meetings with those they oversee, where they further discuss various training. One area of training we offer, online, includes emergency preparedness, tornado and hazardous materials. All of our training is mandatory, including for me."
Overall, Myers is most proud of the employees' work ethic and ability to think outside the box. "They think of new ways to do things cost-effectively, faster or better in general, which is great," he says. "It is also a nod to our management team because they have to foster that creativity. I've had customers over the years who were afraid to do or say anything because their management was like a dictatorship, which is certainly not what we have."
Community Engagement
Hexagon Lincoln is very involved in the communities around Lincoln, Neb. The company's community outreach not only includes executive staff, but all employees. "We have helped out at the Lincoln Animal Shelter, worked in food kitchens and handed out backpacks to disadvantaged kids in school last fall," Myers says. "Hexagon Lincoln gets the employees involved in the communities they live in."
Because Hexagon Lincoln was founded in Lincoln it's important for the company to plant seeds in the community, according to Myers. "The company has done well over the years and believes in giving back to the community in many different ways," he says. "I don't think there is anyone who has lived in Lincoln, Neb. For any period of time that does not know who the company is because of our involvement.
"When I'm in town, I'll go to a restaurant and on numerous occasions I'm asked whom I work for," Myers added. "When I mention Hexagon Lincoln or Lincoln Composites, everyone says I know this person who works there and so forth. The company is very well known in the community – we're making an impact and they notice it."