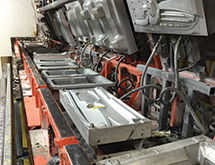 When Walt Dennis tells of HFI LLC's success, he thanks the power of love.
Three years after Honda opened its first motorcycle plant in the United States in 1979, the Japanese automaker was looking to set up automotive manufacturing about 60 miles from HFI's headquarters in Ohio. HFI was called House of Foam back then, and a purchasing agent working for a Honda supplier, Tokyo Seat Ltd (TS), saw an opportunity for the company to fabricate foam for the rear seats in the new American-made Honda Accord. Dennis, part-owner of the company, met with TS representatives in 1982 and affirmed House of Foam had the capability to manufacture the material.
As fortune had it, Dennis received an early morning phone call from the TS purchasing manager two weeks later. Tokyo Seat was in desperate need of help. The company that supplied foam parts to TS for the Accord failed to make the delivery the night before. TS had enough inventory to last until 10 a.m., but after those supplies ran out production would cease until the truck arrived. At the time, the Honda plant was producing 300 vehicles a day, so a production shutdown would have set back the auto manufacturer as it prepared for the Accord's release.
HFI had enough foam material to make 89 more foam rear backs and it quickly ramped up production. Pickup trucks began arriving a few hours later and delivered the necessary parts to the TS plant, avoiding the shutdown until the missing delivery truck finally arrived.
Dennis later learned the driver was late because he had stopped somewhere in Cincinnati to visit a girlfriend and overslept. That apparent romantic entanglement created an opportunity that changed HFI's business forever. A week after the incident, a buyer invited Dennis to lunch where he was surprised to meet Honda executives and engineers. The Japanese auto giant was looking for suppliers who could support its entrance into the U.S. market and was impressed with HFI's ability to produce the rear backs on short notice. Within a few months, Honda redesigned the seats and HFI became the sole supplier of the foam rear backs.
Since its founding in 1954, HFI fabricated foam for the furniture and bedding industry. Its customers included the likes of Ethan Allen, Simmons Bedding Company and Sealy. But following the meeting with Tokyo Seat, HFI pivoted to become a Tier II automotive supplier. When Dennis took over the company from his father in 1981, it had $2 million in revenue and about 30 employees at one facility. Thirty-four years, a name change and an industry shift later, HFI boasts annual revenue approaching $300 million and operates out of seven plants.
While the company has gone through ownership shifts during Dennis' tenure, it has always been a family owned company and remains so to this day.  Today, HFI is largely owned by Dennis, his family and management, which brings a real ownership mentality to everything it does.
As it's role in vehicle production has changed, so too has its operation. HFI no longer fabricates its own foam. Instead, it buys from foam chemical producers and then molds the foam into shapes needed for interior components. The company now manufactures a host of items used inside vehicles, including the cloth and leather interiors, armrests, door parts and  headrests for vehicles produced in the United States and Mexico.
The company continues to invest in new technologies and improve its processes. Last year, HFI spent $1 million to purchase vacuum forming equipment, which can stretch heated vinyl over a mold, and the company is constantly improving its processes. In the future, Dennis says HFI may look at injection molding to produce its own plastic parts, but at the moment enjoys superior partnerships with its molding suppliers and does not see the urgency. Adding services and becoming vertically integrated is a natural evolution for the company, Dennis explains. "It seems like Tiers 1s, our customers, like the one-stop shop," he says.
Recession Recovery
Whether as a furniture foam supplier or an automotive parts maker, HFI has enjoyed steady success throughout its history. Had it not been for the recession in 2008, Dennis says the company's revenue curve would have never dipped. When car sales dried up in the late-2000s, so too did activity for suppliers such as HFI. The company's revenues dropped 35 percent from its pre-recession peak but fully recovered two years later and have continued to increase since then.  Dennis attributes this continued growth to HFI's focus on delivering a high quality products, on-time and at the right value for the customer.
Coming out of the recession, there was a move to consolidate in the automotive industry. As a vendor with a strong reputation, HFI was able to survive in this period. Today, the industry has trended toward manufacturing to demand, which has increased efficiency and predictability throughout the supply chain.
"It's a great advantage to HFI because when we're given a forecast from the OEMs and our customers we can forecast that out five years." As a result there is a partnership approach throughout the industry, leading to more opportunities for HFI. The company has broadened its customer base to include the Tier I suppliers of not only Japanese automakers but also  GM, Ford and Chrysler. "We've been successful because we truly believe we can be a partner with our customers," Dennis says.
Meeting Markets
HFI has a history of acting quickly to meet changes in the market. When automobile manufacturers began moving production to Mexico, HFI met that new supply need by opening its first Mexican facility in Ciudad Obregon in 1996. Moving into Mexico opened HFI to a labor force that was skilled in hand-craftsmanship and well-suited to working on the company's custom-made components. "It's an art, frankly, that we in [the United States] have lost interest in," Dennis says.
Today, HFI has four facilities in Mexico and continues to closely watch that market develop. "If we think they'll come, we'll build another facility," he says. "We're always looking ahead and thinking."
Dennis credits HFI's success in recent years to consumers changing expectations of their cars. He explains that motorists today see their vehicle as an extension of their home. Consumers demand higher-quality flourishes and more comfort inside their cars. With a skilled labor force and three decades of experience, Dennis says HFI is able to cover a plastic part with high-quality material and consistently trim it into whatever shape the manufacturer needs.
Because of those higher consumer expectations, vehicle quality is more important than ever. The company uses a check, do and verify process to ensure that each component meets standards at every step of production. Likewise, HFI strives to provide the best-quality service to its Tier I customers. "The answer at HFI to literally every question is 'yes we can,'" Dennis says. "It's just a matter of execution."
If a supplier fails to produce a part today, in five days the vehicle won't be built, Dennis explains. HFI understands the importance of meeting those deadlines to keep production running smoothly. After all, it was another company's failure to make a delivery that gave the company its first opportunity in the auto industry.
HFI keeps in constant touch with its customers and drivers. Each truck driver carriers a cell phone with a GPS signal to ensure they stay on route – Dennis jokes HFI has never lost a driver to visiting a girlfriend. "You can just never miss a deadline," he says.
HFI strives to build strong foundations with every customer it serves. For many clients, HFI has become their only source of automotive interior products – proof, Dennis says, that the company's convictions and culture work. "When you have great partners anything is possible," he adds. "We're in this together. It's not us and them, or you and me. It's us, together. We live that with our customers and we live that with our suppliers and our associates."