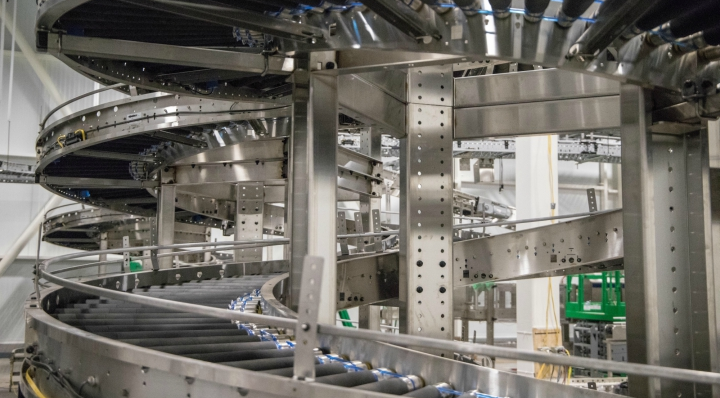 A leading manufacturer of motorized drive roller conveyors, Milwaukee-based Hilmot is preparing for an exciting year as it adopts new technology and introduces state-of-the-art products.
The company, which also makes conventional conveyor equipment and systems, has paired up with Volta Twenty-Four, a new Milwaukee-based company specializing in gearless technology. Together, the two companies are introducing the V24, a gearless motorized drive roller (MDR) with a universal design.
"We developed this product for Hilmot and they are the first company to adopt the technology and integrate it into their product line," says Jason Ocain, acting president of Volta Twenty-Four. "It's a revolutionary product. The gearless design is four to five times more reliable and versatile than a traditional geared version."
Torque and Speed
The V24 was in development for about two years and started production in January. It offers more torque and speed while eliminating the need for multiple gear ratios. Its gearless design minimizes mechanical wear and makes it a good fit for extreme temperatures. The product can be mounted easily under a conveyor, eliminating the possibility of direct impact.
"It also consumes about half the energy of any geared product on the market," Ocain adds. "And with its universal flexibility, it can be used in any conveyer product regardless of gear ratios and length."
The universal design incorporates both O-band and Poly-V drive options. Its larger bearings and a non-cantilever design eliminate side load bearing failures. The V24 is also compatible with a variety of ASI controllers.
"We are ecstatic to be the first to come to market with the V24," says Eric Weiss, vice president of business development at Hilmot. "It will provide us with the best motor technology available and the V24 will be our lead product for anyone that purchases from Hilmot."
Entering New Markets
A new addition to Hilmot's product line is a food-grade stainless steel conveyor that is wash-down ready and has an IP67 rating. Its food-grade classification and non-corrosive surface allows the company to enter new markets.
"It has the ability to traverse the firewall between the cleanroom and the warehouse floor without changing conveyer systems," Weiss says. "It opens up new markets that we haven't entered before, mainly food manufacturing and the healthcare industry."
Some of the stainless steel conveyor's key features and benefits are light- to medium-weight applications up to 60 pounds, resilient and durable construction and tool-less mounting brackets for all of its electrical components, which have quick connect terminals for easy installation and expansion. Pre-wired conveyer sections can be networked with a variety of technologies and are easily configured with multiple applications. The product is good for distribution, warehouse, process lines and postal applications.
Easier Purchasing Process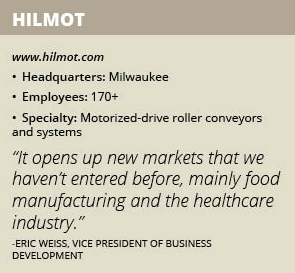 Hilmot prides itself on being a "relationship-building, problem-solving, customer service powerhouse." It believes in pushing the innovation envelope for MDR applications by continuously evolving the design of its products.
But it also values customer service. Last year, the company improved its purchasing by setting up a process to give its customers faster quotes and offer pre-designed modular units.
"Prior to that, most systems were fully designed from the ground up and we've tried to reduce some of those complexities with our Series 1500 conveyer modular units and controls platforms," Weiss says.
A Gamut of Services
Founded in 2005, Hilmot started as a small manufacturing facility in Waukesha, Wis. It had only a handful of employees. In 2015, the company moved to its new 120,000-square-foot manufacturing facility in Milwaukee. Today, it has more than 170 employees.
Hilmot has become a leading manufacturer of MDR and conventional conveyor equipment and systems, serving material-handling industries in manufacturing, distribution, assembly and order picking.
It offers an array of solutions that include conveyor components (light, medium and heavy duty), sorters, tire handling, Intralox product sortation, conventional belt and belt-driven live roller systems, as well as scanners, weight scales and extendable conveyors.
Aside from its products, Hilmot offers a comprehensive range of services including facilities design with MDR features, engineering, MDR control design packages and project management. It can provide mechanical and electrical technicians or software specialists to install systems.
The company offers solutions using the latest in 3-D CAD technology and can provide on-site training and preventive maintenance programs upon request. "Our company does everything," Weiss says. "We are the whole gamut, from soup to nuts."
Innovation and Growth 
In 2017, Hilmot was named a Future 50 company by the Metropolitan Milwaukee Association of Commerce's Council of Small Business Executives.
The Future 50 program, now in its 30th year, recognizes privately-owned companies in the seven-county Milwaukee region that have been in business for at least three years and have shown significant revenue and employment growth.
"It highlights companies that make a difference," says Caleb Zovar, media and marketing manager at Hilmot. "You have to meet certain requirements when it comes to innovation and bring jobs to Milwaukee." Since moving its operations to Milwaukee, Hilmot created roughly 150 jobs, he adds.