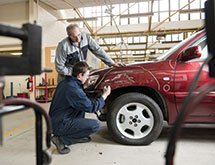 Hitachi Cable Queretaro celebrates 10 years of manufacturing automotive components that contribute to greater fuel efficiency, engine and tire performance and heightened driver and passenger comfort.
The Mexico-based plant is a division of Hitachi Cable America, an indirect wholly owned subsidiary of Hitachi Metals, a global manufacturer of high-grade metal products headquartered in Tokyo. Hitachi Cable America's customers are in the computer, automotive and aerospace industries.
Hitachi Cable America consists of two divisions: the performance cable systems and materials division and the automotive products division. The automotive products division has manufacturing capabilities in Indiana, Florida and Mexico. It is responsible for designing and manufacturing high-performance materials and components used by the automotive industry. Products include power cable harnesses for electric/hybrid vehicles, brake hose products and electric sensor harnesses.
"In Mexico, Hitachi offers a broad range of products and services that relate specifically to the automotive industry," the company says. "Hitachi is looking forward to the continued expansion of its products and services targeting the automotive sector in this rapidly growing area."
Leading Performance
Hitachi Cable has been manufacturing products that serve the automotive industry since the 1930s when it designed its first generator for Japan. The Hitachi Cable Queretaro manufacturing facility opened in 1994 and employs nearly 430 people, according to the company.
The facility is a fluid movement systems supplier for brake, steering and other automotive hose and tube applications. Hitachi Cable Queretaro specializes in brake hose assemblies, vacuum hose assemblies, power steering hose assemblies and fitting assemblies for brake and steering systems, as well as wheel speed sensors for ABS brake systems. Hitachi Cable Queretaro supplies to the world's largest and most well-known car manufacturers operating in North America, the company says.
"The Hitachi Cable group is North America's leading provider of brake hose assemblies, a product that receives top-ranking for quality and durability," the company adds. "Hitachi's automotive products can be found both under the hood of vehicles and inside the passenger cabin, enhancing both vehicle performance and driver experience."
Hitachi Cable Queretaro's facility adheres to ISO/TS 16949 and ISO-14001 quality and environmental systems standards and has received numerous awards from customers and local government authorities, the company says.
Going Green
To support its Environmental Vision 2025 plan, Hitachi is working to offer innovative solutions to reduce emissions and increase fuel efficiency in today's vehicles. Recently, Hitachi was awarded the contract for GM's new line of "e-assist" vehicles. "As motor vehicle regulations call for a reduction in exhaust emissions and increased fuel economy, the demand grows for hybrid, electric and fuel cell vehicles," the company says.
Hitachi is developing its fourth-generation lithium-ion battery that has superior charging efficiency and a higher output, which will provide a solution to reduce the environmental impact of vehicles. Although designed at first for commuter vehicles, the lithium-ion batteries also power buses, commercial vehicles and trains. "Lithium-ion batteries are quickly becoming an efficient energy choice used to power the vehicles of tomorrow," the company explains. "Hitachi is helping to deliver a clean and comfortable global experience by supplying lithium-ion batteries for use in hybrid electric vehicles."
Another green mobility development from Hitachi has been its direct injection of gasoline technology that allows for the manufacture of smaller, more fuel-efficient engines. The gasoline direct injection injector does exactly what it sounds like – directly injects gasoline into the engine combustion cylinder instead of most multipoint injectors that inject fuel into the intake manifold ahead of the intake valve and combustion cylinder.