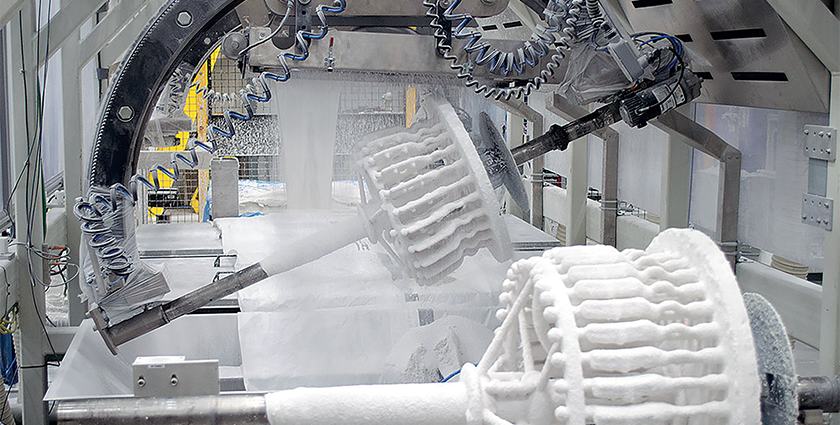 Hitchiner Manufacturing Co., Inc
Casting call
Since 1946, Hitchiner has defined "Imagination in Metallurgy", continuously investing in its business and pushing the boundaries of the investment casting process to deliver ever increasing value to the customer. Historically, Hitchiner's counter-gravity technology has ensured the timely supply of high-quality, cost-effective, equiaxed investment castings that meet the most demanding requirements. Finding ways to do things smarter has been a driving philosophy at Hitchiner for generations and the organization differentiates from its competitors by continually reinvesting in the business; whether in its people, processes or production capabilities.
Since its initial development, the basic counter-gravity casting process has been refined, automated and enhanced. Latest investments have resulted in the development of a newly-patented, counter-gravity single-crystal casting technology, capable of producing directionally-solidified and single-crystal investment castings. With the ability to also produce right-sized, just-in-time heats of certified super-alloys, Hitchiner's numerous technologies now make it unrivalled in the industry.
Its three, New Hampshire-based facilities in the US specialise in counter-gravity vacuum, inert gas and single-crystal casting technologies respectively. All three facilities can perform any relevant, value-added, post-casting operations, including non-destructive testing, heat treating, machining, coating and assembly of casting-based sub-assemblies.
Additionally, Hitchiner boasts two manufacturing facilities in Mexico. The first, in Santiago Tianguistenco, produces carbon and stainless-steel investment castings. With high-volume capabilities, tens of millions of castings are produced each year. The facility is also capable of performing relevant, value-added, post-casting operations. The second facility, in San Luis Potosi, focuses on post-cast operations; specifically machining and assembly of casting-based sub-assemblies.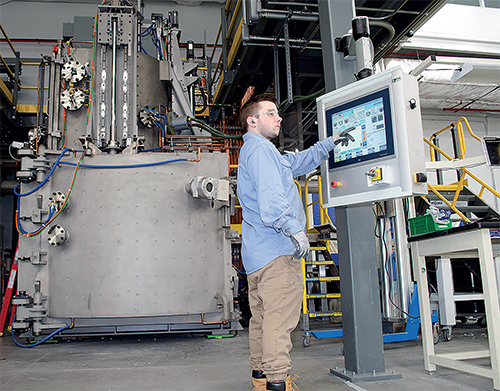 New facility
Significantly, Hitchiner also boasts a wholly-owned research and development subsidiary, called Metal Casting Technology. Focusing on process support for operations and development, this research and development facility has extensive metallurgical laboratory capabilities, alongside capacity for prototype development work and equipment fabrication. Dedicated to finding new and better ways to deliver high-quality products to customers, Metal Casting Technology played a significant role in the development of the organization's cutting-edge, single-crystal investment casting facility. A $50 million investment led to the completion of this new 85,000 square foot facility in Milford, New Hampshire in June 2019. Despite the pandemic, by the middle of 2020, all equipment was installed and qualified; much of it designed, patented and built in-house. Today the facility is fully-operational and producing single-crystal investment castings and certified super-alloys for leading OEMs and their suppliers.
"Hitchiner has always focused on improving efficiency. The latest counter-gravity casting technology is a direct result of efforts to make the traditional investment casting process more efficient," explains John Morison, Hitchiner's Executive Vice President and Treasurer. "In the conventional gravity-poured investment casting process, the metal in the central sprue channel and gating used to feed the parts solidifies in the mold and must be scrapped or reverted. With the counter-gravity process, this still-molten metal returns directly to the melt to be used in casting the next mold. Only the parts themselves solidify. This drastically reduces the use of material and energy, and results in a substantially higher percentage of the metal going into the parts themselves. On average, only 15 to 20 percent of metal in conventional gravity-poured castings ends up in the product, compared with 60 to 94 percent in counter-gravity casting. This is the kind of thinking we employ whether we are developing a new casting
process, designing new equipment or constructing a new building. We are always investing in efficiency."
Further efficiencies
Reduce, reuse and recycle are essential elements of Hitchiner's manufacturing, planning and engineering processes. Dedicated to finding new ways to reduce its carbon footprint, Hitchiner's own counter-gravity investment casting process has a smaller carbon footprint per part than traditional investment casting.
"In 2020, Hitchiner partnered with ReVision Energy to design and install a 510-kilowatt, ground-mounted solar array at one of the Milford manufacturing facilities. On grid since mid-2021, the array is used to directly satisfy around ten percent of that facility's electrical demand, at a fraction of the cost charged by the utility company," shares John.
While the array represents the significant capital investment of approximately $1 million, the return is proving to be substantial, both financially and environmentally. New Hampshire's electricity rates are relatively high; making it difficult for energy-intensive industries, like manufacturing, to be competitive. Hitchiner wants to demonstrate that investment in renewable energy technologies, such as solar, is key to ensuring that energy is not only more environmentally sustainable, but also more cost effective.
"This investment was consistent with how we have traditionally reinvested in the business and why we will continue to invest in further efficiency. It's also why we have partnered with organizations, like ReVision Energy and Clean Energy NH, that share the same vision for cost competitive and environmentally sustainable energy in New Hampshire," he adds.
From its employees and stakeholders to customers and suppliers, as an organization, Hitchiner puts people at the heart of everything it does. John explains that while "culture is complicated, what makes us successful in keeping all our stakeholders engaged is to keep their central importance top of mind and to reflect it in our behaviour. We don't just say our employees are important, we actually invest in them."
From competitive compensation and benefits packages to qualification attainment and structured opportunities for advancement, Hitchiner works hard to create new ways to invest in its people. A recent introduction is the on-site health clinic that offers all employees and their dependents free primary care.
Hitchiner approaches its customers in a similar way to its employees. The business is always looking for ways in which to invest and grow relationships; an approach that's proven to be integral to the organization's track record of successful customer service.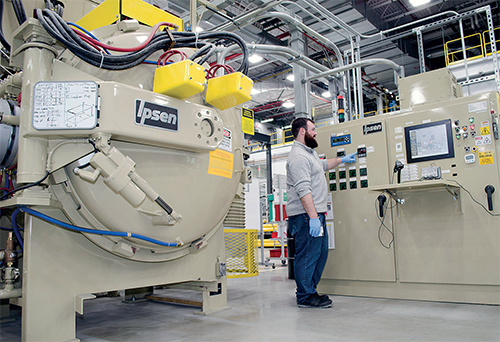 From product inception to delivery, Hitchiner works closely with its customers to ensure timely delivery of high-quality investment castings. "Part of what enables us to do this is our investment in research and development, alongside our dedicated new product introduction teams who can leverage their world-class expertise in investment casting to ensure a successful product launch for the customer," explains John.
Strong relationships
With suppliers a critical component of the value stream, Hitchiner works proactively and collaboratively to provide the highest customer value. The company is proud to provide world-class quality and on-time delivery throughout the product life cycle; making Hitchiner many customers' supplier of choice.
As a critical infrastructure supplier, Hitchiner was operational throughout the pandemic. With the safety of employees its primary focus, the business took preventative measures to ensure the health of its workforce. Despite fluctuations in demand, the different markets managed to offset each other. Established and strong supplier relationships proved beneficial when navigating the sometimes-challenging supply chain issues, experienced by many in the manufacturing industry as a result of the pandemic.
Despite an initial ten-week shutdown of automotive OEM plants, demand has remained strong throughout. John explains, "on the aerospace side, there was a significant decrease in demand early in the pandemic, which began to reverse as travel restrictions loosened and people resumed travelling domestically. More recently, we have begun to see increasing demand resulting from a pickup in international travel, but I think we're still waiting to see a full recovery.
"Both markets now face headwinds from inflation, particularly in terms of energy prices and so, we will have to face that next challenge as it arises. I think Hitchiner's role in the continued success of these industries is to continue doing what we did before and through the pandemic; being the supplier of choice for investment castings by investing in our business to provide customers with the best capabilities and value in the industry."
Looking forward to a return to industry growth, Hitchiner continues to invest in the business to support its people, processes and production capabilities. Alongside its current portfolio of aerospace, defence and automotive customers, Hitchiner is working hard to explore and penetrate several new markets; delivering consistent value and ever-evolving efficiencies.
Hitchiner Manufacturing Co., Inc
www.hitchiner.com
Services: Investment castings and fully finished investment casting based components and sub-assemblies