Increasing power
With nearly 70 years of experience in tailored power supplies, Hitzinger is a market leader in the provision of alternators, gensets, converters, UPS systems and aircraft ground power supplies
Founded in 1946 by Walter Hitzinger and Hans Schaeke with the goal of specialising in the manufacture of rotary alternators for the re-building of train networks during the World War II, Hitzinger GmbH has since extended its product range to include other sectors of rotary equipment such as rotary diesel UPS, diesel gensets, frequency converters and airport ground power. Based in Linz, Austria, where approximately 260 employees work across three production plants and five production lines, the company strives to deliver innovations through the continuous further development of its core competencies. In addition to its headquarters, the company also has subsidiaries in the UK, Singapore, and Florida, the US.
Discussing the company's product range is Werner Haas, Managing Director of Hitzinger: "Our core product is the electrical machine, most notably the alternators and our main competence is in developing or engineering customised alternators for special purposes; we have no mass production. The three main markets for our alternator business are hydropower, up to four MW, traction alternators for rail applications and auxiliary power supplies for ships; this part of the business takes up approximately 30 per cent of our overall turnover.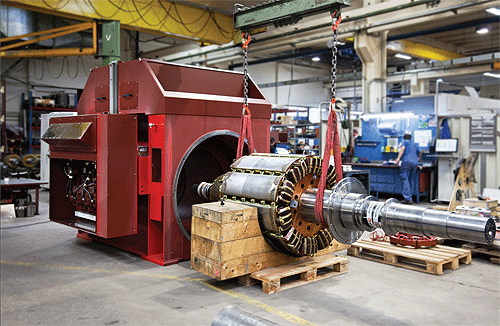 "Our next product range is for airport technology; within this business segment we engineer, design and produce power supplies for airplanes that are always landed and in position. The products for this segment are called ground power units (GPUs) and we have D Power mobile GPUs, Jet Power mobile GPUs and Mil Power mobile GPUs. This is a niche market in the industry as the frequency is completely different to the main frequency of the power supply."
With the D Power, Hitzinger presents its customers with a new brand of ground power supply for their aircraft during the flight preparation phase. Benefits of choosing D Power include increased efficiency, total cost of ownership reduction and user friendliness. Moreover, it is characterised by optimised economy and increased efficiency, offers low maintenance and is extremely easy to service and operate, making optimum power a guarantee. The little sister of the D Power is Jet Power; offering the same benefits of D Power, the Jet Power is also focused on achieving the lowest fuel consumption and sound level and achieves impressive compactness through an appealing design and ergonomically arranged control panels.
Last but by no means least is MIL Power. Trusted by armies and special forces across the globe, Hitzinger's MIL Power is the result of collaborating with leading militaries to ensure it is able to handle the most demanding conditions of military use. Boasting robustness and longevity, as well as the lowest fuel consumption and jet fuel compatibility, MIL Power also offers suitability with optimum dimensions, low weight, a low sound level and an innovative EMC concept.
In addition to alternators and GPUs, the company also creates UPS systems for data centres or industrial companies that need emergency power in case of a failure in power supply. Comprised of five major components, the diesel engine, the electromagnetic clutch, the synchronous alternator, the kinetic energy storage module and the coupling choke, Hitzinger's UPS systems offer the perfect match for its clients' needs by completely designing and developing solutions in-house.
As a customer-orientated organisation with a firm belief that innovative concepts and designs are at the core of all company developments, Hitzinger focuses on finding bespoke solutions that are specific to the challenges of its customers. To do this, the company has a team of highly experienced and well-qualified engineers and designers that are dedicated to creating solutions that merge maximum efficiency with optimum flexibility. Indeed, by continuously finding ways to increase the efficiency of its alternators and convertors, while also optimising the amount of fuel consumed by its ground power supplies, Hitzinger remains a pioneer in meeting the needs of those within its customer base while also keeping pace with market trends and demands.
"We are very customer focused," confirms Werner. "We are not producing parts for stock so everything we develop and produce is specifically for our customers. Because of this, we tend to focus on efficiency and total cost of ownership as well as low diesel fuel and low power loss; these are our strengths."
These strengths have not gone unnoticed in the market, with Hitzinger gaining contracts with major blue chip organisations such as the British Navy, as Werner highlights: "We are equipping the Type 23 Frigates with converters and alternators as part of a refurbishment project." Following the UK MoD's decision to award contracts worth £80 million for the upgrading of the Type 23 Frigates, each ship will be supplied with four new diesel generators and associated power distribution. Meanwhile, a second contract with Hitzinger involves the provision of voltage converters that will ensure increased power on the Frigates. The equipment is to be installed at Her Majesty's Naval Base in Devonport and is anticipated to be complete in 2024.
Moving forward, Hitzinger aims to increase turnover over the next five years, with growth expected especially within its UPS systems product range. "We see a very good market for these products in the future, not just for data centres, but also hospitals and similar applications. To do this we want to increase the electrical power for each individual machine; we currently have 2500 kVA but would like to move up to 3000 kVA or even more. However, this is just one corner stone of our development programme, we also want to add products to our airport technology segment and generally have more products within our whole portfolio so we can grow in all areas of the business," Werner concludes
Hitzinger
Products: Alternators, gensets, converters, UPS systems and aircraft ground power supplies
Sites: Austria, the UK, Singapore, Florida