Looking good
HL Display is a leader in its industry, and utilises a range of solutions for merchandising and in-store communication to provide its customers with huge benefits that make them stand out from competitors
HL Display has been a feature of the market ever since self-service stores started to emerge in themid 1900s, and since this time has grown into a key partner for any brand or retailer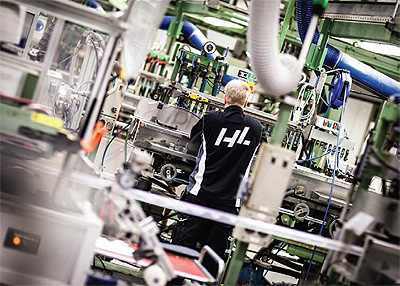 seeking to increase sales or reduce costs with merchandising solutions. One of the first examples of HL Display's ability to facilitate retailers to communicate effectively with consumers was to address the need customers had to be able to see the price of a product. This had not been required in the same way before supermarkets, and in 1954 Harry Lundvall demonstrated the innovation, forward thinking, and proactive approach that continues to be a hallmark of HL Display. Harry created merchandising stands in bended wire and simple label holders in plastic for price information.
The foresight this displayed is something that the company maintains today, and as a result it has continued to grow, expand into more markets, and conduct a number of acquisitions. As a result, HL Display has gone from a major business in Sweden to one that has significant presence throughout the world, and provides leading services to many major international companies.
The impressive expansion of HL Display has continued ever since, and CEO Nina Jönsson discussed current key markets: "Our biggest market is Europe, however we do also have a presence in Asia, Australia, the US, and many more." The history of HL Display is a strong indication of the attitudes, values, and qualities at the company, and while it has come a huge distance since the company's beginning it will no doubt go even further in the future.
Thanks to these many qualities the business continues to play an instrumental role in ensuring that brands and retailers are taking the right approaches in order to capture its target audience's attention. HL Display has built an enviable reputation as a worldwide specialist in design and manufacturing in-store merchandising solutions for retailers and brands, and with support customers can enjoy significant benefits: "Our focus is on helping our clients to succeed, and this can be either in the form of selling more or saving costs, as well as superior functionality," Nina said.
HL Display is able to provide the cutting edge that customers need in order to ensure that they are standing out in the market andon the shelf, so that consumers will choose their products over others. In order for the company to provide a solution to clients HL Display invests a great deal of time and effort into understanding the markets, customers, and what the brand or retailer want to achieve. The research by the company has proven that a huge proportion of sales are driven by factors within the store, with a figure of 76 per cent of buying decisions being made while in store. HL Display also understands the impact that being out of stock can have on a brand or retailer, and as such finds ways to resolve this and put maximum stock on shelf for the consumers. This is just one example of how HL Display works to understand the needs of its customers and the process that the consumer goes through, which is a clear reason why the business can be relied on to provide leading solutions.
Another key element of the solutions that HL Display provides is addressing various cost saving measures and to ensure that labour is most efficiently used. This is key for retailers in every market to improve their performance in an increasingly competitive and challenging landscape. An example of this is the fact that in the past decade productivity has fallen in several countries while minimum wages have continued to rise, this has increased the pressure on companies in the sector and places greater importance upon improving retail store efficiency. One of the ways that HL Display supports customers is through creating an attractive and vibrant in-store environment, which makes a difference to how consumers feel and shop. It also tailors this to the appropriate sector and audience, for example within the drinks sector efficient replenishment is key, along with maximum stock on the shelf.
In relation to how HL Display supports its customers in addressing these challenges Nina stated: "Through leading on innovation, and focusing on enabling our customer to drive sales and lower labour cost, while also building their retail or brand image. Through our approach we are able to improve the shopping experience for our customers, and of course in doing so the end consumers. This really means that we are providing services that offer superior functionality, and this along with our customer-centered approach is a part of our DNA." She continued: "We also have the creative team necessary to work with solutions to the challenges our customers face, and we are able to set our clients apart from their competition. Another key part of this is our technical understanding, and that when we get something that is more complicated we have all the skills required to produce a solution that offers great quality and great functionality, both of which we are renowned for."
The unprecedented competition that retailers and brands now face is one that the company can help them counter and address, as it is the expertise, innovation, and research that HL Display has developed over many years of the industry that will be crucial to this.
From working closely with its customers, and having a vast knowledge of the market and consumers, it is no wonder that HL Display won a Popai silver award in 2016 for one of its merchandising units that it developed for a leading health and beauty brand. The company has recorded a large number of impressive successes throughout its history, which have contributed to it being in 47 countries across the world, with four manufacturing sites in various countries, plus over 10,000 stock items, and a track record of working with major customers. The position it currently has is the perfect platform for HL Display to go even further and achieve even more in the years to come.
HL Display
Products: Design and manufacture of retail solutions for merchandising and in-store communication