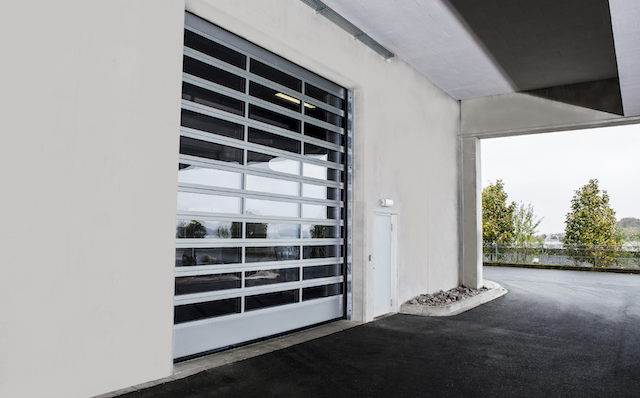 Hörmann High Performance Doors
German engineered and American made; Hörmann High Performance Doors says its products set the industry standard when it comes to quality and performance. "The quality starts with German engineering at our plant in Luedenscheid, Germany," says Peter Burnham, vice president of sales and marketing at its Burgettstown, Pa., facility. "Hörmann is the largest manufacturer of high performance doors in the world."
The Hörmann family name has become synonymous with quality products covering a range of doors in residential and commercial applications. Constant innovation, quality assurance and close proximity to customers are the keys to the company's growth and success.
At Hörmann in Luedenscheid, more than 15,000 high-performance doors are manufactured annually, which results in greater buying power for the company. The strength and quality of each product are tested in Europe before the product design comes to the United States, setting Hörmann High Performance Doors in Burgettstown apart in the industry.
"We lead the industry when it comes to features and benefits," Burnham says. "We service the top-20 industries for high-performance doors, including food and beverage, pharmaceutical, transportation, railroad, automotive retail and manufacturing, parking garages, fire stations and transportation, to name a few."
Hörmann is a fourth-generation family owned business with 27 plants worldwide. Each facility specializes in manufacturing a specific product, serving customers in more than 30 countries. Burgettstown is one of three facilities in the United States and focuses on manufacturing high performance doors. A Montgomery, Ill., plant specializes in residential and commercial sectional doors, and its Puyallup, Wash., plant focuses on sectional doors made of steel, wood and aluminum. "Every facility has its strength and focuses on one offering," Burnham emphasizes.
Hörmann High Performance Doors prides itself on offering the same quality throughout its array of products, no matter what the size or material. "We use the same drive unit, control panel and safety features on every door, so our dealers and customers know we are uniform in what we offer, no matter the size," Burnham explains. "All those components are the norm so we can specialize in performance and quality."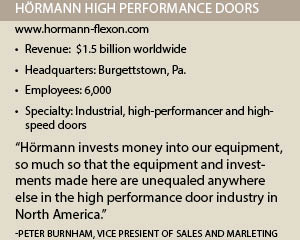 Built to Accommodate
In 2013, Hörmann High Performance Doors built a new 68,000-square-foot facility in Pennsylvania and plans to begin construction this spring on another 125,000 square feet to accommodate its growth. The Burgettstown-based facility supports customers in Central and North America, as well as in the Caribbean.
"North America is 10 years behind the European sector in terms of energy cost; also, quality and performance are much further ahead in Europe," Burnham says. "Growth opportunities do exist in the North American sector because of the population and growth in industry."
Hörmann High Performance Doors currently partners with suppliers for the materials it needs to manufacture high-performance doors. Once its expansion is complete later this year, the company will begin manufacturing its own hoods and guide tracks while adding new products. "Manufacturing our own hoods and guide tracks will result in hiring five more employees," Burnham says. "We are very automated. Hörmann invests a lot of money into our equipment, so much so that the equipment and investments made here are unequaled anywhere else within the industry in North America. We are a German manufacturing facility in North America."
Hörmann High Performance Doors' automated facility allows the company to beat the industry average in lead-time by two to three weeks. "We have a large inventory of the needed materials in-house and we are just-in-time, too," Burnham says. "After the expansion, we will further control the manufacturing process."
To further meet its customers' needs, the company implemented building information modeling (BIM) last year to take its offerings to the next level. The content is available to help architects, engineers and building industry professionals make informed design decisions. In addition to featuring dynamic, live-response physical characteristics of the company's high-performance door products, Hörmann has crafted its graphics to accommodate the user's needs in a variety of levels of detail.
"Our BIM program allows us to work directly with architects and designers as they insert our specific door models into their specific projects, which ultimately provides a reliable solution to their clients' expectations," Burnham explains. "Hörmann is committed to its customers by being easy to do business with, offering top-quality information that all parties can have access to via Autodesk's free online A360 website."
Organic Growth
When Hörmann High Performance Doors came to market in the United States in 2007, it was a very small player, Burnham admits. "Since then, we have grown and quadrupled the company through organic growth," he adds. "It all started with the quality of the product, standing behind it and being aggressive and not waiting for business to come to us."
For the past decade, the company has been earning its business by showing industries how it is different and better. "It starts with quality and performance, and being honest and transparent," Burnham says. "Not all our competition is that way and they tend to expect business to just come to them, but we earn loyalty and maintain it."
Moving forward, Hörmann High Performance Doors plans to continue driving organic growth by offering more Hörmann products from Germany over time. "We will continue to work with the synergy between all operations in America – the sectional, commercial, residential, high performance and high speed – to achieve further name recognition in North and Central Americas."