HOF Sonderanlagenbau GmbH
Feeling the chill
As a technological pioneer in the field of freeze-drying and associated systems, HOF Sonderanlagenbau GmbH (HOF) is best placed to fulfil the needs of its pharmacy, biotechnology and medical customers
The running of German freeze drying, loading and uploading, and freezethaw manufacturing company HOF Sonderanlagenbau GmbH (HOF) is very much a family affair. Founded by Hans- Georg Hof and his uncle Hermann Schäfer in 1988, initially as Schäfer & Hof, the Lohra-based business was created with the primary intention of being a key service provider in the field of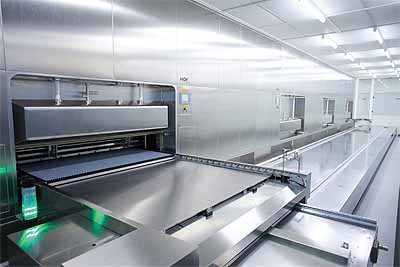 retrofits and maintenance for freeze-drying equipment. Such was its immediate impact on the market that it would undergo infrastructure expansion twice in its first five years of operating. It was the end of this period of time that would see the retirement of Hermann and renaming of the business to HOF.
"Due to the continued growth of the company and a steady expansion of our core markets, we have gone from a team of just three people to become a global entity with 265 employees, providing individualised equipment and service solutions to pharmaceutical, biotechnical and medical sector customers all over Europe, as well as in the US, India, Singapore, Japan and South Korea," begins Strategic Management team member, Dr. Alexander Hof. "Over the years, we have seen our infrastructure expand numerous times, culminating in the addition of a second production facility where a diverse range of components are created within 13,500 square metres of manufacturing, office and warehouse space."
HOF's product portfolio today covers four main sectors; freeze-drying systems, loading and unloading systems, freeze-thaw units and service. Within each of these, HOF is able to provide complete planning, engineering, sourcing, manufacturing, start-up and commissioning activities, as well delivering qualification and validation services, and training programmes. This raft of options extends from new equipment to retrofits and the modernisation of existing machinery, which has been a strong source of growth for the company over the last 12 months.
"Our warehouse stock consists of approximately 60,000 articles, allowing for the highest level of flexibility when it comes to service solutions, as we have all major and critical components in stock, ready-to-use," Alexander continues. "Typically, we service around 1400 machines worldwide per year, while at the same time we have between 50 and 60 different projects being undertaken within our facilities per annum. These projects range from work on small freeze-thaw units used in blood donation centres to lab-scale and production-scale freeze-dryers with a shelf area of up to 40 square metres."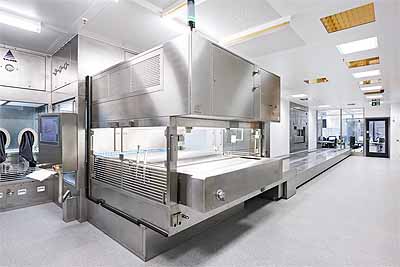 Certified according to ISO 9001 standards, HOF's premises are linked by a quality management system that the company has established. Furthermore, standardised processes and computer-based support systems assist in the orderly and regulated handling of tasks. A quality assurance team exists to ensure the accurate implementation of procedures, while all department heads meet once a week to discuss each project, making sure each is being followed to the letter and that critical dates are able to be met.
The way HOF approaches its activities and responsibilities has not only helped to win it countless contracts, but also numerous industry awards and recommendations. "In 2013, HOF received the 'Grand Prix' award for mediumsized businesses from the Oskar-Patzelt Foundation, one of the most coveted business awards in Germany," Alexander enthuses. "Additionally, we have found ourselves ranked within Germany's 'Top 100 Innovators List' in both 2016 and 2017.
"I consider recognition of this nature to be a result of, in part, our company structure. It is because of our flat hierarchical design, a very personal environment, and our pledge to hold regular meetings to discuss innovation and development, that everybody feels encouraged to contribute to HOF's improvement. Similarly, our high degree of flexibility and fast decisionmaking, coupled with short communication pathways, enable us to act and react in a fast, concurrent way to the demands of our partners, customers and the industry as a whole."
This ability to respond to and meet the unique requirements of its customers can be seen in a number of the company's ongoing projects. "One of the things we are in the process of doing is realising a project for the handling of frozen bottled blood plasma," Alexander explains. "This undertaking, which speaks to our company name of 'Sonderanlagenbau', which translates as 'special planned technologies', is designed to service the need to handle bottled and frozen blood plasma prior to it being processed for pharmaceutical applications. As is often the case with our projects, this represents a solution that is not connected to one of our core business areas, but certainly has the potential to become one in the future."
Clearly, being a privately-owned family business gives HOF the necessary flexibility to act and react to the specific, individual needs of its customers, something that it will look to further advertise and demonstrate at the ACHEMA 2018 convention, being held in Frankfurt in June. "In 2018, we will retain a strong focus on being a solid and stable employer and partner for all of our customers," Alexander states, "while continuing to further develop our existing systems, as well as pushing the integrity of robot-based systems in the loading and unloading sector."
HOF Sonderanlagenbau GmbH (HOF)
Products: Freeze-drying, loading and unloading and freeze-thaw systems