Building on tradition
By utilising the most modern technology and processing methods, Höganäs Bjuf strives to produce the best materials for the most complex or challenging of applications
Höganäs Bjuf's history in refractory brick production dates back to 1825, almost at the beginning of the industrial revolution, in Bjuv, Sweden. It is a modern Scandinavian company, with strong roots in traditional Swedish industrial activities and a commitment to delivering the highest professional standards and continuous innovation. Indeed, for close to 200 years the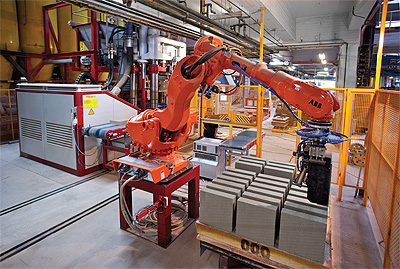 company has pioneered the research and development of refractory materials in order to fulfil customers' current and future needs. To make this possible, it has a state-of-the-art laboratory as its production facility and an R&D team comprised of engineers and technicians that have a deep understanding of each customer's operating practices.
With some of its raw material coming from its own mining pit, Höganäs Bjuf produces refractory bricks for customers across the globe. The rest of production is high alumina bricks that are created with imported raw materials such as bauxite and andalusite. Because these bricks can withstand higher temperatures than chamotte-based products, they are mainly used in industries that produce cement, steel and ferro-alloy materials. "We export to more than 50 countries and have a good reputation abroad; we also have sales offices in Malaysia and Cyprus. Our customers within the cement industry are very much based in the Middle East and Asia, while our steel customers tend to be located in Sweden. Thanks to Höganäs Bjuf being part of Borgestad Industries, we also have a presence in Norway with our products sold under the Borg name; this is mainly for customers in the aluminium and ferro industry," says Hanna Landell, Managing Director at Höganäs Bjuf.
Still located in Bjuv at its 54,000 square metre plant, the company has expanded and developed over the years through acquisition and partnerships while never losing sight of its commitment to serving the cement, steel, ferro-alloy and aluminium industries with its range of high quality products. Höganäs Bjuf's product range consists of around 40 different 95qualities, with moulds for approximately 6000 different shapes. While cutting edge technology is critical when it comes to ensuring uniform refractory product quality, it is the company's long-term expertise that truly makes the difference as employees assure the outcome of production and solutions down to the tiniest of details.
Split into four product families, the company's offering of monolithics includes Höganäs Conventional, a range of robust products that are less sensitive to climatic variations and application mistakes that is easy to mix and install and has a longer shelf life; there is also Höganäs Low Cement, Höganäs Ultra Low Cement and Höganäs No Cement. The company's refractory products are capable of withstanding high temperatures that exceed 540 degrees Celsius as well as highly corrosive operating conditions; they are also divided into two categories – bricks and monolithics since the company expanded into monolithic production in 2016.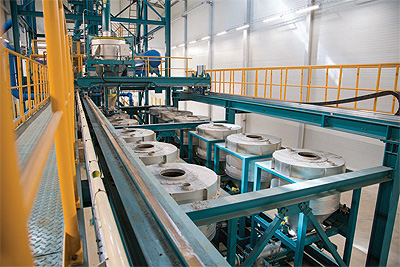 "We have been located at our production facility in Sweden since we began operating and in 2016 we developed a highly automised monolithic plant on the same site that is run with three-to-four personnel. Before we built the 1000 square metre monolithic plant we were trading monolithic products with our own brand name, however we can now manufacture these products ourselves. In line with this development, we have strengthened the R&D department and very much focused on trying to set a new industry standard for these products. We aim to design monolithic products that not only save energy when installed but also are designed to have a shorter installation and drying time; this means when our customers close down their plants for maintenance with our product and way of installing it, downtime is reduced. Additionally, because it's increasingly more important to save energy and find ways to reduce fuel consumption in the industry, we have spent the last two years focusing on our refractory designs, with the goal of saving energy for the cement," says Hanna.
To further strengthen its foothold in the monolithic steel market, Höganäs Bjuf partnered with Intocast AG in 2017 in a strategic alliance that will enable both Bjufcompanies to successfully increase their market shares. "This partnership will benefit us as we have not had access to basic monolithics, which are the types of products often used within the steel industry. For Intocast this partnership means they get access to the Scandinavian market," explains Hanna.
With a wealth of opportunity ahead in both the refractory and monolithic segments of the business, the future looks positive for Höganäs Bjuf despite challenges in the market, as Hanna concludes: "We remain strong despite the tough market by being close to our customers and being flexible to their needs. We need to continue to be a company that tries to develop both ourselves and our product, particularly in areas we specialise in and benefit from real knowledge. For example, some types of refractory material are difficult to produce so we do it using a hand ramming technique, there are not many companies that can still do that."
Höganäs Bjuf
Products: Specialist manufacturer of bricks and monolithic products