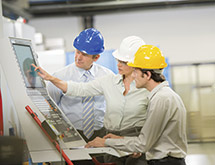 For Hol-Mac Corp., the quality of its products is an important reflection of how it is viewed in the market. "Hol-Mac's culture is to build quality products, conduct business with integrity and provide our customers with exceptional service," the company states.
Based in Bay Springs, Miss., Hol-Mac specializes in steel fabrication and cylinder manufacturing. Founder Charles Belton Holder Jr. started the company in 1963 as a small machine and welding shop with partner A.T. Land.
Years later, Holder bought his partner's interest and formed a corporation, changing its name to Hol-Mac Corp.
Recently, the company completed a 60,000-square-foot facility that supplies all internal burn to shape parts to its four manufacturing facilities. "This new facility will allow us to respond even faster to the needs of our customers," the company says.
According to Hol-Mac, robotic welding is the future of manufacturing and has four in its facility. "We also have over 50 CNC machines programmed through CAM and connected through DNC Interchange," it states.
Hol-Mac backs this with more than 50 years' experience in steel fabricating and value-added services. Additionally, "Our investments center around expanding for the growth of our customers, employees and company," it states.
"We conduct our business consistent with truth, trust, and simply doing what is right," Hol-Mac says. "Each [of our facilities] has a core product and capability but due to common equipment, we are able to produce common products at the other facilities if needed."
Custom Cylinders
Hol-Mac excels in its cylinder manufacturing. "Because cylinders are the backbone of [our clients'] equipment, we believe that a cylinder should be designed and built for its specified use in order to guarantee the fullest potential, performance and economy of [their] equipment," it states.
"At Hol-Mac, there is no such thing as a 'stock' or 'shelf' cylinder," the company states. "When Hol-Mac designs and manufactures [the customer's] cylinder, [they] can be assured that it is perfectly suited to [their] needs and is the most economical cylinder available."
Through its design, equipment, process control and pride in craftsmanship, Hol-Mac says it gives customers strong performance and durability. "In addition to manufacturing to [the client's] prints, our cylinder plant has a professional engineering team that can help [them] design or improve [their] cylinder to save [them] money and improve quality," it states.
Hol-Mac has created its Benchmark Tank product line to accompany its hydraulic cylinders. "By utilizing both our tanks and cylinders, [clients] can track down and eliminate contamination issues faster," it says. "With our ability to integrate our price-competitive sourcing and capabilities in steel fabrication, cylinders and tanks, we can provide great benefits and cost-saving strategies to customers in many different areas."
Award-Winning Work
Hol-Mac's quality focus has earned it recognitions, including the Governor's Award from the Mississippi Quality Award program. "This state-sponsored program is structured in accordance with the nationally-recognized Malcolm Baldrige [National Quality] Award Criteria, which recognizes continuous improvements in quality management and world-class processes," it says.
The firm also is a certified supplier for multiple major OEMs and has won several preferred supplier awards. "Our cylinder division was benchmarked by a Fortune 500 OEM as a top supplier from nearly 70 worldwide suppliers in regards to pricing and capabilities," Hol-Mac adds.
The company adds that it has been a leader in contamination control, as shown in its assembly, testing and contamination measuring methods. "This type of expertise has allowed Hol-Mac to provide training to customers and suppliers both concerning the importance and application of contamination control," it says.
Making Valuable Employees
Hol-Mac invests in the development of its staff to ensure the ongoing strength of its operation.
"It is our belief that a better-educated employee will become a more valuable employee," it says. "Therefore, we support continuous learning and training opportunities for our employees."
The company provides tuition reimbursement for employees that are earning degrees or taking courses that will improve their job performance. Hol-Mac also provides opportunities through a partnership with Jones Community College, at the Jasper County Learning Center in Bay Springs.
At these events, Hol-Mac's associates can perform pre-employment assessments, including the Career Readiness Certificate (CRC), which shows "prospective employers that an individual possesses skills needed in the workplace," the company says, noting that CRC focuses on reading for information, applied mathematics and locating information.