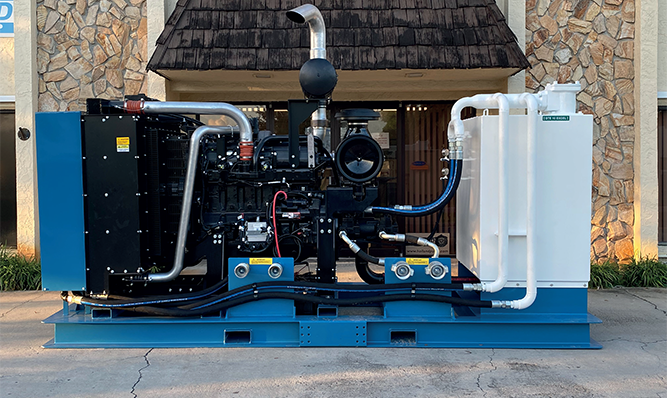 Submersed in expertise
It's an exciting time at Holland Pump, as a series of acquisitions usher in the launch of a new Daytona facility, and help to extend the company's footprint across the US East Coast
Ever since its formation in 1978, Holland Pump has been a leading light in the manufacture, distribution, sale, rental and repair of dewatering pumps in the southern US. With capacities of 500–55,000 gpm, the company's significant fleet of more than 600 diesel-driven rental pumps have been deployed throughout a number of East Coast and Gulf Coast states, including Texas, Louisiana, Alabama, South Carolina, Virginia, Delaware, Maryland, and Florida. It's a scale that has seen Holland Pump's name become synonymous with the execution of a wide range of applications, from agricultural, bypass and construction, to mining, dewatering and horizontal drilling.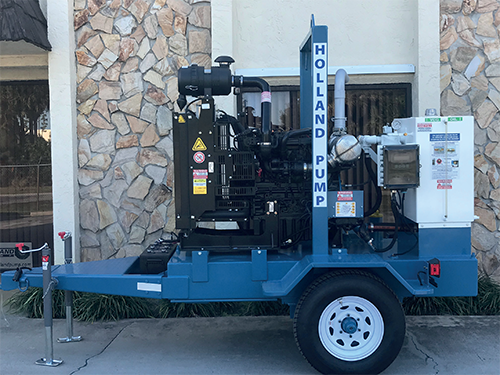 The company employs some 95 employees across a total of nine branch offices, which includes its corporate, manufacturing, and central repair facility located in Florida's West Palm Beach. Together, the Holland Pump team has participated in a number of State and Army Corp of Engineers water management projects since the mid-1980s, establishing its reputation off the back of its product range.
"As a company, a primary strength lies in our hydraulic driven submersible rental equipment," says Holland Pump Vice President of Manufacturing, Wade Norris. "Our pumps are rugged in design and dependable, being engineered to pump for 24 hours a day continuously under the harshest of conditions. The benefit of submersible pumps is the lack of priming that's required, making them ideal for high-volume, low-head applications such as lake dewatering, gravel pits, quarries, control boxes and various open ditch applications."
Experience and history
A hallmark of Holland Pump's business has been its promise to help customers 'Finish Faster.' "It's all about improving performance for the customer," Wade notes. "The goal is to minimize the time it takes to help the customer finish a job, freeing them up to deal with other priority tasks." It sounds straightforward enough, but the point goes well beyond the speed of execution; Finish Faster is an ethos, guiding the company from top to bottom, and encompassing everything from the design, building, maintenance and repair of equipment, to the acquisition of delivery trucks, and the collection and dissemination of information on pump status.
Within this ethos, one more significant component is the selection and training of Holland Pump's associates and managers. Wade himself is a Holland Pump veteran, having been employed at the company for an impressive 27 years. Kickstarting his career as a yard man engaged in the execution of deliveries and rental set-ups, Wade established himself as the company's leading pump-head repair technician in 1995. "The long tenure of our employees is an undoubted strength," Wade reflects. "Although my employment is nearing its third decade, I'm probably closer to the lower end. We've got a lot of experience and history among the people here."
Throughout his time at Holland Pump, Wade has witnessed significant change, both in his role, and in the company as a whole. "In 2005, the company took the decision to expand its manufacturing with a move north into Georgia," Wade recalls. "At that time, I was appointed as Service Manager, and took on the responsibility of running the entire service department in West Palm. Seven years later, when the company moved its manufacturing back to West Palm, I became Central Repair Manager. Finally, in 2012, I landed in my current position: Vice President of Manufacturing."
Talent retention is an under-appreciated asset, but a key one for Holland Pump, whose highly specialized operations place an imperative on the availability of skilled manual labor. "Approximately 90 percent of our work rests on the person, as opposed to automation," Wade explains. "In view of this, there's a considerable volume of training to be undertaken in terms of getting new employees up to expectation with regards to what we do, and how we do it. Welding machines, press break machines and plasma equipment are all used regularly within our manufacturing division, and we operate a couple of lathes in our Daytona facility. Training begins on your first day, but you never stop. After 27 years, I'm still learning each and every day."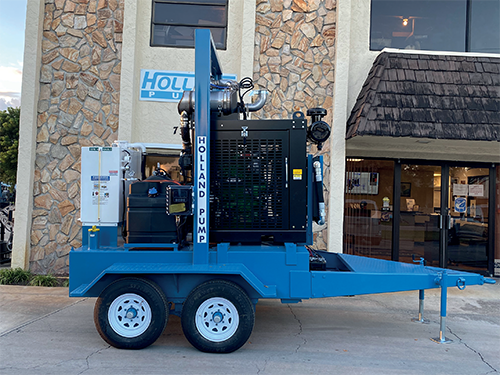 Holland Pump has been in operation for more than 40 years. During that time, the company has cemented its place as a trusted manufacturer for a broad range of internationally-recognized suppliers, not least John Deere, Perkins, Denison and Vickers. The full list is extensive, and speaks to Holland Pump's ability to sustain its high standards in tandem with a ferocious output, which sees the production of as many as 300 diesel-driven pump systems annually.
The manufacture of these products takes place at two key locations. The smaller of these, employing a total of ten people within the division, is West Palm itself. It remained the company's only manufacturing base until as recently as 2021, when Holland Pump acquired its larger facility in Daytona, following its acquisition of local dewatering and pump rental provider Complete Dewatering Pumps and Wellpoints (CDPW). With 97 years of manufacturing heritage, the addition of CDPW and CDPW's former co-owner and Holland's VP of Engineering, Jason Fletcher, adds greater depth to Holland Pump's already-extensive wellpoint pump fleet and dewatering services offerings, and revolutionizes its ability to service municipal and commercial projects across the south-east and gulf regions.
Talented workforce
According to Wade, the launch of production at the Daytona facility has proved a relatively seamless process, a fact that sheds further light on Holland Pump's talented workforce. "We took the decision to install in Daytona one of our long-term employees from another location," Wade explains. "He was able to begin running the production side of the business at that location. Thanks to his expertise, it's made for a pretty easy transition from our point of view. We now have approximately 10-to-15 people employed in Daytona on top of those in West Palm. Together, we're engaged in re-building the company fleet and facilitating the sale of equipment."
The last two years have been unlike any other, as the Covid-19 pandemic severed supply chains worldwide. Nevertheless, Holland Pump has emerged in excellent health. "It's been particularly tough to source supplies, whether that's John Deere engines or Denison pumps," Wade admits. "Thankfully, we still managed to do quite a bit of business despite the disruption, with last year's rollover well in excess of $5m for manufacturing sales alone. To achieve this amid such arduous trading conditions gives us plenty of confidence for the future."
Turning towards that future, Holland Pump recently announced the purchase of Pumps, Service & Supply (PSS), a leading pump rental and related services provider for municipal and construction applications based in Troy, New York. Established in 1990, PSS supplies innovative solutions and equipment to an extensive network of customers throughout the north-eastern US, helping to tackle the most complex of site conditions and dewatering challenges.
"It's a purchase we announced only at the beginning of 2022," Wade tells us. "The acquisition will complement our current capabilities and add an additional service location in that north-east market. From our perspective, the goal will be first to incorporate PSS into the Holland Pump family, and then to continue extending the business up and down the US East Coast."
"We're optimistic about our prospects for growth, and we foresee a lot happening in the year ahead," Wade concludes. "We have very big plans to rework, repair and repower our fleet. Longer term, our aim is to achieve 1000 pumps on rent by 2027. The acquisition of PSS was a key objective within that strategy, and we'll keep targeting those opportunities as and when they arise. As ever, we'll remain focused on pump applications and jobs where can we add value, resolving problems that our competitors don't, or cannot. On the manufacturing side, the task remains simple: sell enough pumps annually to keep the balance sheet healthy."
Holland Pump
www.hollandpump.com
Services: Dewatering pump manufacture, sale, rental and service