Lighting the way
As part of the Acuity Brands group Holophane Europe is a well-established light and lighting solutions manufacturer in Milton Keynes
The name Holophane comes from a Greek phrase that roughly translates to 'Whole Light'. Holophane Europe has been providing light and lighting systems for everyone from St. Pauls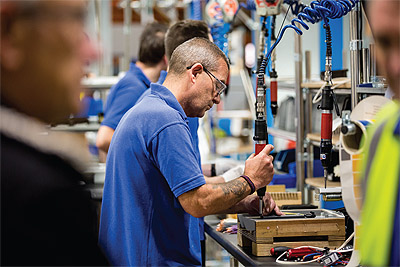 Cathedral to Battersea Power Station since its original inception over 121 years ago. In recent times the entire lighting industry has seen a significant technology shift in what it produces and how it operates with the widespread adoption of light emitting diode (LED) technology, with the company at the forefront of this change.
One person who has witnessed this significant change is David Barnwell, Director of Product and Market Development for Holophane, specifically the shift from fluorescent tubes and incandescent lamps to LED technology: "In the last five years LED has become a mainstream technology, not just for instrument panels or decorative lighting but as a source for larger scale needs, such as general area or commercial retail space lighting," he explains. It is not just the lighting but the method of production that has changed, fundamentally shifting each aspect of the process: "We moved from traditional bench to cellular manufacturing and that meant we had to deal with new issues like electrostatic discharge, so the environment had to be properly cleaned up and ironically that meant we had to improve the lighting in the facility – what is it they say, 'Cobbler's children have the worst shoes?'" he laughs, though a quick glance on Holophane's website will show the site has indeed properly scrubbed up since then.
Holophane began trading in Westminster 121 years ago. Fifty years ago, the company became one of the first to arrive at the then newly developed city of Milton Keynes. As David describes it, the motivation was that the city: "would serve as overspill for London." However, the area proved to be more than that and today the company remains prominent in the local area, something that was recently even celebrated by royalty: "In April we won the Queen's Awards for Enterprise: Innovation, something that's rare for the lighting industry. We got praise for the V-MAX, a modular lighting system that is used on the street lights around Milton Keynes and across multiple cities in the UK," he beams. As well as this, Holophane was also recognised by its peers in the lighting industry at the Lux Live event in London's Excel centre last November. During this event, the company was awarded Lighting Manufacturer of the Year 2016. The judges were very impressed, stating that: "Holophane consistently delivers, developing great LED products and embracing the digitisation of lighting with confidence and flair."
It is no surprise then that Holophane appeals to a number of different sectors, offering a wide array of lighting products to suit a variety of contexts: "Within street lighting we offer a range of luminaires and systems, with outdoor lighting we offer a 'family' of products (DSX + Denver Elite), while Metrolux is used throughout the underground network, and Prismashield is robust and popular with train companies. Prismaspace is popular with warehouse interiors because it offers flexibility and superior light control, while industrial clients like using Haloprism for its high-bay lighting," David lists. He then goes on to explain the benefits of these products: "These are high quality products with 30 to 40 per cent fewer lighting points than our competitors. This means reduced energy and installation costs, which is a founding principle of our company," he pinpoints.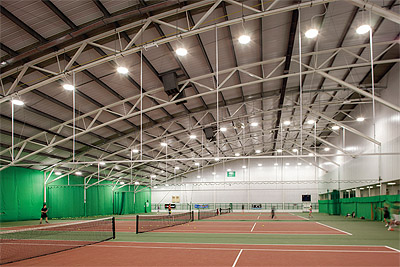 Another factor that David believes gives Holophane an advantage over its competitors is the amount of work that is done in-house: "We're committed to a long-term roadmap – our mantra is a product researched, designed, tooled (as much as we can) and tested in the UK," he proudly states, stressing that this is not standard across the lighting industry: "There's a lot that is imported in from Europe, India and China, basically brought in and put on the wholesaler's shelf in brown boxes," he quips, though there is clearly a serious message underneath it about how businesses approach manufacturing and the care that goes behind it.
While the company has to adapt to LED technology, there is already a move towards the next big sea change in the lighting industry, as David explains: "The next big challenge is connected lighting, integrating new technology into our products. We can demonstrate this to our customers, showing how we can link all the luminaries together, on top of that we can integrate sensors into the network to communicate data such as how many people are in the building, where they congregate and using heat mapping to indicate what lighting is used more than others," he elaborates. David sees this being introduced across the lighting industry, witnessing first-hand the increased demand from clients: "It is mainly new build and retro-fit projects that are driving this. Sometimes people will enquire two years before a project begins construction or as a speculative request, such as new railway stations, warehouses and so on," he details.
It is fascinating to see how fundamentally the lighting industry has changed due to the shift to LED. With the emergence of what is known as the 'Internet of Things', as more devices become interconnected it will be fascinating to see what the next few years will bring for Holophane, the process of producing lighting products and for industries as a whole. What is certain is that with innovators like Holophane at the forefront it is likely that we are going to see the benefits of this progress over the coming years
Holophane Europe
Product: Lighting systems manufacturer