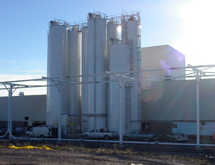 When Horizon Systems got its start in the manufacturing business, it formed as a kind of catchall for the material-handling needs of various industries. The company engineers and manufactures material-handling equipment such as blowers, airlocks, valves and gates, filters and cyclones, storage and flow aids, vacuum sequencing, extruder lift systems, and bag and bulk bag-handling systems. These are used to connect anchor equipment – the mixers, extruders, dryers, ovens, toasters, coaters and coolers – for an efficient flow of material throughout the manufacturing process. Back in 1983, Horizon Systems worked for any and all types of companies, but it found its true value in working within ­niche markets.
"We've evolved over time," President Wes Kuhl says. "When I started at Horizon, we were around $3 million and took a shotgun approach to whatever we could find. So when we started to focus on four particular industries, which are chemical/plastics and pet food/food, it allowed us to focus and grow significantly."
Horizon Systems has positioned itself as a leader of material-handling solutions within these markets. It follows trends, safety issues and regulations affecting each industry to deliver customized solutions for each category and for each client within those categories.
Its projects range from maintenance and replacement parts to stand alone machinery and complete process integration. The solution, Kuhl says, always depends on the market and the customer.
One-of-a-Kind
"We do have a catalog, but because we are a custom manufacturer, nothing we do is standard," Kuhl says. "Everything has to be engineered and modified so it causes us to be extremely flexible with the products we produce. Customization is just commonplace here. For the most part, we are a 'one-of' facility where we sell one-of things, not mass production."
Horizon Systems' engineering foundation has become increasingly important in today's market, Kuhl explains. Following the slowdown of the economy in 2008, product manufacturers haven't been able to grow in-house engineering staff, causing them to look to trusted third parties that can deliver customized solutions that offer a competitive edge.
"Engineering staff are being reduced within the markets we serve, so they're looking for more engineering services from us," Kuhl explains.
"They are looking for a cleaner product, a food-safe product, and it's causing us to come up with innovative and new products that were really not even around three or four years ago. The whole thought process is changing."
Take, for instance, a project Horizon Systems is engineering for a plastic pipe manufacturer in New York. Kuhl says the client came to Horizon Systems with a blank slate, but will walk away with an end-to-end integrated system.
"They asked for a system that will take raw material from rail cars and in bulk bags and in the end produce a plastic pipe," Kuhl says. "We're doing all the handling of their raw materials from the very beginning right through the extruders."
Handling projects of this complexity requires Horizon Systems to call on third-party expertise. The company itself engineers and produces the material-handling equipment, but works with a preferred list of suppliers that manufacture anchor processing equipment.
That equipment is combined with Horizon Systems' innovative solutions that move product throughout the process.
Responding to the Trends
Within the world of material handling itself, Kuhl says a focus on safety and minimizing contamination are the major trends occurring across each of the industries it serves.
The pet food industry, for instance, has seen a shift in its manufacturing process with the passage of the Food Safety Modernization Act, which has moved the pet food industry away from a feed mill-type process to a regular food manufacturing approach. Horizon Systems has answered this call for better pet food safety with technologies such as its ConTran process, which is a continuous dense phase transfer system that is used to convey materials that are susceptible to crushing or impact degradation and also can be used when material segregation is a concern.
Horizon says ConTran technology accurately maintains the material-air mass flow ratios at constant levels, resulting in stable, low-velocity, continuous dense phase conveying of granular products with consistent size distribution.
The outcome is a cleaner system that provides low product degradation, reduced product segregation, high convey rates and distances at relatively low pressures, improved power efficiency, and high reliability and low maintenance.
Another recently introduced innovation is a modular ingredient system that allows product manufacturers to add the ultimate flexibility to their minor ingredient additions. For instance, it allows them to add and track unlimited minor ingredients that enhance food products or upgrade plastic manufacturing systems to make them more flexible, with increased uptime and decreased overall batch times. The technology has allowed the company to delve deeper into those industries.
Horizon Systems is also increasing its market position by producing machinery that allows for easier access for cleaning and maintenance. As an example, within its ConTran technology, Horizon Systems developed a solution that would allow manufacturers to clean and sanitize that system. It created a process that allows the manufacturer to view, clean and sanitize the inner pipe and verify that the job was completed. It also creates machinery where manufacturers can access for inspection and cleaning the inner parts of equipment via side entry rather than climbing on top of or entering into machinery, which is less safe and less sanitary.
"We've become a leader in product innovation that gives manufacturers the ability to clean pneumatic conveying systems and that puts us ahead of the competition," Kuhl says. "We now understand that we have to keep doing that. We have to monitor the trends of the industry and be able to offer equipment that is conducive with those trends."