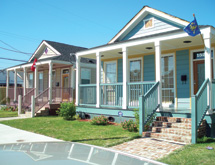 When a company that got its start manufacturing structures in an abandoned chicken coop in rural Georgia continues to thrive more than four decades later, it is because its ownership is willing to do whatever it takes to stay afloat. Horton Homes Inc. finds itself searching for new markets to penetrate after the economic downturn of the previous decade eliminated many of its traditional revenue streams.
But the Horton family is not giving up.
"Now, we're just trying to stay relevant and stay alive in the industry since the downturn in the early 2000s," Vice President Rus Hicks says. "We're always looking into new things in the commercial modular business."
Dudley Horton founded Horton Homes Inc. more than 40 years ago in an abandoned chicken house in rural Eatonton, Ga., where the business put out two houses a week. By 1996, the company had grown into a 200-acre facility producing more than 18,000 floors in a single year.
Today, the company offers a range of products starting with small single-section HUD code homes to two-story modular homes with a variety of amenities. Horton Homes' commercial division has built apartments, doctor's offices and motels. The company also ships homes to its network of retailers in six states.
Starting in 1999 and reemphasized more recently in 2008, Horton Homes' commitment to innovation is what keeps this manufactured structure builder in business. The company has branched into hybrid products that use recycled shipping containers and are shipped around the world, for instance.
Innovation in conjunction with a reputation for quality craftsmanship are why customers seek Horton Homes' products over other manufactured structural options, Hicks says. "We build a good, sustainable, energy-efficient home, and we have done so for 40 years," he declares.
'Done with Attrition'
Although Horton Homes' customers must choose from a variety of floor plans, the rest of each home's amenities are almost completely customizable. "There are set floor plans, but we'll build that specific floor plan and let them pick the colors, etc.," Hicks says.
He also explains that Horton Homes' manufacturing capabilities make set floor plans the best course of action for its business model and sales operations. Also, he maintains that Horton Homes' manufacturing is as efficient as possible, and its operational practices of reducing scrap and waste are as sustainable as it gets.
"When you're running a manufacturing business, the best way is to build the same thing every day," Hicks says. "We have specific-sized materials and specific cuts to be as efficient as possible.
"This industry was green before green was in vogue," Hicks adds.
Horton Homes allows its consumers to determine its next wave of new products. Hicks says instead of changing the product line constantly, the company retires floor plans based on the sales of each specific plan, and it adds new ones to replace those with declining sales.
"It's sort of done with attrition," Hicks says. "If we have a good plan, we keep it. If one is not doing well, we replace with something else. There is no specific time."
For instance, Horton Homes has offered one double-wide floor plan for the past 30 years. Every so often, a customer will request a tweak or two to this floor plan, but it has lasted the test of time in Horton Homes' portfolio.
Those family business sensibilities extend to the manufacturing process itself at Horton Homes. Hicks says the company buys materials that are "production friendly," meaning they provide a good look and are relatively easy to install for volume production.
'No Way but Up'
Although the industry is still slowly recovering from the economic meltdown that buried the construction industry, Hicks knows Horton Homes and the sector will bounce back.
"There's no way but up," Hicks says. "We're going to try to hang in there. We've taken some hits, but we're still fighting to be around and be relevant."