Setting the standard
Part of the world's largest manufacturer of commercial ice equipment, Hoshizaki Europe is laying marker for the rest of the industry by embracing ISO9001:2015 standards
It was in February 1947 that Mr. Shigetoshi Sakamoto established Hoshizaki Electric Company in Nagoya, Japan. Since the launch of its first ice machine in 1965, the business has grown by leaps and bounds, manufacturing and selling a variety of products including refrigerators and freezers, stoves, vending machines, water purifiers and refrigerated display cases. Having
established Hoshizaki America in 1981, it was in 1992 that it opened Hoshizaki Europe in Amsterdam in order to expand across the continent and into Africa and the Middle East.
In the years since, Hoshizaki Europe has established sales offices in Belgium, France, Germany, Spain and the UK, while in other countries there exists an extensive dealer network. Building on its long and reputable history, the company continues to provide new and innovative products in order to cement its international reputation for quality and reliability.
Committed to providing an outstanding level of reliability and performance to service its customers, Hoshizaki Europe's products can be found in numerous industries and sectors including hospitality, healthcare, educational establishments, laboratories and food processing plants. The company possesses some of the most automated production facilities in the industry. It is here that, using the latest state-of-the-art technology, every ice machine it builds is run-tested, undergoing quality performance tests including, but not limited to, ice production capacity and energy efficiency.
This year, 2017, is a particularly special one for Hoshizaki in terms of milestones as it not only sees the group itself mark its 70th anniversary, but it also sees Hoshizaki Europe celebrate 25 years of success as an entity. "Aside from having world-class, industry-leading, quality products, the key contributing factor behind our success has been our work force," explains David Munn, Hoshizaki Europe's Quality Manager. "Our work environment is very dynamic and is a place where change is embraced, not feared. Our people display obvious pride in the products they build, with all associates encouraged and empowered to contribute ideas, and to play a core role in ensuring quality assurance is maintained at all times. In addition to this we have worked hard to develop a great family atmosphere within the work force."
A further step along Hoshizaki Europe's path towards further growth was recently taken when the company achieved ISO9001:2015 certification. "Prior to this we already had a strong and robust quality management system (QMS) in place, certified to ISO9001:2008 standards," David continues. "What we did was to take this as the foundation for a new QMS, which was redesigned to cover the new layout and structure of Annex SL, which is the standard that defines the new high level structure for all ISO management systems standards. We also considered the requirements of the new standards with its greater emphasis on process and risk based thinking, and ensuring we understand the need and expectations of all our interested parties, which of course includes our customers."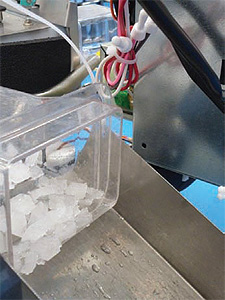 Hoshizaki Europe took the opportunity presented by its transition to ISO9001:2015 to map out and review all of the processes involved in the manufacture of its products. "During this review period, we identified a number of areas that we could improve upon quickly in order to strength a number of areas of the business," David states. "We also use the ISO standard to monitor our global supply chain. We have set ourselves a target to visit and physically audit all of our key suppliers within a three-year time period to ensure they all meet our exacting standards in terms of not only product quality, but also that they have ethically and environmentally sound working practices. We are confident that if we use the ISO9001:2015 standard to assure that the quality of our components and manufacturing processes meet our ice machines' design specification then this will be reflected in the quality of the products and services offered to our customers, which ultimately will lead to enhanced customer satisfaction."
Wherever its operations are based around the world, one thing that remains the same is the immense pride Hoshizaki takes in the quality of its products. By becoming one of the first companies within the group, if not the industry in general, to transition over to the ISO9001:2015 standard, Hoshizaki Europe is continuing this great tradition.
"We have a number of projects related to quality taking place during 2017," David says. "For example, we are currently reviewing the brazing processes within the refrigeration circuit, investigating the latest equipment, methods and materials used in the process, as well as using copper pipe CNC forming machines with an aim to reduce the number of pipe joints and consequently the risk of gas leaks in the circuit. We also plan to make a considerable investment this year in producing bespoke part picking trolleys, as well as upgrading the racking in the production area, so that we can ensure the right parts are delivered to the line in the right condition when needed for the specific machine type being built. Every machine that comes off our production lines is physically run tested to produce ice. This means that we can see first-hand that our customers are going to get the quality and volume of ice expected of the Hoshizaki brand. We see our Penguin logo as being a mark of quality and we want every single one of our customers to feel the same way."
Continuous improvement is one of the pillars of the ISO9001:2015 standard. For its part, Hoshizaki Europe is continually looking to improve the quality of its own products and manufacturing processes. It views the successful transition to the new ISO standard as being another stepping stone on its continued journey to produce world-class products for its customers.
Hoshizaki Europe Limited
Products: Ice-making machines and ice dispensers