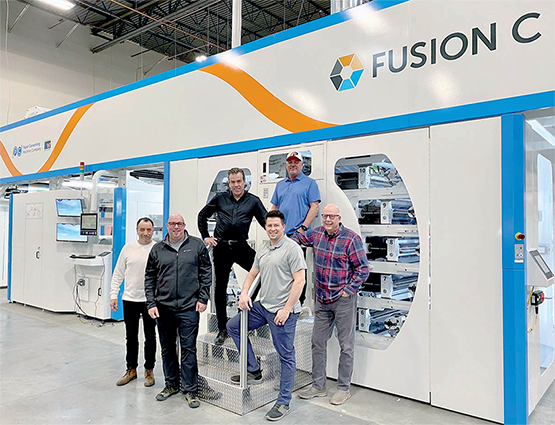 . Based in Salt Lake City, the packaging company has installed a 10-color, 52-inch Fusion C flexographic printing press from PCMC and two Ares 400-SUP stand-up pouch machines from Hudson-Sharp.
"The purchase of this state-of-the-art flexible packaging equipment will enhance and extend Aspen Press & Packaging's ability to offer its clients a more robust and wider range of solutions for their packaging needs," said Scott Robbins, President, Aspen Press & Packaging. "The equipment is built and supported in North America, and the manufacturers' proximity to us was important."
"The fast make-ready time and low waste, plus the SteadyPrint and TruePrint Plus technologies, were key factors in our decision to go with a Fusion C press," added Steve Evans, Chief Financial Officer, Aspen Press & Packaging. "The Fusion C is a great complement to our existing offset packaging equipment. It truly gives our sales team an edge over our competitors."
PCMC's Fusion C is a central impression (CI) press that combines the features and advantages of both inline and CI presses. It allows for quick setups and efficient runs, and is the only CI press manufactured in North America.