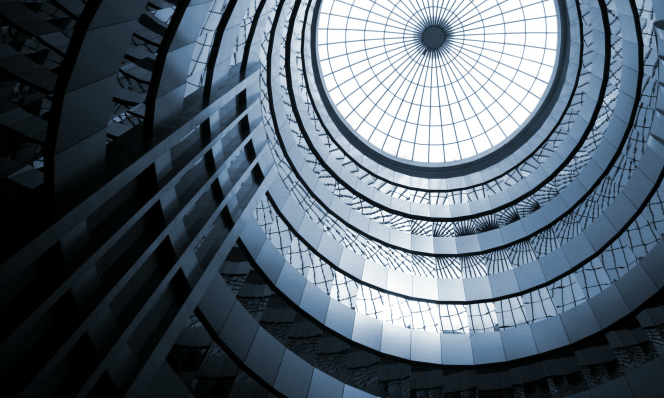 Founded in 1865, Houghton International is today one of the most successful and respected specialty chemical companies in the world. Through innovative products, value added services and a global network of experts, Houghton is able to partner with customers and deliver innovative and sustainable technical solutions to help its clients increase productivity, reduce operating costs and minimize risks.
"The company began with a rust preventive product, and it has successfully expanded its product portfolio in the industrial world and by entering developing countries," CEO Michael Shannon says. "We've always been a leader in technology and product development. Our people and technology have put us in a leadership position, allowing us to build the largest marketshare and a great customer base."
Leading Position
Headquartered in Valley Forge, Pa., Houghton manufactures specialty chemicals, oils and lubricants, while also providing dedicated on-site support with fluid management services called FLUIDCARE. Houghton has partnered with customers in multiple global industries. It has offices, manufacturing and research facilities in more than 40 locations around the world.
"Our products and people combined with how we deliver solutions are the important elements that set us apart," Shannon says. "We are the global leader in metalworking fluids and services, leading in markets including automotive, aerospace, metals, mining, machinery, offshore and beverage cans."
What drives the company's success on consistent and global levels is its ability to solve customers' problems. Houghton works to identify the operating challenges customers face in their industries and partnering with customers to devise lasting solutions.
"Their problems could be related to quality, productivity or proper disposal of chemicals, and we come up with ways to help them improve things like their total cost of ownership and health and safety of their employees," says. Jeewat Bijlani, president of Houghton Americas and global strategic businesses. "We have teams in multiple geographic locations that allow us to replicate that quality across the globe. We also continue to innovate and look at what is changing in metallurgy, such as the light-weighting trend in the automotive market."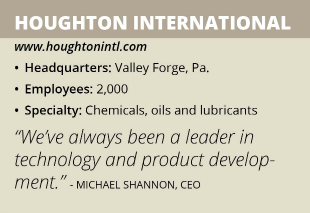 Intimacy with customers is critical. The company strives to have onsite chemical management at customer's manufacturing locations so it can achieve an intricate understanding of their applications. Houghton's technical experts understand how the customers operate and know how its products and services can be best used. The ultimate version of customer intimacy is when Houghton's FLUIDCARE employees are considered a critical part of the operating teams at customer sites.
"All of our onsite experts have direct lines to our marketing and R&D teams and can provide insight into new products that need to be developed to solve the problems they see in the field," says Dr. Dave Slinkman, senior vice president of global research and technology.
Adapting to Change
Houghton says there are a variety of pressures on customers today, such as competition and regulations. To maintain its position in the market, Houghton knows that it must have a diversified presence and exceptional awareness of market developments.
"We sell into 20 different end markets, and there are similarities and variances across markets," Bijlani says. "Customers are looking to do more with different metals, while keeping up with throughput, quality and delivered cost of their products."
"Customers also want improved performance while staying on top of regulations," Slinkman adds. "Regulations can drive innovation. This is why Houghton continues to invest in new technology developments even in an industry which is over 150 years old."
"Globalization is another challenge for customers, as they expand beyond traditional Western markets because competition demands it," Shannon says. "We have the reach to satisfy customer demands even in developing regions where customers seek lower cost."
Having taken calculated risks over the years to grow its footprint, Houghton is now confident that it is well positioned from a geographic perspective. It has invested in its manufacturing sites to ensure they are safe and productive, and it has invested in technical and sales professionals to make sure it has the right people in place.
Currently, its focus is on strengthening its capabilities throughout its strategic end market segments. It is training and developing its people while also working to understand its customers as well as the commonalities and differences between the world's regions.
"We are working on product innovation and technological capabilities to meet customer changes and requirements," Bijlani says. "We have the organization and talent pool to allow us to deliver in all regions of the world with our multiple Centers of Excellence model."
Some of its current initiatives are focused on understanding how customers use its products so the company can find ways to make them more cost effective. Others are focused on the European Union's REACH regulation, designed to improve the protection of human health and the environment from risks that can be posed by chemicals.
"Our customers need us to provide formulations to meet those regulations, and we have to work with our suppliers on that," Shannon says. "Over the next few years, there will be changes in formulations in Europe, and they will eventually spread to other parts of the world. We believe we are uniquely positioned to take advantage in this dynamic environment"
To support all of these endeavors, Houghton has made an investment in tribology and other equipment simulating metal cutting, ferrous and non-ferrous rolling, drawing and stamping, and hydraulic fluid systems used to help assess lubricity and other performance characteristics of its products. It allows the company to replicate customer processes in its labs to be sure its products will work for customers 100 percent of the time.
Additional investment areas have focused on FLUIDCARE, helping customers in all markets with fluid management and reductions in operating costs. Houghton continues to look for acquisition opportunities, too, as it has been a consolidator in a fragmented industry during the last decade.
"We think pressure on competition to make investments will be intense, and we will be able to take advantage of that by growing our marketshare and acquiring companies with a good customer base but without our scale," Shannon says.
In the end, Houghton understands that its customers will always be seeking ways to use less fluid. In the coming years, the company expects to continue developing minimum quantity lubricants that are used right at the point of contact between tools and metal. It expects to see cutbacks on some types of fluids and shifts in the kinds of coolants that are used. Longer lasting and recyclable products are expected to increase in demand as well.
Although products may shift, regulations may change, and customers may face different challenges, Houghton has always demonstrated its ability to be resilient and to adapt. That is because the company remains committed to innovation while hiring and retaining the best sales, technical, operations and back office personnel it can find. It is the people and the processes that will continue to drive Houghton's success into the future as it has during its 150 year history.
"In all regions of the world, we need a very coordinated human resources operation, as we are very dependent on people," Shannon says. "Knowledgeable people are not always easily found, and we must identify them, hire them, and retain them by maintaining a work environment that values and rewards them."