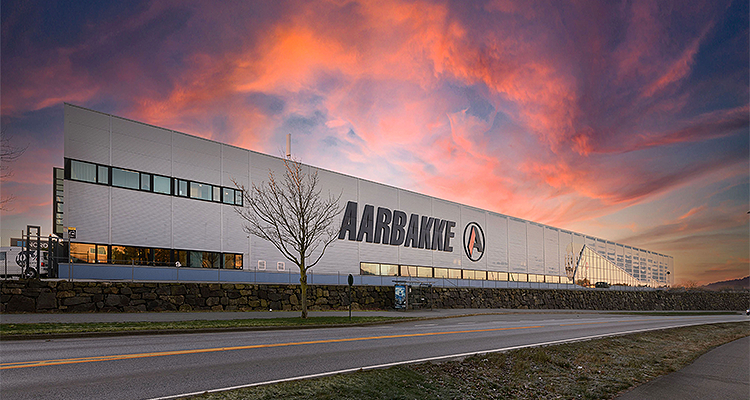 How Aarbakke's digital transformation resulted in the founding of sister company, Ignos  
Starting out as a blacksmith in 1918, Aarbakke AS (Aarbakke) went on to establish its machining operations in 1981. Located in the Stavanger region in the heart of Norway's oil industry, nine percent of its production is related to the sector, with various subsea and oil service businesses among its portfolio of customers. 
Beginning in 1997, the business has undergone a series of digital transformations, which have since characterized its operations. It has invested significantly in machinery, automation, robotics, and cloud technology, for example, to enhance its production value, which saw it win the award for Norway's 'smartest industrial company' in 2021.  
Growth opportunity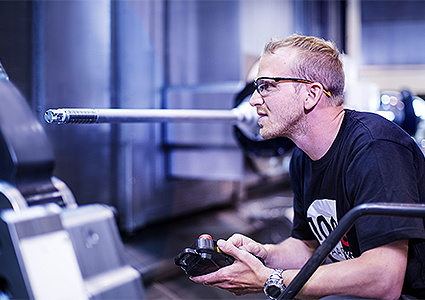 Inspired by the success of its digital transformation, the company carried this concept to a new venture, Ignos, which was established in 2021 on the foundation of Aarbakke's longstanding digitalization process. Rolf Thu, Chief Technology Officer (CTO) at Aarbakke, joins us to discuss the company's digital revolution and how this sparked the creation of Ignos.  
"Aarbakke started as a horseshoe maker in 1918, which continued until our current owner, Inge Brigt Aarbakke purchased a single Computer Numerical Control (CNC) machine in 1981," begins Rolf. "Having spotted a gap in the market, his vision was to supply his former employer with machine components, which he believed he could manufacture more efficiently, yet deliver the same quality. 
"And that's exactly what he did; through hard work and determination, he built up the business, largely within farming equipment at the beginning before he expanded into the oil and gas sector. There's much more room for investment and opportunity within oil and gas, so things started to speed up and business really took off in the late 1980s. 
"I also joined the business around this time, in 1989 to be exact, so it has been interesting to watch how the business has grown and adapted over the years. We only do production by order now, for example, which means we need to be flexible, so that we can adapt the manufacturing process to various kinds of operations, and often at short notice." 
He continues: "We soon realized that we were in what could be a challenging market at times, with a lot of requirements for quality, documentation, and specifications. However, what we initially saw as a challenge very quickly became an opportunity for us to grow." 
Value-first approach 
Harnessing the potential of digital solutions, Aarbakke began a journey of digitalization in 1997. "We started with improving our Overall Equipment Effectiveness (OEE), which would provide us with the opportunity to run machines more frequently and efficiently," says Rolf. "We worked hard on increasing our OEE and at the same time, keeping costs down and quality high.  
"It was around this time that our market went from just domestic Norway customers to more international clients, which grew in parallel with our digitalization," he adds. "Today, around 60 percent of our exports are to the UK, US, Europe, and Asia. 
"Then, in 2014, Industry 4.0 became a popular topic in the manufacturing industry, in Germany specifically, which was great for us because we had already adopted many of the principles. We strengthened our presence by entering into new partnerships, including ones with Cisco and Mazak, one of the biggest manufacturers of CNC machines in the world. 
"We became a pilot-factory and established partnerships with companies across the globe, like Mazak and Cisco, to investigate how the digital factories of the future might look," he adds. "It gave us a lot of traction and motivation to continue, and despite being a small team, we still attracted big name partners. I think we were attractive as partners as we had a unique value-first approach and a very motivated organization to test the ideas in real life" 
Rolf goes on: "We included concepts such as digital lean in our learning factory, for example, which automatically recognizes the best practices and encourages them across the workforce. It's essentially a group of smart systems, but smart is an overused term, so we embrace the concept under the name of learning factory. " 
As the company continued to grow in terms of both production and employees, it became increasingly digitally mature and had an opportunity to work with Cognite, a leading provider of industrial DataOps. 
"Partnering with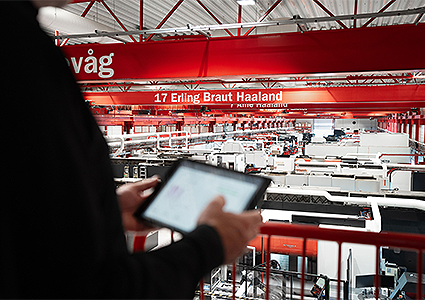 Cognite opened new possibilities in regard to building a large data model with a digital twin of our entire factory," Rolf reflects. "We store all possible raw-data flows and time series so I have a data model that can tell you anything you would like to know about your factory. Whether its the positions or temperatures of the machines, alarms or events or just feeds and speeds for any of the 28,000 tools at any given time since 2018. 
"When we presented our unique approach to clients and partners at different expos around the world, we realized that nobody else was doing this. So, although we felt like newcomers to the market, we established a software company and split out all the digital solutions from our backend into Ignos, which then purchased the Intellectual Property (IP) of all Aarbakke's digitalization." 
Quality and precision 
Khaoula Bensehir, Customer Success Director at Cognite, comments: "With our Industrial DataOps platform, Ignos can easily contextualize data and deploy solutions. It is by combining our extensive industrial data knowledge with Aarbakke's rich manufacturing knowledge that the combination becomes powerful. 
"We also offer our Cognite Academy and Cognite Hub, which enable Aarbakke and Ignos to upskill employees to deliver data driven solutions," she adds. "We believe training and development are crucial to securing constant growth when digitalizing within the manufacturing industry.  
"Ignos is a perfect example of how our ecosystem of partners can enrich our platform with critical industry expertise," states Khaoula. "Our aspiration is to maintain a long-term partnership with Aarbakke to continue creating greater value for Ignos and its end-users." 
Rolf reflects on the founding of Ignos: "Overnight, we suddenly had two companies. It has been a long journey and there's been a lot of choices with many lessons learned along the way. It's inevitable that we've made mistakes, but it's important to be honest and learn from them; we admit when investments haven't been as successful or effective as we'd hoped, and our customers appreciate our honesty and transparency." 
Today, Ignos has gained other, additional customers, and continues to provide innovative, turnkey digital solutions. "In fact," says Rolf, "Aarbakke is close to becoming its second largest customer, which is a great achievement for us in such a short amount of time. 
"I believe it's our passion and drive that have facilitated our success," he states. "Although it can be challenging at times, all of our employees are dedicated to the business. When you're doing something really fun and interesting, your job almost becomes your hobby, and that's a lovely place for us to be." 
As he looks to the future, Rolf concludes: "Both Aarbakke and Ignos have a very healthy customer base and we are continuously investing in more machines and robotics. We're also in the process of doubling the size of our factory in Norway and changing our ERP system to more of a modern cloud system." 
It is evident that by concentrating on high-tech machining equipment and extensive data collection, Aarbakke will continue to deliver cost-effective products and services without compromising on quality or precision.