How Dalton Safety has sharpened its operation to provide secure and dependable knives
Dalton Safety is the result of a carefully crafted history, following the acquisition of Slice Inc, by Safety Products Holdings (SPH). After nearly ten years of representing Slice Inc as its master distributor in the UK and Ireland, the company was offered the opportunity to introduce the Pacific Handy Cutter (PHC) and Klever Innovations ranges to its portfolio. The two existing brands fall under the SPG banner.
The business aimed to continue to represent Slice Inc as its master distributor, while marketing PCH and Klever under the Slice banner. However, this would have been confusing, which resulted in the creation of Dalton Safety. Today, Dalton Safety offers a selection of cutters, knives and accessories of the highest precision and quality.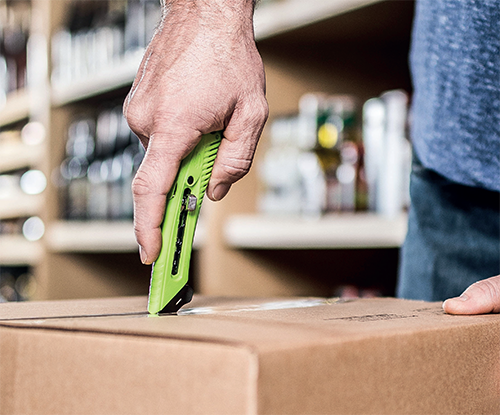 New addition
Dalton Safety's goal is to help Slice, PCH and Klever increase traction in the UK and Ireland, while adding complementary products to its range of knives. "I would like to think we are a very friendly group of individuals," begins Mike Dalton, Managing Director, when discussing how the team over at Dalton Safety works together to achieve its goals. Mike explains that Dalton Safety is a family-owned company in the truest sense of the phrase, with a team that consists only of the Dalton family, Mike, Kate, Harry & Emily. Though, this changed recently when it brought on its first employee from outside the family. "We're very excited about this chapter, and Demi is proving to be an excellent addition to the team."
"We are a small team, however our network is quite extensive. We work closely with third-party providers, to create our website, marketing material and lead generation campaigns. We also work closely with our vendors to make sure we are fulfilling their needs of carrying the products they want us to sell. Our goal is to offer our customers next day delivery whenever possible," says Mike.
Another significant milestone for the company was moving to a larger facility to accommodate the increased inventory. A larger facility has also allowed Dalton Safety to expand the offering of its own range, a development which, for Mike, has been particularly exciting. "In addition to the new products from PHC and Klever we are also introducing gloves, and will soon introduce additional products to complement our range. We continue to expand our customer base, which is fantastic, and we are hoping to keep the momentum going with growing our team as well!"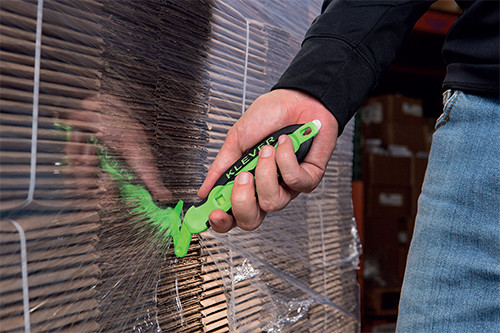 Addressing customer needs
For Slice, the key technology can be seen in the way the blade is manufactured. The angle at which it's ground means it is not quite as sharp as steel, but it is just as effective. "The Slice brand, especially, revolves around ergonomics. The box cutter was the first product the business introduced and has won several awards for its design. It's comfortable to hold, and the blade doesn't extend beyond the tip of the handle. This reduces the risk of puncture and injuries, and reduces the risk of damaging the contents of any box being opened. Most cuts happen when people change the blades, hence why a lot of companies use disposable products to avoid this. Slice have found the solution with a blade that is safer to handle," Mike explained.
He then dives into greater detail about the company's catalog. "The PHC range offers a more traditional utility knife. We do get instances in manufacturing where the Slice blades are genuinely not sharp enough for the manufacturer's task, which is where the PHC range benefits. PHC also offer self-retracting and auto-retracting knives, while Klever offer enclosed metal blade knives, either disposable or with replaceable heads. PHC and Klever also offer knives suitable for the food industry with metal detectable and antimicrobial versions. I would encourage people to browse through our websites to see what we have to offer."
Continued expansion
Next year, Mike is hoping to build on the work the team at Dalton Safety has done in 2022, with the aim of growing the business further. "We will be expanding the company by increasing our customer base and the range of products we supply. Our new gloves range will be available in January and we plan to introduce safety glasses at some point in 2023. Based on feedback from customers we have some interesting ideas for new products that will complement our range."
Mike is determined to see the company's catalog continue to grow over the next five years. He shares that once the business settles into its new warehouse space, the opportunities to expand its product range will increase tenfold. "We want to keep adding to our portfolio and continuing to see the kind of growth we have been getting in the last couple of years. I would like to see us with another three or four employees as well. I don't believe we need to move warehouses, but if we did, it would be because our products are doing well, so I won't be disappointed to see that happen," he says. In conclusion, Mike is especially excited to see the company enter new markets that will likely take the business outside of the UK and Ireland, and at Manufacturing Today, we wish Dalton Safety all the best with this endeavor.
www.daltonsafety.com