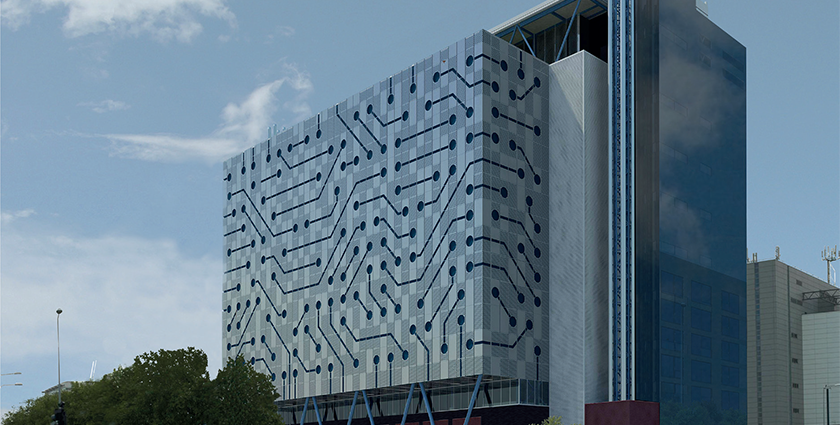 How Excool creates safe server environments that don't cost the earth
Excool has been designing, developing, manufacturing and delivering cooling solutions for data centers for the last 12 years. Its solutions predominantly use indirect evaporative cooling technology with the aim of reducing consumption of both energy and water.
Currently, Excool is cooling somewhere in the region of 320 mega-watts of white space and has supplied over 1200 units globally. With a strong presence in Europe and the UK, the business also has projects in Asia, North America and South America. It opened its first staffed facility in the US in 2020, incorporating a showroom and warehouse. "The last five years have brought incredible transformational change to our business," explains Jon Pettitt, Chief Commercial Officer. "We have developed new technologies and expanded our global reach."
Jon believes what sets the business apart is its focus on data center cooling as a specialty. "We dilute neither our technology nor business practices with any other applications. Our niche technology has helped to put us where we are today." In the past, to reduce energy consumption, the cooling process would predominantly incorporate water usage. As Jon suggests: "We used to throw swimming pools of water at a unit to reduce the amount of energy consumed. Power Usage Effectiveness (PUE) used to be the most critical aspect of data center certification and water was not really a prime consideration. Ten years ago, a five mega-watt data center was considered large. Today, we're looking at 50 to 100 mega-watt
centers that can be a kilometer-square in size. However, advances in technology have ensured that our energy consumption is approximately the same as it was. Rather than throwing metaphorical swimming pools of water at a unit, comparatively, we're now throwing bucketfuls', and achieving very similar performance, in terms of overall energy usage. Water is a scarce resource. The fact we're able to achieve incredible energy efficiencies while using minimal water and at times, even reducing overall water consumption, is a huge achievement."
Saving energy
To achieve this capability, Excool has moved away from the traditional method of flooding heat exchangers. As Jon expounds: "We are now using some AI in our technology and software to establish the best mode of usage depending on a range of factors. From weather conditions to the relative cost of energy verses water or availability of rainwater harvesting, for example, the sequence of operations can be tailored to optimize efficiency as an additional layer on top of the materials, design and technology of the physical unit itself."
The discussion around water and energy consumption is a preoccupation for Jon. As he explains: "My personal crusade at the moment is to try and get data center operators to understand that by physically using water from source, you can actually save consumption overall. Many people are averse to using water, but when exploited in a smart way, it can enhance efficiencies.
"Almost every kilowatt of power generation, anywhere in the world, barring about ten percent, involves some incumbent water usage. Maybe the best way to describe this is if you had a gallon of water and used it in a power station to generate energy, perhaps 800 watts of power would be produced. By the time that power reached the data center, due to intrinsic losses, you may end up with 750 watts of useable power. However, if you took that same gallon of water and put it straight into Excool's technology, you would get a full kilowatt of useable cooling power at source. By using that little bit of water in the data center, it's possible to reduce the amount of water that would be used by the power station down the road to generate that kilowatt of power for you.
"There are lots of different discussions around this subject, but ultimately, at Excool, we are championing the technology that enables our customers to save significant amounts of energy and water when compared to typical consumption by other technologies to perform the same function."
Enhanced efficiency
Technological advancement is at the forefront of Excool's operations. A recent investment has been a new vacuum-forming machine for heat exchanger manufacture. It has enabled Excool to build larger, more intricate heat exchangers that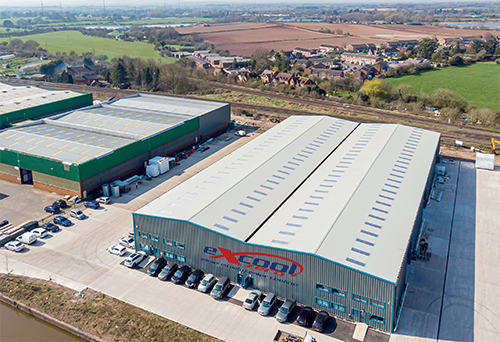 provide enhanced efficiency. The unique heat exchanger is manufactured from a composite material, which unlike the more commonly used aluminium, makes it resistant to corrosion, more robust and leak-tight. The Excool adiabatic and evaporative cooling system has been developed specifically for the product and is highly efficient both in terms of its ability to saturate the outdoor air fully and in its water use. The technology has enabled the business to build a slightly larger, more efficient unit.
Driving growth
Of Excool's 180,000 square feet in the UK, approximately 120,000 is manufacturing space. The new on-site Excool Zero factory is an additional 60,000 square feet, providing, as Jon suggests, "a template for factories going forward. This new site has enabled us to significantly increase our manufacturing capability. We have
moved from approximately three to between 12 and 16 units per week. We have the possibility of scaling to 22 units a week without changing anything we do, in readiness for larger projects and larger orders.
"This building template has the potential to be rolled out, as and when we start to grow in other areas. We already have 15,000 square feet in the US which helps in terms of our supply chain and delivery. Supply chain is a major consideration for everybody at the moment. For every ten units that we build, we probably have orders for eight and place the remaining two into stock, which tends to fly off the shelves. We have kit available and can deliver to almost anywhere in the world within six weeks. People are changing designs to be Excool-compatible and wanting to hold stock of the Excool Zero design."
Jon believes this growth is fundamentally thanks to the new, more efficient and compact design of heat exchanger. "We have managed to cut our manufacturing man hours by about 40 percent, by building all the features into a single unit, thereby increasing productivity and quality. Whereas before we had a range of maybe eight different-sized units, we now have two, complete with features," says Jon. "With this, comes economy of scale. The pricing we go to market at is significantly lower than before and we know it's extremely competitive, with quality second to none. This availability, coupled with the product's reliability, suits the current market and is helping to drive growth in places like the US."
In-house training
Indeed, Excool has enjoyed a very successful couple of years in the US, currently working on its fourth major project, stateside. In the UK and Europe, the business is going from strength-to-strength, having worked and continuing to work with big names, such as CyrusOne and Digital Realty. Further growth is on the horizon, with upcoming projects in the Middle East and the Far East, in Malaysia. Depending on where the customer is based, Excool's aftersales team will deal either directly with the client or with certified partners. The business also boasts some phenomenal remote monitoring and engineering capabilities.
Jon goes on to highlight the importance the business places on its people. "There is nothing more important than making sure we have the right people, we keep them happy and we keep them motivated in what they do. We have an incredibly successful graduate program. Our team of graduates is phenomenal and we have a fairly high staff retention rate. One thing, however, that has proven challenging is recruiting good quality refrigeration engineers. To address this issue, we have started training engineers ourselves to help develop the skill sets we require."
Looking to the future, further expansion and Excool Middle East is on the cards, with the aim of establishing an office in Dubai. Jon elaborates: "I am then going to look at opening an office in Asia Pacific, probably in Singapore. In terms of the Americas, my next aim is to find a local, large-scale assembly facility. I hope we will have offices in both the Middle East and Singapore, alongside a manufacturing and assembly plant in the US in the next three-to-five years. The data center business is phenomenal. It isn't shrinking in any way and it's crucial to keep pace."
www.excool.com