How global testing company, Cerulean, is experiencing tremendous success in unfamiliar markets
Established in 1945, and renamed in 2001, Cerulean is a world-leading provider of control, testing and measuring equipment. Having started exclusively in the tobacco industry, the company has gained a global reputation for innovation and precision, while providing excellent customer service.
Since its foundation, Cerulean has experienced tremendous growth and has successfully expanded into new markets beyond tobacco, such as food, chemicals, and industrial goods. Steve Frankham, Managing Director at Cerulean, discusses the company's growth, its innovative capabilities, and plans for the future.
Steve begins: "Originally, the business was part of Filtrona, the largest global manufacturer of cigarette filter rods. There was no testing kit on the market for those cigarette rods, so Cerulean was born as a division to fulfill testing requirements, initially for in house produced rods. It then grew rapidly, as other cigarette manufacturers began to invest in testing kits for their own products. The division was sold to Molins Plc at the turn of the 21st century, and again in 2017 to Italian engineering company, Coesia. We are still dedicated to tobacco testing products, but we are now involved with other consumer products too."
As Steve highlights, the company no longer operates exclusively in the tobacco industry, instead boasting a large array of solutions and capabilities for numerous markets. It has designed an air sampling range, for example, to detect enzyme and dust levels in specific environments such as detergent factories. Cerulean also offers a range of automated robotic systems for laboratory environments, particularly for the healthcare and pharmaceutical industry.
Bespoke machinery
Additionally, the business has expanded into product testing machines for the cosmetics and personal care sector. Specifically, it has developed bespoke machinery for packing and testing unfilled tubes, such as those used for toothpaste and ointments. With machines for identifying leaks, inspecting packaging, and automatically checking caps and seals, Cerulean is revolutionizing the tube testing process by enhancing both its efficiency and accuracy.
The company has also recently developed Celsius, a range of products designed for food temperature testing in the chilled and frozen food markets. "The standard way of measuring food temperatures is either using an infrared thermometer, which only measures surface temperature, or by probing the food to get a point measurement," Steve explains. "But neither of these methods provide an accurate average temperature of the product. Celsius overcomes this issue by measuring naturally emitted microwaves that come off the product, which provides an average temperature.
Valuable data
"The product itself looks similar to a traditional microwave, but instead of heating food, the cavity is used for the measurement process," he continues. "It is primarily used in the food industry during dispatch, so that the company or person in charge can demonstrate that the food was the correct temperature at the time of dispatch. It's a real sustainability tool for the industry because it reduces food waste; products must be thrown away if a probe is used. It can also be used in food factories for process optimization, specifically to reduce energy being wasted on the cooling process. We have also developed software packages that enable all the data to be added to a database, which can be manipulated, downloaded, or used in exactly the way the manufacturer requires."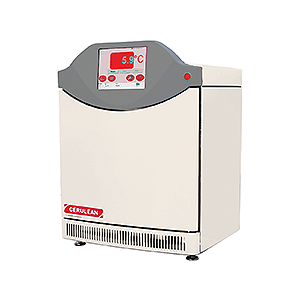 He continues: "Our customers want information, not just a big piece of equipment, so the database we provide is just as important as the machines. Software is the biggest complexity within the business, and there are two elements to our software. Firstly, the physical workings of the machine; the valve needs to open and close at the correct time, for example. Then there is the data handling side, which includes managing the database, comparing results against specification, and producing reports."
https://magazine.manufacturing-today.com/issue-210-march-2023/0052401001679995599Returning to the tobacco industry, Steve explains the company's work with heated tobacco products. "These look like small cigarettes, but they are placed in a heater and the nicotine is released without the tobacco being burned, meaning the consumer gets the nicotine they want without the chemical combustion and residue associated with burning tobacco," he describes. "These products have intricate internal features that need to be tested, but because they also can contain metallic materials, you cannot access the internal parts through ultrasound or microwave. Instead, we used X-ray technology to examine the product in various dimensions. In this case, we also worked closely with Hamamatsu, who developed an application-specific camera for us that not only fulfilled our measurement requirements but is also a cost-effective solution."
Engineering trust
Despite its constantly growing work in unfamiliar markets, Cerulean remains committed to its roots in the tobacco industry. It supplies physical property test instrument stacks, which "measure a myriad of things; weight, circumference, pressure drop, moisture content, or resistance to compression," says Steve. These individual measurements allow the manufacturer to assess the physical properties of the product.
Turning to the people side of the business, Steve describes: "We are of a size where everyone knows each other and that shapes our inclusive culture. We encourage entrepreneurial attitudes and innovation, with everybody understanding and respecting the framework in which this is managed. We are not a particularly hierarchical company, so everyone's ideas are equally valued. Overall, we are friendly, hardworking, innovative, and flexible. We support our employees in taking their career in whichever direction they desire, helping them to grow and develop, both personally and professionally."
Steve reflects on how Cerulean has navigated supply chain challenges, transforming potential problems into avenues of success. "It's forced us to be more innovative," he says. "We have used the supply chain difficulties to drive entrepreneurial and innovative culture within the business, encouraging the team to find available solutions to our shortages.
"We have been able to reengineer products by using available resources," Steve continues. "We are fortunate that the breadth of the business has grown outside of tobacco and into other industries because this allowed us to increase the supply and technology base of the business, which in turn helps fuel the innovative culture, and of course grow our overall turnover and make the business less dependent on one sector."
Looking ahead, Steve concludes: "I hope that we can further spread our wings to engineer more growth and add to our platform of services and capabilities for existing clients, as well as new ones. Typically, it's a lengthy process to gain new repeat customers, as it takes time to build up a rapport based on quality and trust. We must accept that this dynamic exists and strive to grow our customer base year-on-year."