How Grenville Engineering is experiencing monumental growth while inspiring a future generation of engineers
Since its foundation in 1984, Grenville Engineering (Grenville) has been at the forefront of precision sheet metal fabrication. Having started with just five staff members and one machine, Grenville has experienced exponential growth and has heavily invested in machinery to expand its product offering.
Grenville's central location in Stoke-on-Trent means it is perfectly placed to serve the UK market with a wide range of metal manufacturing services. Its clients span various industries, including automotive, construction, rail, materials handling, and petrochemicals. The company's Sales Director, Stuart Rawlinson, joins Manufacturing Today to discuss Grenville's growth in the industry, recent investments, and its vision for the future.
"Our aim has always been to provide cutting-edge fabrication, with the vision of being one of the UK's leading sheet metal fabrication companies," begins Stuart. "Investment in technology is vital to further expansion of the business, as it drives efficiency and ensures we are all working smarter, which consequently maximizes our production output."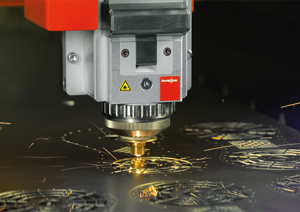 With almost four decades of experience, Grenville has developed a comprehensive portfolio of services. Its advanced laser cutting machines are integral to the fabrication process, providing precision cutting to ensure parts meet customer specification. In 2021, Grenville invested in a Bystronic Bysprint fiber laser to complement its two existing Trumpf machines. "The new machine has increased production capability, as it can cut thicker materials using nitrogen, eliminating the need for a second operation to remove the oxide layer," Stuart explains. "Another benefit is that we are now able to enter different markets because of its ability to cut thicker stainless steels."
Stuart continues: "Our team of expert press operators work with both ferrous and non-ferrous metals to produce high quality solutions for sheet metal forming and rolling needs. Our recent investment included the latest Bystronic Pressbrake, which is three meters in length and has a 200-tonne capacity. This has enabled us to process longer and thicker parts in-house, which we would have previously had to sub-contract." The company's four press brake machines boast complex bending capabilities and deliver the highest repetition accuracy in the market.
Precision production
Metal punching is another of its key services, with TruPunch 3000 machinery capable of producing perforations and punched shapes from mild steel, stainless steel, and aluminum. Stuart elaborates: "We create highly technical designs to meet customer specifications, regardless of their complexity, with a range of tools that can punch materials up to six millimeters for mild steel and three millimeters for stainless steel."
Furthermore, Grenville boasts 22 metal welding stations, offering extensive coverage of all welding services and materials, ranging from 0.8-to-15 millimeters in thickness. The business can also design assembly lines when required and assemble complex parts to assist in streamlining clients' production processes.
On completion of a project, "every component is subject to a rigorous deburring, grinding, and dressing procedure to ensure the highest quality surface finish," explains Stuart. "All goods are then packed and palleted to accommodate customer and shipping requirements, and we operate our own fleet of vehicles to provide a reliable, prompt delivery service across the UK.

"Through our sister company, Regina Industries Ltd, we can also provide plastic injection molding and glass making services," he continues. "Established in 1950, the expert team at Regina produces a range of materials for various industries ranging from multinationals to sole traders."
Grenville has invested more than £900,000 in machinery and improved racking systems over the last two years. "Investment has been vital to enhance efficiency throughout the business, whether it's investing in software or key machines," Stuart explains. Its continuous investment is crucial to facilitating growth within the industry. Grenville has, for instance, seen an average increase of ten percent year-on-year, but in 2022, this figure grew to 16 percent.
In 2023, the company will further invest in an additional 3500 square feet across manufacturing and office facilities, as well as purchasing numerous new machines. Stuart says: "New year, new machine… the Loewer DiscMaster 4TD. This efficient deburring machine will work in conjunction with the lasers on components that require a high quality surface finish."
Turning to the people side of the business, Grenville offers an incredible apprenticeship scheme. Having started as an apprentice himself in 1995, Stuart is passionate about the program: "Apprenticeships have been the driving force in retaining engineering skills within the business. It gives young people the opportunity to gain knowledge, skills, and experience of the sheet metal fabrication industry."
Grenville recognizes that its apprentices are invaluable to the business. "We are proud to say that many of our apprentices remain in the company indefinitely, and many are now in senior positions across the business," states Stuart. "We have established a great company culture and successful internal relationships, which is evident in the company's strong employee retention. We are always striving to do the best by our people and reiterate that every individual is a valued member of the team."
Grenville is partnered with North Staffs Engineering Group Training Association (NSEGTA) to ensure its apprentices have the invaluable knowledge and skills required to excel in the industry. This exemplifies Grenville's commitment to the local community, and consolidates its philosophy that apprentices are the future of manufacturing, not only at Grenville, but across the industry.
Continuing the topic of social responsibility, Stuart adds: "We have recently made sustainability changes across the business, such as replacing lighting with LED throughout the offices and factory and upgrading the main site to energy-efficient windows. In addition, we have moved some of our company vehicles over to electric and installed a superfast electric vehicle charger for both visitors and employees to use."
Turning to the future, Stuart concludes: "Over the next three-to-five years, we will be looking to invest further in new processes and automation. This will enhance our efficiency and increase opportunities in various markets, as we continue to work towards our £15 million turnover target."