How innovation serves as a pillar of success for Rayner
EASY on the eye
Rayner's journey begins in 1910, in London, where one of the optician store's earliest customers was a four-year-old boy named Harold Ridley. Ridley's association with Rayner would continue into his professional career when he designed the world's very first intraocular lens (IOL) – a small, surgically-implanted artificial lens that replaces the natural lens in the eye which focuses light onto the retina – a ground-breaking invention for which he chose Rayner to manufacture. IOLs are now used in over 28 million cataract surgeries annually, the world's most performed elective surgical procedure.
Today, Rayner has evolved to be an internationally renowned manufacturer of IOLs, as we learn from Tom Heron, Rayner's Head of Manufacturing. "Following the divestment of the former Rayner opticians chain in 2014, we began focusing purely on surgical products and in particular, the manufacture of IOLs, prompting the move in 2016 to a brand new, £25m state-of-the-art manufacturing site," Tom begins.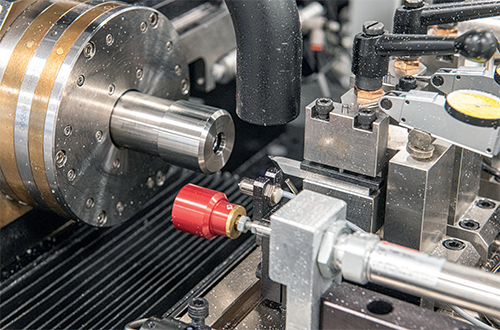 We then go on to discuss Rayner's strategic manufacturing capabilities, and how the business continues to earn itself a reputation for innovation in the ophthalmic industry: "Every year we launch at least one new product, be it a groundbreaking new optic, improvement to an existing lens, or a complementary solution to our IOLs. Despite being on a steep commercial growth trajectory, one of our biggest strengths, versus larger competitors, is our agility, with the ability to develop products and respond to market changes incredibly quickly. Rayner employs approximately 550 people from around the world, classing it as a mid-sized company by industry standards."
The 'greener difference'
Tom explains how the continuous improvement of quality systems remains one of Rayner's key focuses. "A couple of years ago, we digitalized our QMS system so that all quality checks across the entire company are managed online. This was a very large project as there are change controls for almost everything at Rayner! However, the outcome has been a much smoother and more effective way of working for everyone," shares Tom.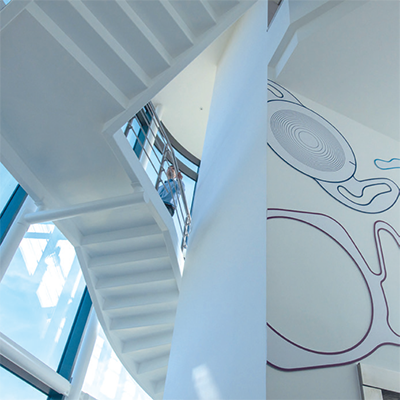 Alongside innovation, sustainability is also integral to Rayner's operation, and the business is working hard to be the 'greener difference' for the medical industry. "We recently invested in HASA Optix, a Brussels-based medical device company that produces high quality, single-use recyclable ophthalmic surgical instruments," Tom explains. "We have also pushed for developments in Rayner's own internal manufacturing processes. For example, prior to our 2016 relocation, every IOL required two plastic inserts for production, so one of the first things we did when we moved to our current site was to remove this step because we knew it was wasteful. We also recently introduced a reusable arbor system and have completely redesigned the entirety of our lathe floor to accommodate it. Other improvements include developing a distillation process for some of our chemicals, something we began during the pandemic, so that we can reuse and recycle the chemicals indefinitely to encourage a sustainable operation. We are now rolling out chemical recycling more widely which will also bring us closer to greener manufacturing," he expresses.
"Further supporting our goal to be the 'greener difference', we are currently redesigning our product packaging to reduce the amount of plastic used, replacing it with a lighter and more sustainable paper pouching system."
Rich product pipeline
When Tom thinks about the future of the business, his projections are positive, despite the widely publicized challenges facing the industry. "The supply chain is currently our biggest challenge. We have a lot of suppliers based in the UK, which helps, and we have great relationships with all of them. However, from my perspective, it is crucial that communication within the supply chain network is maintained, so that we at least have a heads up if there are any expected disruptions. Also supporting Rayner's supply chain stability, I am lucky to have one of the best material managers in the industry: Darren Pruce. He has worked at Rayner for 32 years and is incredible. He and his team have maintained fantastic momentum within our supply chain through challenging times like during the pandemic where we experienced material shortages, as a lot of the materials we required were also being used in Covid-19 test kits."
With regards to staffing challenges, Tom explains, "I think that this has been an unfortunate side effect of Brexit. However, we are working with our recruitment partners to attract people with the right skills and capabilities to join our teams. I think for me, that has been one of the biggest changes. We know we are competing for great people in the marketplace but at Rayner we pride ourselves on being able to offer great jobs with a great working environment and the potential for people to grow if they wish. I think this really sets us apart from our competitors, making Rayner a highly attractive place to work."
Tom looks forward to seeing how far Rayner's innovation will extend. "We will carry on our initiative of launching new products every year. There is a really rich product pipeline with the ultimate goal of developing a lens that behaves like the natural crystalline lens in the eye and offers complete spectacle independence – that is considered the holy grail within ophthalmology, and I am sure we will achieve it," he concludes.
www.rayner.com