How investment and acquisition are shaping the future of American Welding & Gas
A family and employee-owned business, American Welding & Gas (AWG), specializes in the manufacture and distribution of industrial, medical, specialty and beverage gases and associated equipment. As one of the largest independent gas and welding supply distributors, AWG has the necessary expertise and resources to serve large, cryogenic gas customers, as well as small businesses, with products ranging from bulk quantities of gases to individually packaged gas cylinders.
AWG has an extensive product range; its gas fill plants create all types of gases for industries like manufacturing, laboratories, colleges, industrial, medical, mining, and food and beverage. It boasts a team of gas specialists who are dedicated to the mixing, packaging, and delivery of individual gases or gas packages to industrial sites.
The company traces its historical roots to two former companies – Valley Welders Supply in Montana and Scott-Gross Company in Kentucky. Both entities were established in 1949; later becoming the cornerstones of AWG. The acquisition of Scott-Gross in 2014 saw AWG impressively double in size and it has continued to grow in the ensuing nine years.
Today, it operates in almost 100 locations (over 80 retail sites and 18 gas fill plants) across 22 states, stretching from Montana to Pennsylvania, and down through Texas and Florida. With a plan to double in size over the next five years, Jason Krieger, President and CEO of AWG, joins Manufacturing Today to discuss the company's growth through acquisitions, plans for the future, and recent investments.
"We take pride in staying true to our core competencies," Mr. Krieger begins. "If it's not an area or industry where we are confident that we are the best in class, we stay away from those initiatives. At the end of the day, we are a gas company and 70 percent of our revenue is generated from gas sales and cylinder rental."
Growth and investment
AWG also supplies the food and beverage industry with food and beverage-grade gases for packaging and carbonation, all of which conform to Compressed Gas Association (CGA) standards. It also provides complete system setups of bulk carbon dioxide for the restaurant industry.
Furthermore, the company's range of certified medical gases, including nitrogen and oxygen, are produced to meet or exceed US Food and Drug Administration (FDA) regulations, and are also approved by the various state Boards of Pharmacy for the respective states where AWG operates.
"We are 100 percent independent when it comes to our gas services," Mr. Krieger explains. "This means that we distribute a large majority of gas products using our network with a fleet of over 250 cylinder trucks, bobtails, and cryogenic trailers. We manage the pickup, delivery, and fill schedule, so that our customers can focus on their core businesses while remaining confident about product supply.
"We have recently made significant investments in our specialty gas production, with a multi-million-dollar upgrade to our Tier 5 specialty gas plant in Indianapolis," he continues. "Of course, with the investment comes expectations for large growth, but Tier 5 Gases remain the preference of businesses in diverse industries, such as food, electronics, and pharmaceuticals."
Aside from gas, AWG also provides high quality welding machines and accessories to a variety of customers. Its expert team collaborates with clients to understand their chosen welding process and suggests the most appropriate machinery and accessories, whether the customer is a home hobbyist or an industrial professional. It also supplies cutting equipment, gas apparatus, abrasives, and Personal Protective Equipment (PPE) to multiple sectors. AWG also has a dedicated automation division to guide customers on the latest robotics technology.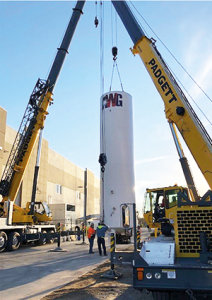 Calendar year 2022 saw huge growth for AWG, characterized by three separate acquisitions. "We were fortunate to welcome some great people to our team through deals we made in Southern Tennessee and Northern Alabama, the Greater Cincinnati area, and metropolitan Chicago" Mr. Krieger explained. "All
three companies are located in strong strategic markets for us, and we found firm cultural alignments with them, as we do with all our partnerships.
"We spend a considerable amount of time working on acquisitions. We have a very strong financial position that allows AWG the resources to acquire businesses; both large or small," he continues. "We take pride in being an alternative to the major gas companies or private equity, particularly for business owners who value their people and legacy.
"We are constantly making improvements and expanding our production plants across our network to support our ambitious growth plans," says Mr. Krieger. "Our investment package is focused on new capabilities and the latest technologies, as well as investments in distribution to better serve our customers." For instance, AWG is now using a Smart Delivery Platform for all deliveries, which has numerous efficiency and environmental benefits, such as lower consumption of paper, fuel, and emissions.
Community commitment
Turning to the most important part of the business, AWG is committed to the communities in which it serves and to the safety of its employees. "Safety and compliance always come first because to me, there is nothing more important than sending our employees and communities home safely every single day," Mr. Krieger asserts. "We are proud of the many achievements made by our teammates. Our professional drivers in many locations have achieved a million-mile status of accident-free miles. We also consistently have well over 80 percent of our locations with no safety incidents.
He continues: "In terms of the wider community, we have made significant investments in various areas, such as a $30,000 package to the residents of Kentucky and Montana in 2022, after severe storms and flooding hit the region. We have also established the Women of AWG Committee to enable women in the company to help us challenge the norms of the manufacturing industry."
Discussing the future of the business, Mr. Krieger confidently explains: "We have crafted a five-year plan that we have implemented. It will enable AWG to facilitate its goal to double in size over the next five years. First and foremost, we plan to be the safest distributor in the industry. We will continue to be a leading gas-and-rent-focused organization and expect that productivity initiatives across the business will offset inflation. I anticipate that AWG will be an industry leader year-on-year and continue to grow, both through acquisitions and organically.