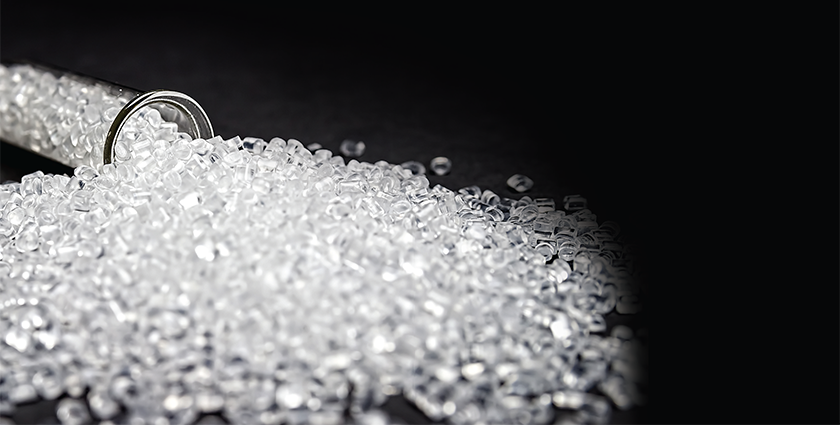 How KAITEKI is pushing Mitsubishi Chemical UK's success and motivating its sustainability efforts
One of the world's largest chemical producers, Mitsubishi Chemical UK (Mitsubishi Chemical), is taking to greater heights as the company pushes to expand its capabilities. Motivated by the mantra, 'one company, one team', the Mitsubishi Chemical Group has shifted from its previous structure, in which the holding company and each operating business were managed individually, to one in which the entire group is operated in an integrated manner. This strategy will serve as a catalyst for greater potential for Mitsubishi Chemical's future.
The removal of these organizational barriers between each of the operating and affiliated companies to realign them based on corporate functions and business units, has enabled the organization to respond quickly to a range of market changes and demands. As a result, the group can now maximize the power of its resources, technologies, and human resources, thereby forging the future.
Expanding offering
The business was formed in April 2021 by the consolidation of the separate Mitsubishi Chemical subsidiaries in the UK. These were Lucite International UK Ltd, Lucite International Speciality Polymers and Resins Ltd, MC Ionic Solutions and Nippon Gohsei UK Ltd. Taking a leap further back, in 2004, the Nippon Gohsei UK site re-branded to Mitsubishi Chemical UK Ltd, which birthed the SoarnoL Division, and led to the development of the Saltend Chemicals Park in Hull. Manufacturing Today learns from the company's Managing Director, Peter des Forges, about new ventures that are taking place to expand Mitsubishi Chemical's offering, particularly regarding the SoarnoL division, as well as the ways in which it is refining its capabilities to remain a leader in the manufacturing industry.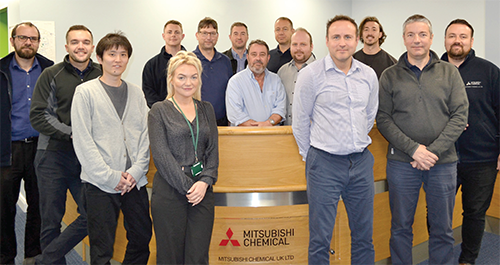 Growing demand
One of the most recent and exciting announcements is the new production line in support of SoarnoL, Mitsubishi Chemical's gas barrier, which is used in high performance packaging. "Our SoarnoL division produces ethylene-vinyl alcohol copolymer (EVOH) under the brand name SoarnoL," begins Peter. "EVOH has a high gas barrier property for oxygen, carbon dioxide and nitrogen, which makes it suitable to extend the shelf life of food through multi-layered food packaging that utilizes one layer of EVOH.
"Other applications for the product can be seen in bottles, pipes and plastic fuel tanks, and, subsequently, we have pushed the company to specialize in high quality, high performance EVOH that matches customer requirements," he shares. From Peter's observations, global demand for EVOH resin has been expanding. This has been as a result of growth in emerging markets, as well as an increasing use of individual packaging, owing to lifestyle changes in recent years and the rising calls to limit the use of preservatives and food additives. Due to these factors, Mitsubishi Chemical anticipates solid growth in demand for EVOH resin in the coming years.
Although the three SoarnoL EVOH resin production sites in Japan, Texas, and the UK are thriving, the British-based facility is set to undergo some impressive expansions. The company will meet soaring demand for food packaging materials by increasing its annual production capacity and establishing a structure to grow the business. It will not only increase production capacity to capitalize on rising demand, but will also speed up development of the business by continually offering food packaging-related solutions, and making full use of Mitsubishi Group's collective strength.
This has led to the impressive expansion plans in Hull, which will focus on state-of-the-art manufacturing facilities, equipment and technology. This operation, where more than 125 people are already employed, has seen a steady and significant increase in demand as food manufacturers have sought to lower their environmental footprints. The new plant will be constructed on land next to the current facility, and is expected to be completed by mid-2025. "The EVOH production facilities at Hull have a capacity of 18,000 tonnes per annum, and with this latest investment, we are expecting to see that double, making the production site the largest capacity in Europe.
As a Japanese company, Mitsubishi Chemical follows the mantra of continuous improvement in improving efficiencies and safety throughout the process, which is why the investment at Hull is set to push the existing capacity to over 36,000 tonnes. "Most of this will be for the export market. Overall, the market is growing at around five percent per year, so these investments are necessary to keep up with customer demand."
When it comes to product innovation of this scale, Mitsubishi Chemical draws its inspiration from its loyal and supportive clients. "New products are created to meet the ever-changing customer demands, and new grades are developed in Japan by utilizing the full research and development capabilities of Mitsubishi Chemical. The packaging industry, especially in Europe, is pushing recyclability, which is why EVOH has many advantages compared to other barrier material. This increases the demand for our product and will continue its growth in the future," Peter explains.
Sustainability goals
Tying in with the environment focus that drives Mitsubishi Chemical's product innovation, Peter goes on to discuss the second development that has been in motion for several years: sustainability. In line with the international Sustainable Development Goals, which highlight global targets from the UN's Sustainable Development Summit in September 2015, Mitsubishi Chemical is on track to minimize its carbon footprint. This vision comprises 17 goals and 169 targets for realizing a sustainable world, in which governments and civil society are expected to utilize their resources and coordinate efforts to help decrease the impact the manufacturing industry is having on global warming.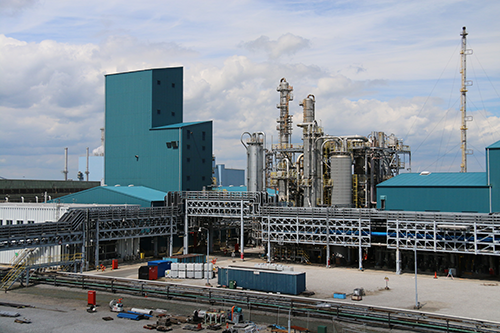 By working in accordance with its vision of realizing KAITEKI, the sustainable well-being of people, society and the planet, Mitsubishi Chemical adopted improving sustainability as one of its management axes in 2011. Since then, the business has worked tirelessly to ensure that each milestone of its overall success does not negatively impact the longevity of the environment in which it works. This is where the concept of KAITEKI comes into play.
The company aims to not only help solve environmental and social issues but contribute to the sustainable development of society and the planet. As such, it believes that many aspects of its vision of realizing KAITEKI run parallel to the Sustainable Development Goals set by the UN. "Although we acknowledge numerous challenges lie ahead in this regard, considering the opportunities that come with it, every effort is important.
"We embrace these new challenges with optimism that we will overcome difficulties that once held us back, elevating the company to the next level. Through this, we remain fully committed to advancing our goals to achieve carbon neutrality, finding solutions to marine plastic pollution, and creating hope for the future. To that end, in December 2021, we announced our new management policy, Forging the Future, which lays out a clear strategy to unlock the growth potential of our Group and drive operational excellence.
"In addition, as we mentioned earlier, in April 2021, we shifted to an integrated management structure, operating with greater efficiency as 'one company, one team'. Under this new structure, Mitsubishi Chemical Group will take on the challenge of realizing a better future together with our shareholders, customers, employees, communities, and all other stakeholders," Peter expresses.
This is why the SoarnoL division project is proving to be a major success for the business. Because sustainability is integral to the company's success, the new development will contribute positively to Mitsubishi Chemical's environmental goals, as well as its overall prosperity. "This is a fantastic benefit for SoarnoL, as it extends the shelf life of food, and ultimately minimizes food loss.
There is minimal packaging waste as well, through reducing the plastic within the structure and through recycling. On the operations side, we are exploring the possibilities of receiving power, generated from blue hydrogen, thereby reducing our carbon footprint significantly. This would involve us linking in with the Hydrogen to Humber scheme, which our government is considering very seriously at the moment," Peter divulges.
Optimistic outlook
While these developments do provide a positive outlook for the future, Peter is also aware that there are challenges that must still be There are challenges that must still be tackled. One such challenge that Peter references was of course the pandemic. Although Covid-19 brought with it a few obstacles that impacted the business, Peter shares that he is proud of how the company was able to overcome these difficulties. "During the pandemic, we managed to keep the plant running to help fulfil our customer needs. In fact, customer demand rose during this period as there was an increase in people eating at home rather than at a restaurant, which results in more food packaging.
"As for supply chain challenges, we were holding high stocks of raw material as a contingency of Brexit. Fortunately, we have excellent relationships with our major suppliers and logistics providers who helped us through the period without us having to stop production," he explains.
With these measures in place to see through the industry difficulties, Peter's forecast for the future is optimistic. He is excited to see how the development of the SoarnoL division will continue to prosper, as it aims to enhance the company's approach to sustainability, while further expanding its operation. "With the new line scheduled for completion in mid-2025, the company will see a larger critical mass, and further employment both directly or indirectly and the ability to satisfy our customers growing demand for top quality EVOH," he concludes.
www.mitsubishichemical.co.uk