How Patterson & Rothwell Ltd is doing everything it can to be on the right side of history 
A specialist with state-of-the-art injection molding and toolmaking facilities, Patterson & Rothwell Ltd (P&R) has succeeded through making the most of every opportunity. However, the company truly owes its success to two ambitious gentlemen: Tom Patterson and Alan Rothwell. After the two had been made redundant, they channeled their skills into Patterson & Rothwell Ltd. 
In 1981, the duo bought their first building on Union Street, in Oldham, Greater Manchester, for £8000 – a building no bigger than a garage. Starting their trade on general engineering projects until they were better equipped to make their own tools, they went on to specialize in the ever-expanding Fenestration Industry. 
According to the company's Managing Director, Jonathon Parkes, the pair recognized that only a small number of components for this sector were being manufactured in the UK, which inflated import prices. By onshoring their services, the company grew in popularity among its customers. "Over the course of 20 years, the business grew exponentially. In 1996, Tom retired, and eight years later, the company merged with Plasteknik, which was led by Lee Tilley. Lee joined Alan as a board member of the combined businesses, and together, both Alan and Lee continued to help and support what they feel was a very good team and steer the organization's continued success. 
"After 24 years at Mount Pleasant, in 2016, P&R relocated to a seven-acre site with a large two-story building providing 126,000 square feet of manufacturing and storge space on Shaw Road, which is where it has remained," says Jonathon. 
Complete service 
Today, the business is known as an expert in injection molded parts, for areas such as glazing, roofing and building products, horticultural items, reusable drinks ware, electrical enclosures, healthcare products, and automotive components. "We offer the complete service, from part and tool design to toolmaking and injection molding, with secondary operations such as ultrasonic welding, printing, and assembly." 
With its high level of expertise and extensive experience, P&R is passionate about supporting local entrepreneurs. "Like many businesses, P&R was an idea conceived, developed, and built upon from the vision of its founders, who started with very little other than a desire to succeed and a willingness to try something different. This is something that remains at the heart of what we do, and it is not forgotten that all those years ago someone was willing to invest in the enthusiasm and skill of two fledgling businessmen, and ultimately purchase tools and components from them. Had they not done so, it would have resulted in a very different future for P&R. We're not oblivious to this fact, and although we undertake due diligence before any partnership is formed, there remains a desire to assist where possible, whether that is to guide on the feasibility of an idea, discuss a concept, provide advice on manufacturing techniques, which can sometime include tooling cost support, or simply to point out it will never work." 
Turning to the topic of innovation, P&R chooses to work alongside clients to help bring their new products to market. "Through market research, we suggest new products we could make to add to our own range. We then take the ideas to our design team. All projects, for our clients or for our own products, follow a phased exit process with five defined stages: start-up, design, tooling, samples, and production. Weekly project team meetings make sure all departments are on track to reach completion date and any issues are discussed as appropriate. Like any progressive business, we are always looking to grow and work with new ambitious partners who are likeminded in terms of our philosophies on individual development within the organization, teamwork, quality, service, and goals to create better products and improving our impact on the environment." 
To keep up with this level of innovation, the business is continuing to make sizable investments in its infrastructure. In the last two years, the company has invested over three-million-pounds on both machines and ancillaries, which includes six new BMB injection moulding machines, of which three arrived in the summer of 2022 and an additional three in early 2023. "These six machines were added to our current fleet to take us to 65 machines in total. Our fleet ranges from 50-to-1100 tons, offering us the versatility and flexibility to manufacture a diverse range of products," says Jonathon, adding that exceptional energy efficiency is what sets the six new machines apart; a crucial consideration that guided the company's investment decision. 
Environmentally sustainable 
Speaking of energy efficiency, P&R carefully assessed the energy perspective of each machine during the selection process. "Our aim was to acquire machinery that maximizes energy efficiency, ensuring minimal power consumption, while processing a multitude of different materials. With this in mind, we are proud to highlight that all six new machines operate at impressively low kilowatts per kilogram of processed material. This energy-efficient feature not only helps us reduce our carbon footprint, but also contributes to our longer-term vision. 
"Thanks to their carefully chosen specifications, these machines are capable of efficiently handling a wide array of polymers, which allows us to optimize production while minimizing energy usage. It also makes our manufacturing processes far more environmentally sustainable than we were previously." 
Furthermore, P&R recently invested in a new incoming power supply to its facility, new energy efficient lighting in and around site, improvements to the cooled water circuit, and various pieces of packaging machinery. "We are also actively raising the technology levels in our Toolroom, the most recent investments being made in a new DMG high speed milling machine and surface grinder," Jonathon emphasizes. 
Waste strategy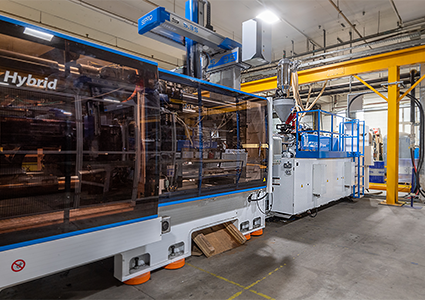 But investing in energy efficient machinery is not the only way the company is supporting the move towards a sustainable future. "We are ISO 14001 accredited and have a very proactive attitude towards improving our environmental credentials. The investments in new machinery, site services and awareness training of the team are practical examples of what we have done to date to reduce our carbon footprint. We have made improvements to our internal cooling system, which has improved our water stewardship and we have also eliminated a large percentage of noise and light pollution. 
"Additionally, we are working very closely with our waste management provider to identify opportunities where we can utilize any by-products of our manufacturing process in the most responsible way. We are a zero-to-landfill site, which again, is monitored and certified. Many of our customers are now also focused on the environmental impact of products and services and the importance of reducing this where possible." 
"Our technical team are working closely with material suppliers to stay at the forefront of material development in order to improve our environmental position, while also offering our customer a quality product with the lowest environmental impact. 
With these developments in mind, the business is in a fortuitous position when it comes to its future. "We have a facility within a seven-acre site that is large enough for more growth. Our flexible warehousing model means we can quickly create storage. The main manufacturing building has capacity for more machines and the ongoing development of our team, some of which have been with us 20, 30 and 40 years plus, alongside the support of our shareholders give us a very stable foundation. 
"To underpin our procedures and create standardized practices we are currently reviewing our Operating System, with a specific focus on continuous improvement throughout the whole business to ensure daily tasks and routines are harmonious. This is complemented and reinforced through our accreditations from various awarding bodies including ISO, BRC and IATF. 
"In March this year, our customer service, planning, procurement, and warehouse functions were amalgamated to create one supply chain team. This has already seen elimination of waste from our processes, and we will continue to use this philosophy of removing waste as an everyday behavior. We will continue to develop and improve this area, working with our team to perfect the change and assess its impact with the help of our InTouch production monitoring system. 
"From that point on it is about sustainability," Jonathon continues in bringing the conversation to a close, "and sustainability starts at home for us. We will continue to look for more ecologically friendly ways to operate and have a road map of what we need to do to meet our sustainability targets whilst continually improving our processes, practices and investments in our team. We are delighted to still be here after over 40 years, throughout recessions, conflicts and a pandemic, however we believe a business is only as good as its team, which is true throughout the whole of our organization."