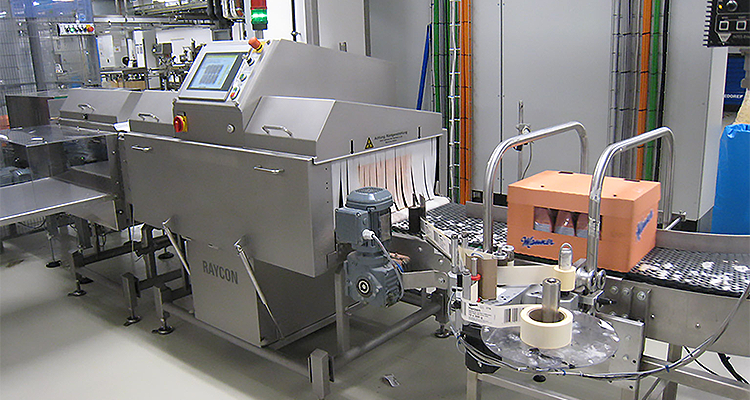 How Sesotec GmbH is helping industry reconcile sustainability with profitability 
Based in the South of Germany, Sesotec GmbH (Sesotec) was founded in 1976 as S+S electronic KG. Over the years, the organization's knowledge and product portfolio has grown, with subsidiaries and affiliate companies cropping up around the world. In keeping with the pace of international growth, the company name was adapted. Known as S+S Separation and Sorting Technology since 2005, the company became Sesotec in April 2015. 
Today, Sesotec aims to be recognized as one of the world's preferred providers of product inspection solutions for food lines and plastic, and sorting for recycling applications. This is focused into three distinct areas: physical contamination in food production, foreign material detection in plastics, and purity in the recycling industry. 
Sesotec's specialty is contaminant detection on an industrial scale, and it has been pursuing this focus for decades. In terms of versatility and quality, there is little that can compare to its range of products that operate from a single stop for all process steps, product types and kinds of conveyance, to all critical checkpoints in the production process.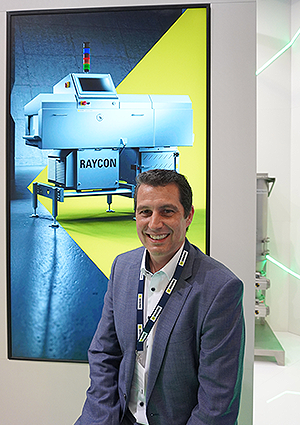 While its quality of manufacturing and innovation maintains the ideal of superior German engineering, recycling customers also come to Sesotec because its technology can help them address the challenge of reconciling sustainability with profitability. While a circular economy must be sustainable and environmentally friendly, it must still be commercially viable for the companies that manufacture, process, and recycle plastics. The business' intelligent solutions for foreign object detection, material sorting and analysis help its customers to ensure high-quality production that is profitable for people, the environment and industry. 
Giving Manufacturing Today more insights into the DNA of Sesotec is Johannes von Stein. He joined the management team in its Lower Bavarian headquarters of Schönberg, in 2021, as Vice President of Sales Food. Revealing more details about its products and operations, he begins: "We use metal separation, metal detection, magnets and X-ray equipment to service our core business areas. Over the last 18 months, we have opened multiple showrooms around the world, including in Italy, France, and Spain. In the next few months, showrooms in Poland, Hungary, Malaysia, China, the US, and Canada will also be operational. We are focused on offering a competent product and service portfolio to our customers, on an international level." 
Superior technology 
The organization's showrooms provide the most effective platform to showcase technological capability. "Our spacious show and meeting rooms facilitate product testing," notes Johannes. "We are focused on getting closer to our customers to ensure we are ever more aligned to meet their needs." 
He goes on with a further illustration of the benefits of Sesotec's technology, this time for the food sector. "In terms of food products, for example, our technology can be used to detect impurities coming from the customer's supplier. From goods entry or process control points (CP) to critical control points (CCP) which are defined as a step at which control must be applied and are essential to prevent or eliminate a food safety hazard, Sesotec's focus is on ensuring both government regulations and end customer requirements are met." 
In 2022, Sesotec launched the Compliance Package, an innovative software for complete and efficient documentation and guaranteed directive-compliant production. The Compliance Package is an all-round carefree package for food safety. Not only does it guarantee compliant food production, but users also benefit from greater process reliability because it ensures that their machines work perfectly at all times. Product waste is thus reduced and thanks to paperless documentation, processing plants are optimally protected against manipulation. 
As the global demand for food rises, so do the responsibilities of the food industry. Safe and efficient food production practices are crucial to the health of both humanity and the planet. Indeed, Sesotec has a passion for food safety. Consumers expect safe, high-quality food, and most retail chains require their suppliers to have relevant certifications. One key factor is the detection and removal of metals and contaminants that would adversely impact quality; the very tasks its systems are designed to handle. As such, the business recently participated in World Food Safety Day with events in seven of its showrooms to raise awareness surrounding the issue.  
"Being able to comply with rules and regulations is just one part of food safety," Johannes enthuses, "to exceed mandatory requirements means being a top-notch industry provider. If you think about the big brands in the world, they are not satisfied with simply meeting government regulations, they have their own internal regulations too." 
Going into more detail on the product offering, Johannes noted that Sesotec helps its customers to avoid the risk of metallic contaminants halting production or ending up in the final product by means of metal detector technology. This reliably detects all metallic contaminants and provides protection, tailored to specific applications. The inductive technology sends a signal to the process controls and, together with a separation unit, removes the contaminated products, entirely automatically, providing effective protection against damage to machinery, production downtime, customer complaints and recalls.  
Additionally, its X-ray inspection systems can detect contaminants, the densities of which differ significantly from that of the product being inspected. Products are moved evenly through the X-ray beam on a conveyor belt. The detector installed above the conveyor belt converts the radiation into an electrical signal. Special analysis software creates a digital X-ray image, which is examined for contaminants and product defects. Integrated separation systems ensure the reliable removal of impure or defective products. 
'THiNK', the latest innovation from the Sesotec headquarters, is an AI-software for metal detection equipment. Using machine learning algorithms exponentially more powerful than if/then conditions, the metal detection system is able to independently assess and draw conclusions from large data sets.   
While the field of metal detection has seen tremendous technological advancements, certain practical challenges persist. For example, some food products have a high degree of 'product effect' and can lead to a high rate of false rejections. AI technology provides a solution for such a difficult-to-solve problem. In comparison to common industrial metal detector systems, THiNK detects physical contaminants with greater precision and proves to significantly reduce the frequency of false rejects. 
Maximizing quality management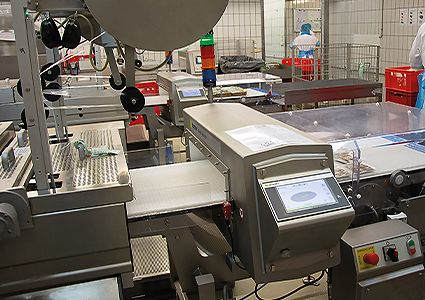 This innovative metal detection software from Sesotec is especially advantageous for facilities that process food products with high levels of product effect. Meat, poultry, fish, and dairy products, as well as baked, pickled, or ready-made foods, can all be reliably inspected while virtually eliminating false rejects. Compared with the evaluation algorithms of conventional metal detectors, this intelligent technology proves to be especially beneficial for products with metallized packaging. Additionally, the software in earlier Sesotec metal detector models can be easily upgraded to operate with AI.   
"Human error because of high staff rotation, and potential training inadequacies can create issues for customers operating within this sphere. With an integrated validation process, our systems mean reports can be created and centralized within the customer's ERP system. These true measurements support compliance and add transparency to the entire quality management process," Johannes explains. Indeed, the business is currently trialing tools to further enhance quality inspection, assign CCPs, and compare performance.  
An important component of Industry 4.0 is the exchange of data during production. To this end, companies are increasingly adopting Open Platform Communications Unified Architecture (OPC UA) as the industry standard for machine communication protocol. From production to servicing, OPC UA helps to optimize many aspects of plastics processing. By minimizing losses of time and products, OPC UA helps to maximize added value and product quality. Sesotec is actively working on the development of OPC UA standards for its products and it was one of the first providers of intelligent metal separators for the food industry. This means its devices can communicate with each other and with other machines, exchange data and optimize themselves. 
Looking to the future, Johannes is keen to reinforce how far the organization has already come. Indeed, it would seem the business has already made vast in-roads in its long-term goals to internationalize operations. 
"We are also increasingly effective in our efforts to professionalize our sales teams. We are managing our teams to be more competent. We have a very clear strategy; we know which markets to penetrate, where to find our customers, and we're putting salespeople at the heart of them. We are introducing innovative technologies all the time, which are proving to be more successful than we imagined. We have already hit so many milestones," he concludes, "that we are already executing next year's plans."