How SLM Solutions is enabling and changing the future of manufacturing
Streamlined solutions
SLM Solutions Group AG (SLM) is a publicly traded company headquartered in Lübeck, Germany. As an inventor of the selective laser melting process, the company focuses on the development and distribution of the most innovative, production-oriented metal Additive Manufacturing (AM) systems.
A leader in product performance and innovation, the SLM team utilizes its engineering facilities around the world to foster collaboration on metal AM projects and help scale its use in production. SLM provides consultation, installation, maintenance, and training opportunities for customers to harness the capabilities of selective laser melting.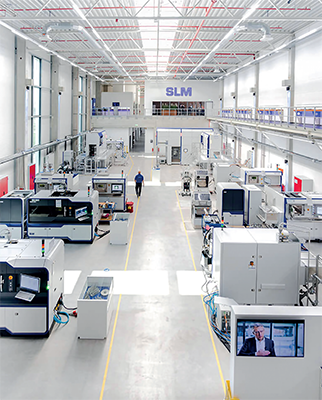 It has been just over 20 years since the organization released its first product. As Sam O'Leary, CEO, explains: "We are relentless innovators at heart. We continuously focus on industrializing our technology and making it more productive. That is essentially what will drive the future of additive manufacturing. While 3D printing has a million and one benefits, in reality, unless you can do it cheaper and better than the existing method, it's not going to be adopted. That is what we have been pushing year after year.
"We are getting to a point where more and more industries are moving away from traditional casting, forging, and machining towards our technology. In fact, some of the tragic or disastrous events in the world can be catalysts for growth. From geopolitical events to Covid-19 and the energy cost crisis, events have the capacity to be huge growth drivers. As our process is a great deal more energy efficient than traditional processes, these short-term headwinds can manifest as long-term growth strategies."
The business offers one of the widest ranges of 3D printers in the market place. From build plate size to complexity, SLM's offering sets it apart from the competition. "We take the benefits of additive manufacturing and strive to make it more productive and more reliable. It's very difficult to have multiple lasers working on one build plate, and that is one of our key differentiators. We launched and now deliver a 12-laser system. Most of our competitors are still trying to get into the market with a four-laser system."
With a global workforce of 570 people, nearly half of whom are engineers, SLM prioritizes harnessing this expertise to improve its solutions. Over the last two years, the business has grown its R&D and technology staff, and invested approximately 20 percent of its revenue in R&D, and will continue to do so as the business grows.
"We examine trends in technology, and the needs of our customers, to target innovation and streamline solutions. Our 12-laser system is more of an example of a technology push rather than pull, as many of our customers were not aware that it was even a possibility," says Sam. "We are going through our 2023 budgeting process now. We currently have 125 people working directly on new product development. With our myriad ideas, we could easily have twice that number in the next year. We have a young team, full of fantastic ideas, and our business is at a great size where we can balance innovation within the structure of our technological capabilities. This a real sweet spot for us, and the future of what we do. It's really the DNA of the business, and the one thing in my position, as CEO, that's closest to my heart."
Despite 80 percent of the workforce being based in Northern Germany, SLM employs 32 different nationalities. Working times are flexible and with many employees starting to have families, hybrid and remote working are increasingly popular and appreciated. Sam endeavors to foster a flexible culture that enhances creativity. "If an employee has a mental block during the day, they can go and take a break, play table football or pool. No-one questions it. We are proud to have a culture of openness, as well as a questioning mindset. Flexibility is key, innovation is a driver and everyone contributes to and questions rationale.
"We also host events and get-togethers for our employees and their families. Many people don't get to show their families or children where they work. We produce parts across the broadest spectrum of industries; from space travel to locomotives, from f1 cars to busses, from hip implants to aircraft landing legs: these are just some examples of the exciting end products of our day-to-day operations and its really incredible for our teams' families to see just how cool that is!"
SLM's focus on technology also drives the corporate attitude to sustainability. To SLM, sustainability is about much more than automatic light switches or solar panels. Sam explains: "We make what is needed, when it's needed, using only the necessary material. There is a knock-on effect further down the supply chain too. This is the exciting part about sustainability to me, changing the whole manufacturing methodology, using less energy, and then, the end-use application again using less energy. Every single aspect of it is driving a better future for the planet, and that is what I prefer to focus on."
To reinforce this vision for the future of manufacturing, Sam is excited to discuss the company's recent acquisition by Nikon: "First and foremost, this is a marriage made in heaven. Like us, the senior leadership of Nikon also comprises engineers. We have made great progress as an independent business, pushing our technology to the limits, but what this gives us is another level of possibilities to really drive the future of our technology.
"I have been through a few acquisitions in my career. Normally, there's a level of nervousness in the team, but we don't have that. People are just excited by the opportunity. While most people have an awareness of Nikon's heritage, many don't appreciate the sheer scope of its work. We are combining our experience, research and development capability to push opto-electronics to the next level. This is essentially what our technology is built around: the capability to harness, direct, and utilize energy. Quite what that will mean for our products, and customers, is something that we will work on together."
The business was also excited to showcase a new product at the recent AM industry's main trade show, Formnext, as Sam explains: "This is a game-changing piece of technology and heralded as the world's biggest metal 3D printer. We were able to show potential customers how this innovation could support them in certain applications, and how our technology profile is continually evolving.
"Moving forward, we will continue to aggressively deliver more of our 12-laser machines, and set ourselves up for a significant increase in output in 2023. On top of that, we will continue to recruit and make the team stronger. I think we have recruited more than 100 people in the last 12 months already. Cherry-picking new recruits to build a young, dynamic, fantastically diverse team is one of the nicest things about this job," enthuses Sam.
While Sam is proud that the business has delivered on its key milestones to date, as part of its five-year plan, he highlights that this is not really the basis for what makes the organization successful. "We are changing the way the world manufactures. From aerospace to energy to automotive and way beyond, we are instrumental in the shift away from traditional to additive manufacturing. Right now, perhaps two-to-three percent of the world's metal components are produced by AM. This is perfect for us in terms of having a niche market. However, we see a world where we are constantly moving towards five, eight, ten percent which heralds an incredible change in the scale of this business. Not only is it an advance in technology utilization, it also means the world is able to do more. Designs can be more creative, fuel can be saved in every application and we can help align manufacturing with the needs of today's world. Our strategy is based around exactly that, enabling and changing the future of manufacturing," he concludes.