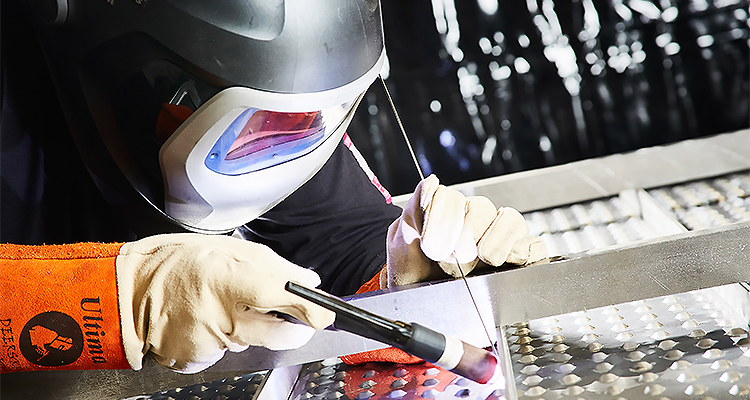 How Stolle Machinery Company pivots to keep pace with can production 
Stolle is the world's leading supplier of two piece can and end-making machinery for the can making industry. The organization's high-speed machines are the backbone of can making operations worldwide due to their proven productivity and reliability.  
Stolle provides complete solutions at any level – from individual machines, line modules, and rapid service with OEM parts to the design, build, and commissioning of a complete facility. Its technical leadership means that customers always receive equipment with the latest engineering advances and improvements. Can makers around the world know that Stolle supports their productivity and profitability. 
Since we last spoke to the business, Stolle has seen considerable growth in the market. Steve Higginson, Executive Vice President, Stolle Europe and Asia Pacific Group, shares insights into the organization's recent project activity.  
"Demand has been at an unprecedented level – one never seen in the industry before," he begins. "Nobody expected it to be sustained and, subsequently, there has been a drop-off in 2023 which will extend to 2024. 
"There has been something of a slow-down this year, with certain products being pushed back for manufacture in a year or two's time. As a result, we're looking closely at alternatives, such as the mini-line concept where we can accommodate requests for smaller quantity production lines, such as 250 million cans rather than a billion. 
"We also work in conjunction with our parent company, which has a TULC system to remove water and other aspects from the manufacturing process," he goes on. "In countries where water is a high value commodity, it enhances ease of operation. It's also environmentally friendly and essentially facilitates a dry process, with no coolants, oils nor hazardous chemicals. 
"I'm going to the States to look at a line they did for American Canning in Texas. Alongside the previously mentioned benefits, this line provides robust product protection from both light and air, taking gold and silver awards in blind taste tests for wine. 
"Currently, we're working on about 12 project activities. We're in Central America, we're in Europe, and we're going to the Middle East. So, we're still exceptionally busy this year." 
Flexible production capability 
The modern Stolle Machinery Company came about as a result of the purchase and merging of what were then called Alcoa Packaging Machinery and Sequa Can Machinery. These two rival organizations were each among the largest players in the can and end machinery business. 
Their partnership created the world's largest supplier of machinery for the global can manufacturing industry. Over the past decade, the business model has evolved further to essentially include a complete scope of supply for can and end manufacturing. 
"Let's take a usual production year for a piece of our equipment," says Steve, offering us an insight into the scale of the business. "Let's say, the Rutherford Decorator. Production is probably 30 units per annum and that's been the case for many years. A good year may see an increase to 35 units, equally, a bad could decrease to 25.  
"However, last year, so in 2022, we saw an increase to 90 units on order, which is a huge spike in demand. It's incredibly difficult to triple your supply chain to meet that level of expansion. Our products are made to order; everything is bespoke and now it's three times the level of usual activity. We had to ramp up and make machines in the UK, in Brazil, and in China. Traditionally, the business' core activity was in the US. Now, it's global," he explains. 
The business project manages installation and commissioning of its systems, so that the customer has a fully functional can plant on completion. Historically, Stolle would supply potentially four items of equipment.  
However, since acquiring CCH Engineering, and establishing Stolle UK and Stolle Global Systems, this has increased to ten items of equipment, which is, in essence, a complete system. The organization now operates as a one-stop shop, with a united push to supply complete systems.  
Steve continues: "The combination of enhanced capabilities and product knowledge provides a much better platform. The business has grown from servicing a conventional DWI marketplace, producing 800 cans a minute to the current capability of 3000 a minute, which is 1.2 billion cans.  
"Yet, operations have now circled back to considering these mini lines rather than always focusing on high-volume accounts. There are more customers requiring smaller volumes who also want to improve their corporate image and sustainability credentials.  
"We are considerably bigger than our competitors. While that doesn't give us a right to custom, I do think our history and the performance of our equipment stand us in good stead. 
"So, there's a level of vertical integration going on at higher levels, but we're not totally dependent on corporate can makers. While they represent probably 60 percent of our business and will certainly always be predominant, we have introduced more independents into the business than anybody else. We also feel that due to infrastructure, market place and economic demands sometimes smaller capacity lines are more attractive. 
Comprehensive portfolio 
Indeed, that would appear to be the case, with current projects in West Africa. Alongside these, the organization is also sharpening its focus on Central Asian locations, while also receiving enquiries from Pakistan. 
Looking at the apparent popularity of the product, Steve highlights that aluminum is an environmentally friendly packaging option because of its superior recyclability. The assumption is that public purchasing power is behind this surge in popularity. While the current cost of living may drive some consumers to purchase more economical bottled products, there is still a massive swing away from single-use plastic. 
"Ultimately, the consumer focus is not on the can itself but rather the product therein," he continues. "Consumers will decide what they want to purchase and then, whether they can afford to do so. Aluminum has always been a luxury packaging product. In 1980, it cost three times more for the can than the contents. The equation is probably not that dissimilar today. However, we're working on very lightweight cans now which will further enhance metal packaging.  
"We really are blessed with the technology we work with. While we are limited in terms of the speed at which we can scale production, operations have ramped up and we're able to serve a much broader marketplace.  
"If you only want to make 250 million cans, that's fine. There is nobody else with a portfolio like Stolle's: either in terms of the breadth of equipment, choice of product or the manufacturing process itself. It doesn't exist, under one roof, anywhere else, and that gives us some advantage." 
Implementing improvements
Superior equipment, proven technology and experience are all essential to bring a product to life. Stolle Europe has completed over 35 systems around the world and still strives to implement improvements.  
"There's a big push in terms of sustainability," Steve shares. "We're looking at reducing our own energy consumption, as well as the energy efficiency of our equipment. This focus extends to the carbon footprints of can plants, including during the construction phase. There are several areas on which we can still focus as we fine tune our projects. 
"In 2023, we are in something of a dip, but we believe that things will bounce back in the next year or so. We won't go back to that billion-dollar level unless we manage to scale the business at speed, but we anticipate settling at a level that's probably 20 percent higher than traditionally, which will be driven by the consumer and environmental impact. 
Sustainable solutions 
"We're experiencing global change. Business isn't huge in some areas. Some of our existing customers are still developing. We're installing a third line for an existing customer in Hungary, which is the first aluminum beverage can factory in the country and they may look to eventually invest overseas. As such, we'll be working with them very closely.  
"We work with multi-billion can and end producers, as well as those who produce 200 million. So, we've got the scope to support a range of makers and we're adaptable. We will continue to focus on environmental factors, from our carbon footprint to our sustainability performance.  
"You can't be fortunate enough to work with the most environmentally friendly product and then not reflect that advantage in your own operations. We couldn't not move forward in this way and are dedicated to running an environmentally sustainable organization. 
"In the US, there has been intensive investment into our sustainability and technology focus. The Stolle Advanced Technology Operation (SATO) is a dedicated facility for R&D, sustainability, and training." Sustainability of equipment and practices has always been a Stolle focus, and SATO supports advancement in those areas. 
"We're in a very positive position," Steve concludes. "We're still very busy and we consider ourselves very fortunate."