How taking one step back enabled Craig Mather to take Simply Cartons three forward
Many years ago, I was asked to talk at a university about my experiences in the business world," begins Craig Mather, CEO at Simply Cartons. "People asked the usual questions about P&Ls and balance sheets, until one young person raised their hand and said: 'What makes you so special?' I loved it!
"It took me a moment to reply, but eventually, I said: 'I'm definitely not special, but I am relentless. When most have given up and decided it's done, I've only just started. That's the difference between me and 99 percent of the population."
Craig is most definitely relentless. His self-confessed attributes are perhaps one of the reasons why Simply Cartons has grown to become one of the industry's leading packaging suppliers with an accolade of achievements in tow.
"Simply Cartons was born in 2006; it was a day I'll never forget," Craig goes on. From his word choice alone, it's clear the company is much more than just a corporate entity: it's as if it were his child. "Much has happened since then; it's been quite the journey. At the beginning, I oversaw everything and perfection was my pursuit.
"However, I'm also a strong believer that one should always be able to see the wood for the trees, and that means letting someone else sit in the driver's seat and have a go at things," he adds. "To be able to achieve your goals, you need to be the best version of yourself, and you can't be that while being everywhere all at once."
Ten years on from Simply Cartons' formation, Craig underwent a period of self-reflection and change. As he's noted, this included evolving his role as CEO. Instead of working for the company, he began to work on the company.
"I had a long, deep discussion with myself," he remembers. "That led to a personal reinvention of sorts. I pretended I didn't own the business, and started the journey again to offer Simply Cartons what it needed to take the next step."
Simply Cartons does what it says on the tin (or carton). It creates simple yet highly utilitarian and creative cartons and packaging for a variety of industry sectors, including but not limited to food, luxury drinks, cosmetics, and horticulture. But to stride forward and continue to grow, Craig knew that things had to change. As with a child, he had to give Simply Cartons and its employees space to develop and blossom.
"Up until that point of reflection in 2016," he admits, "I almost had a hold on everything in the company. I would micromanage and continually make sure everything was purring away like a Formula One car. But I ultimately learned that you must trust people and you must delegate, unquestioningly believing in your senior management and allowing them to lead their individual departments by example.
"To do that, I simply let go," Craig says. "People then had the opportunity to not only express themselves freely but also make mistakes; it's all part of the journey on the road to success. Mistakes will be made, but it's how you deal with them and move on that counts. By taking one step backward, it meant the management team could take three forward."
Efficiency is king
Since then, the company's evolved significantly. As Craig points out, from a design studio and innovation perspective, Simply Cartons is up there in the top percentile of market performers. It services a range of sectors – high-end food and drink, confectionary, bakery, luxury goods, and gifting – and the added diversity has allowed the firm to continue on its growth trajectory.
"For our size, we've one of the largest design and innovation suites," expounds Craig. "We're permanently working on new ideas and concepts. It's true: there are only so many ways you can recreate a cocktail stick or a beer mat, but we're looking far into the future for the next groundbreaking thing.
"We don't focus on just creating a product," he adds. "We also look at what the end user is going to be doing with it. How are they going to use it? Furthermore, will our customers hand- or auto-pack it? Will it run on a machine they're using? What can we do from an innovation perspective to help them?
"We ask ourselves all these questions – and more. Say a client comes to us and explains: 'We run an auto-
packing machine at a rate of 20,000 pieces per hour, but we need to get that up to 30,000. Can you help?' We're in the business of saying: Yes. So, we'd suggest altering the product: changing flaps or pre-breaking creases, for instance. There's lots that we can do to positively impact our customers because – now more than ever – efficiency is king."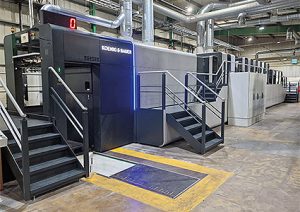 But if efficiency is king, then sustainability is queen. Fortunately, Simply Cartons knows this – and so does Craig. "As a business, we understand the environmental impact of everything we do," he says. "Over the last four years, we've taken huge strides to reduce our emissions and improve our sustainability credentials – from the equipment we buy, including new, more efficient presses, to how we do business. The brands we work with, moreover, are all about sustainability, which is great because so are we, and that allows us to work on truly innovative projects."
Simply Cartons is currently in the process of installing two brand new KBA printing presses: one a six-color and double coat; the other an eight-color and double coat. The latest investment, which will save up to 30 percent in energy consumption, sees a significant capacity increase within the factory, while targeting higher efficiency and lower energy usage processes.
With an investment of over £8 million, Simply Cartons' push for innovation in an increasingly competitive market is more than apparent. The efficiencies of these investments, alongside the company's installation of solar panels on both sites, is a true reflection of the company's sustainability objectives.
Indeed, the world is quickly waking up to the reality of global warming and climate change. Consumers are consequently demanding less plastic in packaging, and governments worldwide keep putting forward new legislation to turn manufacturing green.
Simply Cartons is on a mission to facilitate that transition. One of its products, for instance, is called EnviraCoat. As the name suggests, it's a new, environmentally-friendly, 100 percent biodegradable and recyclable barrier coating that can replace damaging plastic laminates that would otherwise be used on food, confectionary, and cosmetic products.
The company also produces EnviraMet, a recyclable foil that can replace other metallized laminations or foil applications. As Craig notes, these products are kinder to our planet, but still allow for the creation of show-stopping designs. "The future of the industry will be defined by products such as these," he concludes. "We will continue to grow organically and build our design team, affording opportunities to create more cutting-edge innovations that benefit both our customers and planet."