Self-made success
Celebrating its 50th anniversary during 2016 and with more than 700 different products to its name, HTH Køkkener A/S continues to represent one of the Nordic region's most prominent kitchen brands
With a rich history of tradition in manufacturing high quality kitchen furniture, HTH Køkkener A/S (HTH) today operates as part of the leading Swedish Nobia AB group of companies to deliver an exciting range of products that target bathroom, kitchen and wardrobe environments. The business was originally founded during 1966 by carpenters Hans Henning and Tonny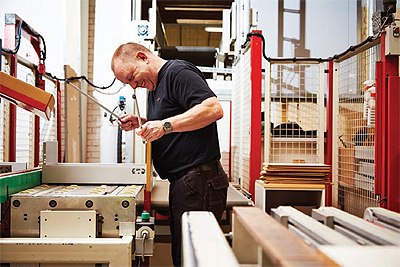 Haahr, who perceived an opportunity within the market for kitchen manufacturing and subsequently secured a loan of some 10,000 DKK to launch the firm. Following a period of strong sales, mergers and acquisitions HTH became part of the STORA group of companies, which was later renamed Nobia in 1996 following a buy-out by Industri Kapital to form the largest kitchen producer in Northern Europe.
Today HTH represents a fully ISO accredited company, with further certifications relating to its environmental and health and safety procedures respectively. In 2015 the business achieved production exceeding one million cabinets, which was soon followed by further strategic expansion and the launch of its own basic (DIY) range in Norway 2008. Throughout its history ensuring that its products are the best on the market has continued as part of HTH's DNA and having celebrated five decades in operation during 2016, the same focus on developing innovative new solutions still applies within the company. Indeed over the years, HTH has remained receptive to the demands of its clients and kept its place at the forefront of contemporary trends in furniture design.
HTH Køkkener was previously profiled in Manufacturing Today Europe in May 2016, during which time the company's Production Director, Kristian Snoghøj discussed the on-going importance of reliable and efficient manufacturing in allowing the business to adhere to its parent company's vision 'To become the leading and most profitable kitchen supplier, who inspires to and realises kitchen dreams through a world class customer experience'. To support this vision, HTH maintains dedicated factories within Denmark that employ circa 1200 people, while a corresponding number of employees work within the fields of sales and kitchen consultancy across its extensive network of retail showrooms.
These facilities are in turn supported by an on-going programme of investment and development to ensure that HTH remains at the cutting-edge of the market in terms of productivity, efficiency and quality. To this end, an important development within the company during the past six months has been the announcement of the launch of a tender to develop a new drilling and gluing line at its main production site in Ølgod, Denmark. "We are increasing our efficiency and capacity across the business and are achieving this by further implementing lean manufacturing. We also have significant investment plans for the next three to four years and we have an approved project for the development of a new drilling and gluing line during the next 12 months," Kristian elaborates. "With the development of this new line we are aiming to achieve a high level of equipment availability, which will in turn lead to even more efficient production. We will also intend to be able to have more environmental control of the line, in terms of the amount of energy that is used during the manufacturing process. We are actually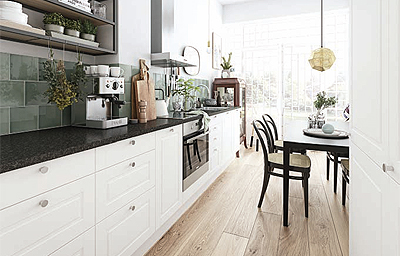 replacing equipment that dates back to around 1976, which means that the upgrade in technology between now and then is bound to result in greater efficiency. It is also expected that the new line will introduce new technology into the company but it is hard to predict what this will be at present, because we have initiated a functional tender. This means that we have told equipment suppliers what we need the line to do, rather than how to do it."
By extending a functional tender to equipment manufacturers, HTH has opened the way to a host of potentially innovative manufacturing solutions. While this remains an important consideration in terms of the company's ambition to build on its already impressive levels of quality and efficiency, the introduction of new manufacturing techniques and technologies will also present significant advantages in design as the furniture market increasingly adapts to the trend of DIY solutions. "I think that is it clear that the way that companies like IKEA are selling kitchens today is having an effect on the market. DIY kitchens are becoming much more popular than they were previously because they have the appeal of potentially reducing installation costs by anything from 20-40 per cent depending on which product is originally purchased," Kristian reveals. "We are currently rebranding our existing DIY kitchen lines, which represents a huge investment with an aim of expanding the presence of HTH in this market within the Nordic countries. Of course the increase in demand for DIY kitchen furniture has had an influence on the design of units in terms of how complex they are. A DIY solution should be relatively simple to install without the need to hire a specialist to assemble or alter its components."
With the exciting prospect of integrating new manufacturing technologies into the business over the coming years, coupled with a proven track record of excellence in furniture design, HTH is well placed to further its presence within the DIY kitchen market. While the company has already established itself within this sector there is still huge potential for growth, which marks a tantalising opportunity for HTH Køkkener over the coming years. "Over the next 12 months we will be very targeted towards the DIY sector and are looking at our colleagues in the UK and learning from what they have achieved since introducing the concept a few years ago," Kristian concludes. "Regarding the future, we are always looking for opportunities to grow and as a company the vision is naturally to expand on the back of our current success."
HTH Køkkener A/S
Products: Kitchen, bathroom and wardrobe furniture