Endless opportunities
Operating under the Nobia umbrella, HTH Kokkener is one of the Nordic region's most prominent kitchen brands and offers more than 700 different products and designs to a wide range of customers
Celebrating its 50th anniversary this year, HTH Kokkener (HTH) was founded by Hans Henning and Tonny Hahr, two carpenters who saw an opportunity in the market for kitchen manufacturing and obtained a loan of 10,000 DKK to launch the firm in 1966. In 1983 the company was acquired by Swedish Match and went on to become the largest Nordic producer of kitchens just two years later in 1985 with the sale of 990,000 cabinets. Following this acquisition, Swedish Match was acquired by STORA, a development that became the catalyst for further mergers within STORA with other complementary organisations such as Danica and Uno Form.
With production moved to Bjerringbro in 1994, Industri Kapital took over STORA in 1996 and changed its name to Nobia; this development was followed by ISO-certification in 1997, health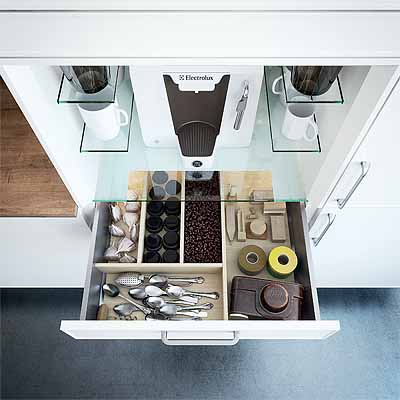 and safety certification in 2002 and environmental certification in 2003. The company was elected as the 20th best place to work in Denmark in 2004. In 2005 HTH hit a major milestone, with production exceeding one million cabinets, this was followed by strategic expansion in 2006 and the launching of its basic (DIY) option in Norway in 2008.
Today operating as part of the largest kitchen producer in Northern Europe, HTH believes the kitchen is the most important room in a person's life; it is not only where food is cooked and eaten, but where families gather, where friends meet, where children play computer games or parents use it as a hobby room. With endless opportunities on what a kitchen can be used for, the company firmly believes in its slogan of 'We can always do better' and, as such, consistently seeks to improve the quality and complexity of its product portfolio.
Having always tried to develop new kitchen designs, for example through combining monotone laminates with real wood, HTH has launched Athena Light Ash Laminate for 2016 as a way to highlight subtle colours with a streak of something natural. Edged with solid wood in white panelled ash, the door of Athena Light Ash Laminate is made of one cm board coated with 0.6 mm high-pressure laminate in eight striking colours. This option can also easily be combined with Athena Light Ash Veneer, another new product to be introduced in 2016 that features veneer fronts with horizontal grain, edged with solid wood edging in painted white ash; the door is comprised of 1.9 cm board and is coated with 0.6 mm veneer. A mainstay of Nordic furniture, HTH's new ash products are certain to generate attention from its Nordic customer base.
Another recent innovative development is the company's Décor Smooth White, a good choice for those seeking to replace their kitchen, bathroom, closet or home at a competitive cost without sacrificing on quality. Made of 1.6 cm board and coated with 120-g eggshell melamine, Décor Smooth White is finished with a 1.3 mm thick synthetic edge. Should customers choose Décor Plain White, they also have the option of having the cabinets assembled and delivered for no additional charge.
In line with this commitment to quality, the company has first-class ingredients for creating the perfect kitchen; this includes safe indoor climate characteristics from the Danish Indoor Climate label, which guarantees all materials have been tested for gas and odour release and have no negative impact on indoor climate, health and well-being. The Danish Technological Institute has also tested selected kitchen units to ensure these units comply with the strength and durability requirements in ISO 7170, 1993, level two, within the home and office furniture category. Additionally, all tropical wood worktops are FSC certified to ensure they come from responsible forestry and controlled sources.
Adhering to the vision of its parent company, 'To become the leading and most profitable kitchen supplier, who inspires to and realises kitchen dreams through a world class customer experience', HTH maintains its focus on delivering complex solutions and impeccable customer service to consumers and professional customers no matter how challenging the project, as Kristian Snoghoej, Production Director at HTH Kokkener comments: "We are a solid brand that is known for its reliability, which is why customers tend to return to us. We also have a long warranty period, which means customers who came to us a decade after buying a kitchen can return for spare parts and so on; this is particularly important for large companies or institutions such as hospitals."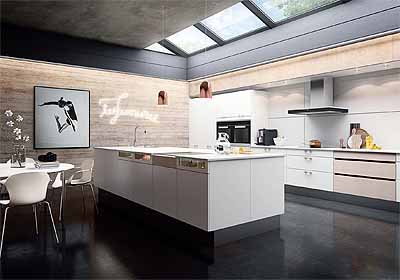 He continues: "Complementing our reliability is our sales academy, which educates on our brand and service but also ensures customers are provided with the right information. There are 342 decisions to make when you buy a new kitchen and we need to guide customers through these; there is a lot of choice, but our complexity is what makes us successful. We have a wide spectrum of cost levels, for example, from big spend options with high levels of quality to DIY flat packs."
Once customers have made their decision, HTH continues this commitment to delivering optimum quality service with its one time delivery, as Kristian notes: "Once the equipment has been assembled, we do our best to make a one time delivery, which means when you buy a kitchen, sink, lamp, bar stools and so on, we provide all of this in one delivery thanks to our own trucks and drivers."
Although HTH appears to be going from strength-to-strength, the company is continuing with its commitment of continuous improvement alongside other business segments within the Nobia group to ensure it retains its leading reputation in a competitive market, as Kristian concludes: "We are looking into lean manufacturing and enhancing efficiency. One way we aim to achieve this is through visiting each factory within Nobia to learn from each others cultures or morals and find ways for these to benefit us. It is our goal to get our factories operating more closely, while also ensuring they remain unique.
"By continuing to deliver exceptional quality products at the right price at the right time we will remain strong in the market, however, we also need to boost efficiency and lower costs in areas such as production. Key to making these improvement goals a reality is an investment in new technologies and a focus on the cost of failure; these will be our areas of focus over the next 12 months."
HTH Kokkener
Products: Kitchen brand