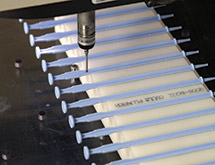 Not just staying on top of the latest technologies but ahead of them, along with helpful customer service, is keeping HTI Plastics prospering in Lincoln, Neb., America's heartland. "Our engineering has been very key to our success," says Troy Just, president of the 30-year-old injection-molded parts company. "We've also helped a lot of the major manufacturers in development of their products, design, material selection, protyping and testing. We strive to be the leader in the industry, not someone that is following the industry and doing what everybody else can do."
Just estimates that 20 percent of the company's parts are used in sporting goods. "There are parts we've converted from metal to plastics – that's been one of the great things about plastics over the last 20 years," Just continues. "There's been a great push to material equivalents or even sometimes plastics that are better than metals. You can mass-produce plastic parts faster than you can metal parts, but there's also just a big drive in the industry to go with composites. In long stocks like rifles and shotguns, wood is good, but a composite stock is tougher, stands up to the weather better and isn't affected by climate or humidity. That trend has been growing, and we've been a part of that."
Sometimes HTI Plastics has to overcome inertia. "We've been in the sporting goods industry for probably close to 25 years, and we've been growing in reputation," Just notes. "It's an industry that a lot of people don't like to change – they have their suppliers – but we've been developing new products and processes. We've just been getting more and more a foothold in the last six or seven years and getting more opportunities to show people and converting people over to us.
HTI has developed many proprietary products for customers. "My philosophy is that we have to stay on the cusp of technology and not be sitting around waiting for the customer to come to us, because they'll find someone else who can do more for them," Just says.
HTI also relies on vendors. "Cavalier Tool and Manufacturing is a company that HTI Plastics has been working with for approximately four years," he explains. "They build precision tools for our 950-ton and 1,800-ton presses. They have great capabilities and excellent customer relations. Our being in the Midwest and with Cavalier in Canada, communication is key with us. I would recommend Cavalier as a supplier."
R&D Needed
Many of HTI's customers have reduced their R&D and engineering departments. "They are looking for vendors that can do more, and that's our drive," Just says. "We're value-driven, and as an expert, we help them push their boundaries with our flow analysis, mold simulation and materials studies."
HTI Plastics has two master molders on staff who are certified by RJG Inc., a training company. "Both of them graduated with straight 'As,'" Just says. "RJG said they were the highest scorers in the history of their course. So we're very blessed to have those two gentlemen on staff."
Just estimates that HTI produces more than 1,000 different types of products in over 100 different types of plastic. "We basically mold just about every style of injection-grade plastic there is," Just declares. "We have some we use larger volumes of – the nylons, polypropylenes and polyethylenes are very common here. We run them all, from very high-temperature grades to specially filled plastics."
Some types of secondary operations such as assembly are performed on approximately half of the parts HTI manufactures. "That's very key to our customers," Just stresses. "Everybody is trying to find products that as soon as it comes in, they are able to use it so they don't have to do more. So we do a lot of that. We try to get the product to the point where it's ready for the customer's use."
New Equipment
HTI Plastics manufactures its customers' parts in its single 83,000-square-foot plant at its headquarters in Lincoln. The company's most recent equipment acquisition was of a 1,800-ton plastics injection molding press to manufacture large, thin-walled parts, such as natural gas fuel cells.
"We're constantly improving," Just says. "We're adding to our machines or replacing machines. We constantly keep adding onto our ERP system and the real-time monitoring system for our processes. We have real-time data on our inventory of raw materials and use product bar coding to be able to scan and know at all times where we are. We monitor production on dashboards that let us know if our production is running over or under so you can have a quick look at what's going on out there on the production floor."
Just estimates approximately half of HTI Plastics' business is pharmaceutical or medical, and two-thirds of those products are proprietary. Many of those products are produced where contamination is controlled.
"We have procedures for the clothes our workers wear, the cleaning procedures, the wiping down of the equipment and controlling the air and flow of the rooms to make sure the air is clean," Just notes. "We're doing everything we can to control the contaminants. We don't allow cardboard into the assembly areas. We have all different kinds of measures to ensure that we're staying in those sterile guidelines."
HTI Plastics is celebrating its 30th anniversary this year. Just attributes the company's longevity to "creativity and investment by our CEO to stay on the cutting-edge. We have some of the best equipment, people and facilities. We're doing it right and not cutting corners."