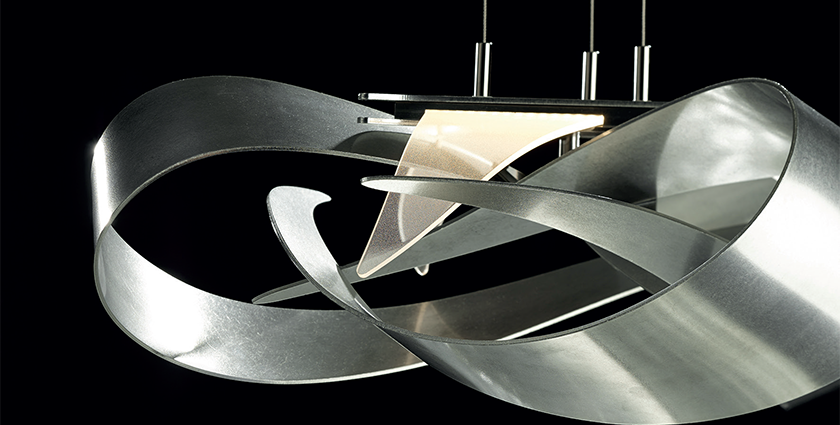 Reliable American makers
Since 1974, Hubbardton Forge has been passionate about manufacturing high-quality, hand-crafted lighting with incredible style
As one of the country's oldest and largest continuously-operating commercial forges, Hubbardton Forge (Hubbardton) manufactures a unique and creative range of artisanal, handmade lighting fixtures. All working under one roof, the company's passionate team of designers and manufacturers collaborate to achieve the highest quality end products. Now, with four decades of success under its belt, Hubbardton looks to grow its team, and expand its portfolio with a range of contemporary new designs.
Today, Hubbardton is a premium indoor and outdoor decorative residential lighting company, made up of over 230 employees. Its story begins in the small town of Castleton, Vermont, with two friends, and a shared vision. As Maria Mullen, Chief Executive Officer reveals: "The company was started by a pair of college friends, George Chandler and Reed Hampton.
"They took over an old barn on the Chandler property, and fired up an old forge, where they began by making candlesticks and fireplace implements. Soon afterward, they began making lighting in the barn, and for many years the company continued working steadily. George and Reed always did things their own way, and they really made a splash in the lighting industry. The product they offered was very different. It had a unique style, and was crafted to a very high quality. Using those principles, the company has continued to grow into what it is today."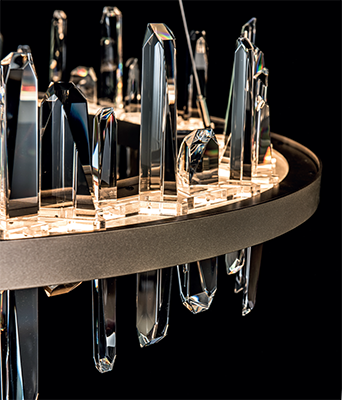 Forty-seven years later, Hubbardton remains dedicated to the creative spirit it was founded upon. Known for original designs, and incredible quality, the company maintains its strong reputation with the help of its positive working culture. "I think that our culture is probably one of our biggest strengths. Our people have made a huge contribution to the success of this company; through good times and tough times, they have always focused on creating an original product, not run-of-the-mill versions of someone else's concept.
"Our ability to put out truly original designs is a key component of what we do, and the success that we have had doing it. Our design team is incredibly informed and talented, meaning they can produce really unique lighting concepts. We also focus heavily on quality. We want to give our customers an amazing experience, and I think those core values help keep the business focused on always achieving that.
"Our designers and engineers all work under one roof in Castleton, which is a major asset for the company. The teams have a great synergy that means they work together really well; anyone can go out onto the plant floor and adjust, or just ask questions about the products. It's not as if one person has a concept and then you send a drawing off overseas and you get a prototype, and you hope it works – we are working shoulder-to-shoulder, supporting one another and constantly improving upon the original design. I think that's one of the main drivers of our success," enthuses Maria.
The team works out of Hubbardton's original facility in Castleton, where the company operates a unique single-flow manufacturing process. As the company's Vice President of Operations, Steve Wiegers, explains: "Our manufacturing footprint is about 100,000-square-feet, representing about 80-to-90 percent of the total facility. The entire process happens under one roof, and that includes both the product development and manufacturing teams. Our base handmade processes are quite traditional – we are doing the forging and welding of the product, the finishing, which is predominantly powder coating, assembly and packing ourselves.
"Our manufacturing schedule is 98 percent made-to-order, meaning we don't produce a lot of standard products to finished good inventory. It's a key part of our manufacturing strategy that we produce orders to actual demand and the customer's specification, so we use most available warehouse space to store raw materials.
"A key aspect of what we do, which really raises eyebrows and gets the attention of other manufacturers, is a high-mix, low-volume, made-to-order strategy. This essentially means that we have a single piece flow through the entire plant. You can place an order today, and we will make that product entirely in-house.
"It's an important part of our brand – we offer a hand-crafted fixture, made just for you, within three to four weeks. The standard product lines are semi-customizable, meaning there are near 30,000 standard configurations available. Those options include a base design, numerous finishes, plus glass and shade options, giving the customer the freedom to tailor the product to their home and needs.
"In terms of our process, it's all about doing our best to perfect that model. We just don't see anybody else doing it the way we can. It can be a real challenge, but we think it also gives us a key competitive advantage. We can offer hand-made products with a sense of variety, which means our customers don't need to compromise on quality or aesthetics. The model definitely works for us, even throughout the disruptions of the pandemic we maintained an avg. service rate above 90 percent on-time delivery, only down slightly from our norm of 95 percent."
The company supports its single-flow operation with a sophisticated blend of traditional methods and cutting-edge technology. "So much of what we do is by hand, and so when it comes to processes and equipment there is definitely a blend of 100-year-old equipment with newer technology. There is a similar mixture of the old and the new in the product itself, and so we are used to striking that balance.
"We invest heavily in keeping our model strong, striving to always have the right materials and parts on hand for our team. We also focus on communication between our departments; for example, the work instructions and new process documentation for a new product introduction needs to be very clear, because otherwise it can be difficult for employees to gain familiarity with all our products.
"Additionally, the company makes ongoing investments in order to maintain a high level of quality throughout the facility. Every year we invest heavily in new product tooling, which aids us at key points in the manufacturing process and helps make our overall operation more consistent and efficient. We also work to implement elements of standardization wherever we can into the single-flow operation, in order to maintain stringent quality control. There is a lot of training involved in working here, and you have to invest a lot into it," asserts Steve.
These investments come at a time of considerable growth for Hubbardton Forge, as the company continues to thrive, despite the effects of Covid-19. "The pandemic taught us a lot. From an operational standpoint, I think we learned that being a domestic manufacturer, and not being wholly reliant on importing materials and product, certainly gave us an advantage. At a time when customers were struggling to get products from other manufacturers, we were still able to maintain a high performance in terms of delivery. The breadth of our product line was also an asset during this period. Because we don't rely heavily on one component, if anything was unavailable it only affected a few of our products," says Steve.
"We looked at the pandemic and the handling of it as an extension of our safety program. First, you have all the protocols in place that make sure we have a safe work environment, so that people can come back to work in a properly risk-assessed space. Then you look at what else can be done to make people feel more comfortable – for example, we put in touchless water dispensers, and invested in upgrading our bathrooms so that minimal contact was required. Overall, we want people to feel good about working here, and to feel safe. It's a really important part of our culture," adds Margaret Dugan, Vice President of Human Resources at Hubbardton.
Alongside the challenges it brought, the pandemic also offered Hubbardton a unique window of opportunity. As Maria observes: "Obviously, the pandemic drove lots of us back into our homes. With little else to do, we found that people were re-evaluating their houses and looking to upgrade their furnishings. In addition, people had to set up home offices and classrooms, which hadn't been considered before. I think once everyone realized how long the pandemic would be affecting our daily lives, they wanted to invest in making their homes as pleasant as possible. That's where Hubbardton stepped up, and we gained a lot of attention."
As it continues to take advantage of this momentum, the company looks forward to a bright future. With new products and an expanded team coming to Hubbardton in the near future, it looks like the brand will continue to raise the bar for manufacturers everywhere.
"We will continue to expand our offering throughout the rest of 2022. We have an amazing, talented group of people here, and with their help we are growing our portfolio and offering new products to our customers. We are going to continue down that path of improving our business, whether it's with new technologies, improving environmental areas, or just elevating the overall experience for our employees, it's all tied together.
"We will continue focusing on our staff. By engaging in effective communication, we hope to find out how we can make things easier for them. We do have more demand for our product at the moment, and with limited space it's important that we take on more people in order to spread the workload evenly. We are also looking to implement some new technologies and processes in order to take care of the people who work here," Maria concludes.
Hubbardton Forge
www.hubbardtonforge.com
Products: Handcrafted lighting fixtures