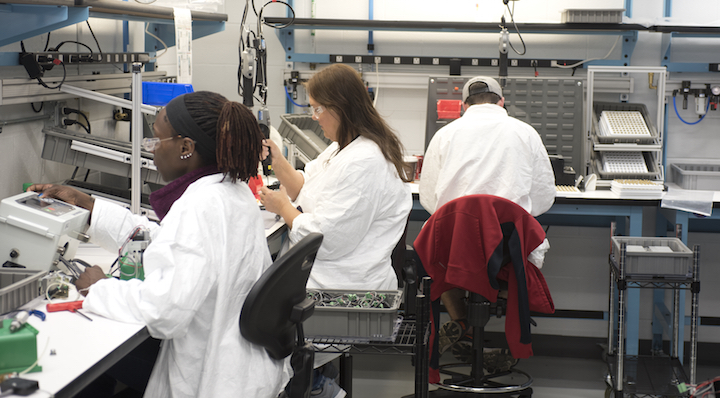 Few things are as valuable in the world of manufacturing as dependability, and Michigan-based Humphrey Products is living proof. One of the Midwest's leading producers of valves, cylinders, pneumatic accessories and engineered solutions, Humphrey has been in business for 115 years, and is in its fifth generation of family stewardship. According to President David Maurer, the more than a century of private family ownership and American craftsmanship demonstrate the strong commitment to quality and dependability that Humphrey brings to its customers, and make up a key element of the company's success over the years.
Humphrey has been known for dependability from the very beginning, after Alfred Humphrey founded the General Gas Light Company in 1901 to sell arc gaslights. Thanks to the success of its initial products, the company grew into a global operation rapidly, and soon introduced a wide range of products used around the world in numerous applications. After World War II, the company sold off its heating division to concentrate its business on pneumatic products, and through product development and a series of strategic acquisitions, grew into one of the most sophisticated manufacturers of valves and other pneumatic products in the world.
Although the company faces strong competition from around the world, Maurer says Humphrey's flexibility and reliability have kept it competitive. Thanks to its responsiveness and focus on developing true solutions for its customers' needs, Humphrey stands poised to continue on the path to success it started 115 years ago.
Creating Solutions
The technical expertise that Humphrey brings to its product line is one of the company's strongest advantages, according to Hammond. "Our core competency is in direct-acting solenoid valves," he says. "We have some clever designs in that area."
Although the company's standard product line boasts some innovative designs, Hammond adds that it is Humphrey's ability to customize and specialize that makes it truly valuable to demanding customer segments such as the medical device industry. "They want the fluid control tailored to meet their exact requirements," Hammond says.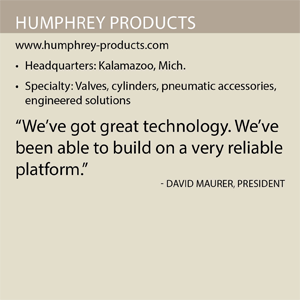 Maurer says the company's vertical integration makes it possible for Humphrey to be highly responsive to customers' unique requests. Humphrey can take complete control of a critical part's dimensions internally, giving it the capability to go through multiple design iterations at a much lower cost and at a lower cycle time than if the work was outsourced. "That certainly gives us some strong advantages," Maurer says. "Our responsiveness and lead times are relatively short for our industry."
In addition, Humphrey's internal processes include its engineering staff working directly with customers' engineering personnel early in development and working to solutions quickly. Maurer says many of the company's competitors force customers to work through salespeople or third-party channels as go-betweens, which can create confusion and slow down the process.
The responsiveness and collaboration Humphrey offers its customers can be applied to more than individual valves, Hammond says. The company's capabilities make it possible for Humphrey to apply the same custom approach to complete valve systems as well as the individual components.
Another substantial advantage the company has over its competitors is the fact that Humphrey's products are all made in the United States, and 96 percent of its suppliers are based in the United States, as well. Recently, the company purchased a product line that had been manufactured in Mexico. Humphrey brought production back from Mexico and incorporated it into its production in Kalamazoo, Mich., bringing manufacturing jobs back to the United States in the process.
Poised For Growth
The innovation and advantages that Humphrey brings to its customers have served it well over the last 115 years, and Maurer says they are expected to make all the difference in the world as the company grapples with some of the most prominent challenges in the industry. One of the greatest of these challenges is the fluctuation in global currency exchange rates, which have created advantages for many of Humphrey's overseas competitors. In addition, Maurer says, Humphrey has had to contend with labor issues.
"For us, like a lot of medium-sized manufacturers in the United States, we have talent availability challenges, skilled trades in particular," he says.
Despite the challenges, Humphrey remains in a good position thanks to its ability to respond to customers' needs, and the company continues to add capabilities to better serve those needs in the future. According to Maurer, Humphrey found great success recently from its diaphragm valve technology, and it is continuing to develop new versions to meet a greater variety of needs. "We've got great technology we've been able to build on a very reliable platform," he says.
Hammond says Humphrey has introduced many new products over the last two years, and he expects the company to continue to succeed by finding new solutions to customers' needs with the same level of quality and reliability it has become known for. "That's how we're going to grow our company into the future – innovative new products that solve customer problems," he says.