Performance for life
Huntleigh Healthcare is a leading provider of innovative and high quality medical equipment that is trusted by healthcare professionals throughout the world
Ever since it was formed in 1979, Huntleigh Healthcare – trading as Huntleigh – has operated under the belief that providing great healthcare is a collective effort and that the greatest contribution it can provide to both patients and professionals is confidence. A proud member of the Arjo group – a Swedish healthcare organisation employing some 6000 people globally –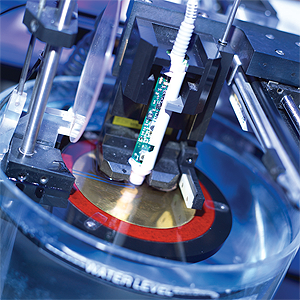 Huntleigh is responsible for developing innovative solutions that help clinicians carry out roles such as the assessment and treatment of vascular disease, the monitoring and assessment of foetal wellbeing, and vital signs monitoring.
At its Cardiff-based facilities, Huntleigh's core technologies centre on ultrasound transducers, electronics and the electro mechanical design of medical devices. As well as acting as the development centre of excellence for Huntleigh products, it also provides the same function for Arjo's 'Pressure Injury Prevention' and 'Venous Thrombo-embolism Prevention' product categories. Huntleigh products are today exported to more than 50 countries, with 75 per cent of its revenues deriving from export markets. The company's Diagnostic Products Division can proudly boast a number of world leading brands such as Dopplex, Hydroven, Sonicaid and Smartsigns.
"Huntleigh products are the premium goods in the market, providing accurate and informative data to the clinician to allow them to do their jobs effectively," explains Huntleigh Managing Director, Peter Cashin.
"Our products are expensive, but last for a long time, often exceeding the expectations of the purchaser. Quality always takes top priority in our processes, and the regulations surrounding medical device manufacturers are exceedingly tough, not allowing for lack of attention to detail."
As Peter goes on to detail, Huntleigh's most recent product releases continue the trend of having great possibilities for future growth. "The SC1200 and SC1500 range of high-end patient monitors enable Huntleigh to extend its reach into ICU and HDU departments within the hospital," he says. "In September 2019, we released the new and patented 'WoundExpress' product, which is aimed at the UK wound care sector, providing a piece of equipment that will help to heal previously un-healing leg ulcers. This remarkable product will save the NHS significant amounts of time and effort by helping patients to recover from very difficult to heal wounds."
Bringing new products to market when in an accelerated growth phase, which Huntleigh finds itself in, is however a difficult task, and Peter knows that it requires the whole workforce to be in step and motivated. "Everybody plays a part, whether it be the designer, the warehouse operative, the production operators and engineers, or the commercial section of sales, marketing and customer care," he declares.
"By bringing everybody together with the same mission and thought process we can make sure that quality remains at the heart of all that we do."
The company's manufacturing activities focus on local production of high end ultrasound transducers, which require highly skilled soldering processes to ensure consistency of ultrasound performance, and building sophisticated electronic products, which use the transducers from componentry supplied by its global supply chain.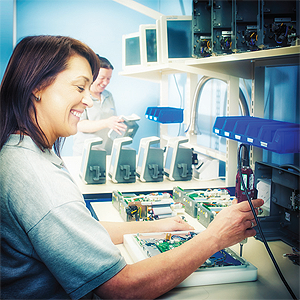 "Operating to ISO 13485 and MDSAP standards, the control systems used at our factory in Cardiff are well proven and tested," Peter continues. "Device traceability, down to electronic component level and operator training level is a prerequisite, while all products and processes are documented and filed for a minimum of ten years. Field failure can be traced from its serial number, to the date of manufacturer, person, equipment and component supplier, and we ensure that our global supplier base is assessed to rigorous standards and have regular interaction with our quality representatives."
Equally as important as the company's manufacturing processes are the people behind them, which is why the training of new people in new processes is a key area in which Huntleigh spends a lot of time and effort, in order to ensure that its capabilities remain of the highest order. "We have a mature workforce with many long-term employees who are excellent, and we are bringing in new young talent to work alongside them to properly facilitate the transfer of skills and know-how," Peter states. "Meanwhile, our apprentice scheme is proving very successful."
At the time of going to press, the company was a few months on from celebrating winning a highly sought after Queens Award for Innovation 2019. It was presented with the accolade in recognition of its new range of Digital Handheld Dopplers. These new Dopplers have raised the bar in terms of performance, offering previously impossible standards for handheld devices, helping clinicians to make quicker and more accurate assessments of patients, thus making their jobs easier, safer and more efficient.
On the back of its continued success, Huntleigh's plan going forward is to invest and develop its base of operations, while setting up market pods around the world to develop local sales strategies that suit local needs. Peter, however, is keen to stress one further point. "The main thing that has helped in this successful journey is the employees of the company, who have been superb in getting stuck into what can sometimes be challenging situations, and overcoming them by having the knowledge and nous to think their way out of them," he adds. "They are then joined by a supportive executive management team that has believed in making the necessary investment, have stuck to their principles and delivered profitable growth, as well as a great working environment!"
Huntleigh Healthcare Ltd
Products: Vascular care, foetal and patient monitoring solutions