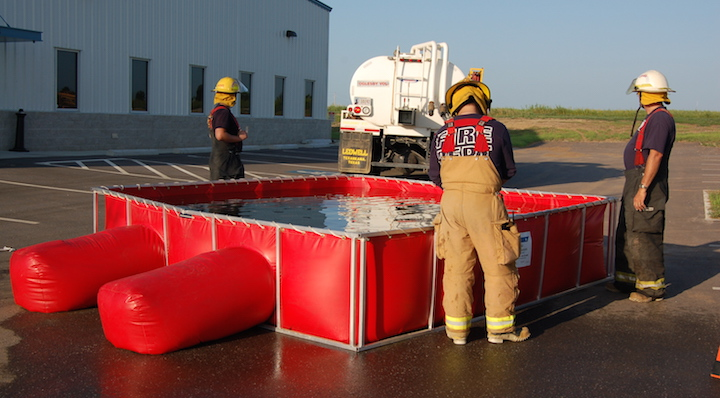 Husky Portable Containment
When Husky Portable Containment started manufacturing portable water tanks in 2005, there was almost no major product innovation taking place in that market. "The design of folding frame tanks was basically the same for 45-plus years," says company founder Jay Claeys, who co-owns the company with his wife, Pam.
This changed with the introduction of Husky's Easy Lift handle system, first developed by Claeys after the company's founding and patented in 2014. Husky's portable tanks feature heavy-duty handles welded to their floors in a zigzag pattern, making them easier to fold and remove standing water from. "This design is really what got us going, and is something no one thought of before," Claeys says. "We've never sold a folding frame tank without it."
Claeys, who before starting Husky worked as a designer and plant manager for another manufacturing company, has introduced several other innovations to the market. These include the patent-pending Leading Edge tank, a multi-purpose folding storage tank that features a hinge that allows it to be deployed at two different sizes. "Users have the ability to break the tank down to a narrower dimension so it can be used on narrow lane rural roads," he adds.
The company last year introduced its newest product, the Pro 500, a folding frame tank liner with four bladders on its sides. When deployed, the bladders will add approximately 500 additional gallons of capacity to the tank. The patent-pending tank design was unveiled during the 2015 Fire Department Instructor Conference (FDIC) and Exposition in Indianapolis. "People were asking for a tank they could get more capacity from," Claeys says. "Since we introduced this tank, people have really loved it, and we've been selling it well."
Steady Growth
Husky Portable has attended the FDIC conference every year since 2006 to reach the firefighting market, its original and largest client base. The portable tanks offered by the company are used largely by fire departments in rural areas to shuttle and store water back in forth in lieu of fire hydrants. Husky's tanks are available through a network of more than 100 dealers in North America.
In addition to folding water storage tank products, Husky Portable manufactures a line of environmental fluid containment products such as spill berms, decontamination pools and bladder tanks. Applications for the company's products include industrial uses as water storage on oil and gas exploration sites engaging in hydraulic fracturing, and in military uses for water and fuel storage on military bases. The company's products range in size from one-gallon bladders to 100,000-gallon storage tanks.
Husky manufactures its products in a 20,000-square-foot facility in Bartlesville, Okla. The company moved into the facility in July 2014 after previously working in a smaller space. "Moving into this facility is a big deal for us; having this new space allows us to truly move to the next level," Claeys says, noting the company needed the additional space to handle demand for its firefighting products. "We're proud of how we've grown and how everyone here has handled that growth."
The Bartlesville facility features manufacturing lines specializing in each of its main products: folding frame tanks, tarps, secondary containment and bladders. The company's manufacturing processes include layout, welding, painting and sewing. Husky Portable manufactures products on a to-order basis with a typical lead time of two weeks.  The company can ship next-day on most orders requiring a quick turnaround.
Manufacturing employees are cross-trained on all lines. "Everyone in our shop knows how to do everything, and we've pretty much maintained the same crew for the past several years," he adds.
Customer Focused
All of Husky's products are inspected thoroughly before they are shipped. "Our quality is second to none," Claeys says, adding that the company stands behind all of its products with lifetime replacement warranties. "Our quality control team checks virtually everything."
Husky's quality and manufacturing departments reflect the company's overall focus on making superior products, which are manufactured in the United States. The company also employs a staff of inside sales and technical help personnel who directly assist customers. "I'm proud that we've been able to build a knowledgeable, friendly, customer-oriented team that can handle anything," he adds.
The company also prides itself on its integrity and ethics.
"We don't go halfway with anything," Claeys says. "We don't offer materials that are not what we say they are. We've worked very hard to maintain our integrity and be an ethical company."