Leading the way
Innovation, sustainability and customer focus all sit at the heart of Husqvarna's long history for success, and maintaining these commitments is key to it continuing well into the future
Stretching back 325 years Husqvarna Group's history is rich in innovation. Providing quality products and solutions to make garden, park and forest care as well as construction easier for professionals and consumers around the world, the group has a product and brand portfolio that includes names such as Flymo, McCulloch, Gardena and Husqvarna. With this portfolio behind it Husqvarna Group's presence in many of its markets is unrivalled, taking a leading position in the global outdoor power products and European watering products markets, as well as sharing the top flight of the market for cutting equipment and diamond tools. In 2014, supported by over 14,000 employees in 40 countries, the business turned over SEK 33 billion with sales coming from over 100 different countries.


With lawnmowers forming a core product offering for the company, Husqvarna Group has been leading the way for the last two decades with its innovative robotic lawnmowers. Its first Husqvarnamodel was launched in 1995 and over the years since, technical development teams have been working tirelessly to continuously update and develop both the hardware and software. "The market for robotic mowers is strong in Europe at present and there is growing awareness regarding their advantages in the UK," explains Caraline Robinson, Manufacturing Director for Husqvarna UK. "Twenty years of development is only one of the reasons why we now have by far the largest market share."
Today's robotic lawnmower range consists of six models, each offering a range of specifications from a working area capacity of 600 square metres to 6000 square metres, and one-charge mowing time of 70 to 260 minutes. The robotic mower use an array of state-of-the-art technology to regularly cut lawns with the capability to handle complex garden shapes and terrains in all weather conditions. With two decades of development engineered into its unique cutting system, which uses razor-like blades made from carbon steel, high reliability and low noise operation make Husqvarna's product range a true leader in its field. With the twenty-first century currently going through the advent of the 'The Internet of Things', the innovative app allows robotic mower users to communicate with and GPS track their product from wherever they are in the world.
However, it is not just its leading product development that has benefited from Husqvarna Group's long history of innovation, but also its manufacturing capabilities. "The main strengths of the manufacturing organisation are both the skills and experience of its workforce and our focus on continuous improvement," says Caraline. "This is supported by the Husqvarna Operating Systems (HOS), which is driven from the top and provides the tools and techniques to support waste elimination, standardised working, problem solving, value stream mapping and so on."
Key to this continuous improvement is continuous investment into facilities and capabilities. "We invest in new assembly facilities on an annual basis, with similar spend on new moulding equipment," Caraline continues. "We have recently invested in our first 'twin-shot' moulding machine due to increasing demand from our industrial designers for plastic components that have a more quality look and feel. Over the coming years we expect to invest further into new technology, with a particular focus on automation development, to achieve efficiency improvements, and visual management to support decisions in production."
What results from such strengths is a manufacturing excellence that allows Husqvarna Group to continue producing highly innovative products and maintain its position in the market. However, it is also critical to the company's ability to cope with seasonal conditions within the garden market. Caraline notes that there can be a variation in volume of finished goods production ranging from 2000 to 20,000 units a week depending on seasonal demand, and highlights Husqvarna Group's unique flexibility to cope with such variation.
"We recruit over 600 temporary employees annually in the UK, who we train to efficiently manufacture our products to the required high quality standards. Our permanent staff in production also work annualised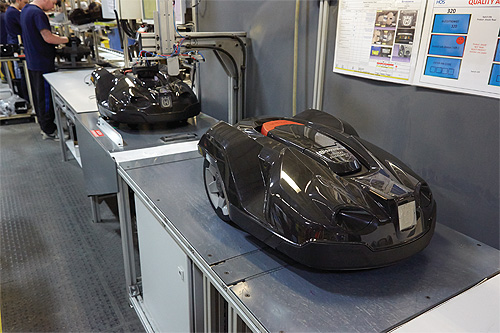 hours, so they are working more hours per week during our busy time and less in the low season," she outlines, going on to explain that strong supplier relationships are also crucial to this variable capacity. "This is one of the key factors of Husqvarna's success," she says. "Due to some components having long lead times, supplier communication and planning is vital in guaranteeing component supply for our highly seasonal business. In order to cover the quieter periods we have diversified into becoming a second tier supplier to the automotive industry, helping to guarantee work in our moulding area for 12 months."
Sustainability is also a core element of Husqvarna Group's ongoing success and strong brand reputation in the global market. "In the UK we support this and last year we achieved ISO 50001 energy management accreditation," she explains. "In accordance with this our energy team continually generate potential energy reduction ideas through energy audits. We also purchase all of our electricity from a provider who supplies 100 per cent green energy generated from wind."
As an international company Husqvarna Group was ranked in the Global Top 100 of most sustainable companies in 2014 and is a member of both the FTSE4Good Index and the STOXX Global ESG Leaders indexes. Being recognised amongst the leaders of global sustainability practices perfectly exemplifies the group's commitment to delivering environmentally sound and safety conscious processes and products throughout the world. In terms of product initiatives, Husqvarna has developed a unique range of handheld battery tools, which includes trimmers and chainsaws, and combines zero direct emissions with low vibration levels. Within Gardena's watering range, new hoses are now free from phthalates and watering computers now make efficient watering easier. The group's flat saws also became the first in the world to comply with both European and US legislation regarding emission regulations during 2014. In regards to safety, a new injury rate KPI for safety was implemented in order to establish a baseline for less severe/less frequent injuries to increase focus on corrective actions.
Regarding the future Husqvarna Group has a clear plan in place in the form of 'Strategy 2020'. The ultimate goal for this five-year strategy is to achieve total industry leadership with an even stronger end-customer and market focus as a profitable organisation. In the UK, Caraline outlines that achieving this strategic goal will be implemented through continuous expansion and supporting product development. "Over the next 12 months we will focus on further investments that support the growth in volume of robotic mowers, along with more efficiency improvements in both moulding and assembly. For instance, there will be 62 moulding machines on site by the end of the year, ranging in size from 50 tonnes to 1100 tonnes."
Husqvarna Group defines market leadership as being able to drive industry evolution in terms of innovation, end-customer focus and operational excellence. Product-wise it is clear that innovation has always been, and will continue to be, a core of the business. To ensure this continues, the company is undergoing an extensive market research campaign to fully understand the diverse needs and demands of its market segments. By understanding this Husqvarna Group hopes to be able to hone its resource efficiency, its brand competitiveness and its reputation for successful innovation in order to achieve its leadership ambitions over the next five years.
In the shorter term, the group will be focusing on completing its Accelerated Improvement Programme, which was launched in 2013 with the aim to increase operating margins by ten per cent by 2016. By improving the mix of products and brands sold and reducing the cost of products sold, in 2014 Husqvarna Group successfully increased this margin by 1.9 per cent to 7.2 per cent overall. Focusing on operational excellence and the core brands, developing the dealer and retail business model and improving business in emerging markets will all be key to achieving ten per cent improvement over the coming year.
A long history precedes today's Husqvarna Group, but a clear direction defines its future. By remaining true to its core values of innovation, sustainability and customer focus, the group is on course to achieve its ambitions to lead the global industry in the near future.
Husqvarna
Products: World's largest producer of outdoor power products