Metal of honour
A trusted engineering firm with over 50 years' experience producing bespoke metal products for industry, HV Wooding recently turned its hand to the UK's Ventilator Challenge
In March 2020, as the world finally began to grasp the serious nature of the Covid-19 pandemic, British engineering company HV Wooding was approached by one of its customers with an urgent request.
"Williams Advanced Engineering – the engineering arm of Williams Formula One – came to us and asked if we could quickly produce three aluminium parts," explains HV Wooding's Sales Director Paul Allen. "The parts had to be laser cut, formed, have inserts added to them, and be delivered to the Smiths Medical site in Luton by the Monday of the following week. Williams gave us some drawings, we had the material in stock, so we just got on with it."
The whole process, which would usually take several weeks or even months, was completed by the company in less than two days. The parts Williams required were being used to construct prototype units for the Ventilator Challenge, an initiative that has seen a consortium of significant UK industrial, technology, and engineering businesses come together to produce medical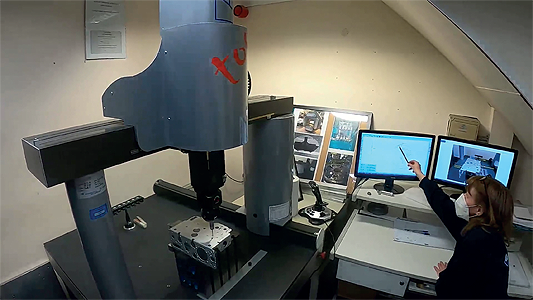 ventilators for the nation. Understandably, it was an endeavour in which Paul and his team were proud to take part.
"There are 80 of us here at HV Wooding and everybody took an interest. Everyone was pleased to be taking part," he reports. "When we got the first enquiry from Williams to do the prototyping, we had three guys who volunteered to work all-day Saturday and all-day Sunday to make sure we got the products out on time. We didn't need to gee anyone up. Everyone was keen to support the cause and it paid off. We got the parts to Smiths, where the consortium is making the ventilators, and received great feedback from Williams in terms of lead time, quality, and quick response."
Fast response
HV Wooding's hard work for Williams did not go unnoticed by the consortium and it wasn't long before the company was approached by another engineering giant. "We were contacted by Rolls Royce to give them a proposal for some volume," Paul reveals. "Their objective was to build 8000 ventilators. The overall consortium number is much higher so there were several supply chains set up, but Rolls Royce were tasked with producing 8000. Subsequently, we received an order for 2000 units, which I am pleased to say have now all been supplied."
Due to the urgent nature of the business at hand, speedy production was of utmost importance. After applying a priority to all ventilator related manufacture, HV Wooding began rapidly forcing the parts through a series of internal processes, updating Rolls Royce on the company's progress via daily telephone conferences. As the challenge intensified, and HV Wooding required support from its supply chain, the company was delighted by the industry's community spirit.
"The parts had to go out to a subcontractor to be anodized before they came back to us for the final assembly," Paul says. "Luckily, we Woodinghad great traction from our supply chain. Once people knew what we were working towards, they were extremely quick to respond. For example, the anodizer said, 'just get the parts down here, we'll prioritise them,' so they did the same as we did and got the parts through incredibly fast.
"We encountered a similar attitude when sourcing our materials," he adds. "We had to purchase some aluminium. The parts we were making were all different sizes and we needed a whole range of inserts as well. We made the order and there was no messing about from our supplier. We needed the material and it was here the next day. I think we lifted ourselves and so did our supply chain. It was generally recognised throughout our industry how important this Ventilator Challenge was and there was a lot of drive and momentum to push the business through."
Paul suggests that one of the most remarkable aspects of the consortium's work over the last two to three months is that almost none of it has been performed face to face. Whether it was the procurement team, the technical department, or quality control, all areas have been working remote to production.
"Normally, on this kind of project, you'd put forward a proposal, then you'd go and have a meeting, you'd talk with technical and quality representatives before agreeing a plan," he remarks. "There would be a lot of toing and froing before you actually started making parts. However, in the case of this project, all the work was done remotely, so the quality approval was done by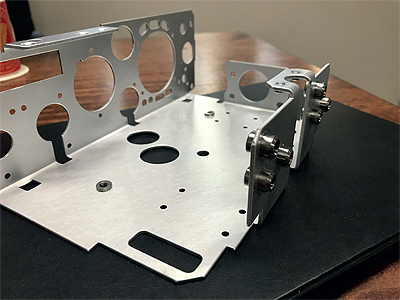 providing various dimensional data to Rolls Royce. What would normally take six months was condensed into three or four weeks, yet we had absolutely no face to face contact. That was the real challenge."
Founded in 1968 by Harry Wooding, HV Wooding has established itself as a family business capable of a range of personalised metal processing activities, including metal stamping, laser cutting, busbar manufacture, wire erosion, CNC machining, and electroplating. Everything the company produces is a bespoke application and around 60 per cent of its trade is repeat business.
"Most of our customers are large original equipment manufacturers," Paul points out. "Our historic business has been in the energy sector with electrical switchgear being our predominant area of expertise. Over the years, our clients have included the likes of Schneider Electric, Hawker Siddeley, Siemens, and other multinationals who require press components and busbars for electrical connections.
"More recently, we have started developing our business within the renewable energy sector where we're manufacturing components for both wind and solar power providers; for example, we supply the offshore wind side of General Electric's business. We've also moved into hybrid and electric vehicles, where we're making specific parts for batteries and electric motors. That's going to be a key area of interest for us moving forward."
The astounding versatility shown by HV Wooding throughout its history means that, in the last 30 years alone, the company has served businesses across a wide variety of industries, from aerospace to data centres to rail. Strengthened by the firm's contribution to the Ventilator Challenge, one industry set to remain a core part of the company's future is the medical sector. Even before HV Wooding was approached by the ventilator consortium, the organisation was manufacturing heater plates for ventilator humidification chambers. Since 2004, the company has been supplying Intersurgical, Europe's leading designer of medical devices for respiratory support.
"The ventilator heater plates are a stamping job," Paul states. "They are an aluminium part made from coil material. Because they are an NHS-use product, we saw demand for the plates go up significantly over the last six or seven months. We generally make around 160,000 units per annum, but since the beginning of the year we've made close to 250,000 and we're still in the process of making more."
Thinking differently
Beyond the Ventilator Challenge, two new medical accounts have been added to HV Wooding's books this year. Emergency vehicle conversion specialists Ring Carnation sought the company's help to re-engineer sheet metal parts for ambulances and Medispot has ordered 50 sets of fabricated sheet metal parts for a next generation model of its remote doctor terminal. Paul believes that the organisation's involvement in the medical segment is only going to increase.
"Thanks to the work we've done with Williams and Rolls Royce this year, I think there will be a knock-on effect with some of the big OEM's. We're already trading with Mercedes and McClaren and I think there will be some more goodwill from this for sure," Paul asserts. "More than anything, I think it's really opened up other opportunities within the medical sector. We've got companies approaching us already.
"Both projects with Williams and Rolls Royce involved a bit of engineering and required quick lead times. There's been a lot of profile around the Challenge and I think it has benefited us. We've had some really good things said about us from the big guys over the last two months and we've had a lot of good publicity as a result. It's pretty clear that we have a lot of the core skills and processes to manufacture some of these demanding parts and to make them in a timely fashion and make them competitively, so I think we will see our medical activity grow and grow."
As we approach the midway point of 2020, Paul and his team are preparing to look back on a wildly productive three months for the business. Back in March, as many companies were forced to place their workforce on furlough in preparation for an economic slowdown, HV Wooding was experiencing twice as many orders as usual and preparing to work tirelessly towards the benefit of the nation's health. Though the details of what will unfold over the next few months remain uncertain, Paul is confident that the industry will bounce back positively.
"What we expect to see over the next two to three weeks is more people coming back to work, particularly those in technical, product development, project management roles," he claims. "Over the last few months, whilst everyone has been focusing on the essentials, I don't think many people have been launching and developing new products, so what we hope to see over the next quarter is a higher level of technical engagement and more opportunities for the business.
"As a company," Paul adds, "we remain proactive. Not only have we been keeping in contact with our existing customers, but we have also been getting our name out there. We've upped our marketing, we've upped our presence, we want to be seen and we want to support. One thing the pandemic has shown us is what we can achieve in such a short space of time. Coronavirus has taught us to think differently – what once took months, can now be done in weeks. What previously took weeks, we must now try and do in days."
HV Wooding
Services: Bespoke metal processing activities, including metal stamping, laser cutting, and busbar manufacture