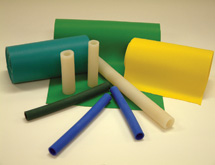 Over the course of the last nine decades, Hygenic Corp. has grown into a global leader in the production of high-quality synthetic and natural rubber products. When it was founded in 1925, the company cut its teeth as a manufacturer of vulcanized rubber dentures. Today, it is known in the healthcare industry and beyond for the quality of it natural and synthetic rubber sheeting, extruded rubber tubing, dipped-latex tubing, latex-free tubing, and latex and synthetic tourniquets.
"We have set ourselves up to be integral to the healthcare market, and we're more than just a contract manufacturer," says Lisa Koval, vice president. "We are a custom manufacturer, partnering with customers on the customization and selection of materials."
Hygenic owns two primary manufacturing sites – one in Akron, Ohio, and one in Malaysia. The Malaysia facility  is focused on the processing of liquid latex, while the Akron, Ohio facility focuses on dry rubber and synthetic elastomeric raw materials. Although the legacy of the company's healthcare work is in manufactured dental products, Hygenic's work today is  weighted toward the production and marketing of branded healthcare products like Thera-band and Biofreeze, in addition to its custom component manufacturing.
"We target those products toward hands-on healthcare providers and professionals who use them with, or sometimes sell them to, their patients and clients," CEO  Marshall Dahneke says.
Internal Expertise
Hygenic leverages the processing capabilities and expertise it has developed to help it custom-formulate compounds and develop products that meet customer needs and specifications. In recent years, customer needs and specifications have changed, and the company has been required to adapt to the trends in the healthcare market.
"There has been a transition away from latex to synthetic materials," Dahneke says. "The prominent use of latex gloves started creating allergies in some individuals. Today, some institutions are latex-free. We've been challenged to develop latex-free elastomeric products that have the performance characteristics of latex."
Another more recent trend has been around the return of manufacturing to the United States. Because Hygenic has a domestic manufacturing presence, many customers have come to the company looking for more consistency in supply chain, delivery and quality.
"They have decided that they can't tarnish their brands based on the prevailing factors in overseas manufacturing, so more demand is coming to us," Dahneke says. "That has been a big challenge for our capacity, but we've adjusted staffing levels and made some investments in capital equipment."
Among the investments are new attachments to older equipment that improve tolerance, as well as bringing in new extruders so the company can pursue growth and expansion efforts.
In addition, Hygenic has an internal engineering team that designs its own equipment. This helps with the development of new processes and products.
For instance, the company recently launched a latex-based dental dam that features low protein, low powder and improved elasticity. The processes and equipment were custom designed in-house, which allowed Hygenic to have complete oversight and develop follow on processing steps to yield a high level of product performance.
Koval adds that many of the companies Hygenic serves have been looking to reduce their supplier base. Hygenic generally has been unscathed by this trend because its array of capabilities with latex and synthetics make it a supplier of choice.
"We've seen cost pressure related to reducing the cost of healthcare in the U.S., and while customers are looking globally, they prefer to source locally wherever they can," Koval says.
Solving Problems
One certainty for Hygenic's future is that it must continue to display a high degree of ingenuity and innovation. Customers are looking to bring Hygenic into their product development activities earlier in the process to take advantage of its expertise. Fortunately, the company has the capability to quickly put together prototypes and move through several iterations before ramping up for small production volumes and scaling up from there.
"Customers bring problems to us because they have struggled to solve them elsewhere and they need our expertise," Dahneke says.
Hygenic will continue to maintain close contact with customers. It will expand its website, which Dahneke says invites technical people, external businesses and customers to pose questions and ask Hygenic to devise  solutions that could solve their problem.
Hygenic plans to continue investing in equipment that can process different types of elastomeric material with tighter tolerances. The company will make its manufacturing processes as lean as possible while it also partners with resin and polymer companies and closely watches material trends.
While the company will continue to innovate, Hygenic's effort around innovation ultimately will be pushed by customers in search of solutions that don't currently exist.
"We will remain successful and innovative because the people here are dedicated to helping customers, solving problems and helping us stay on the forefront," Koval says.