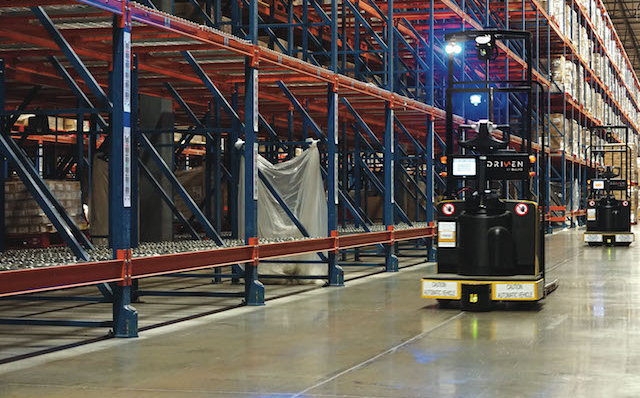 Some companies are set in their ways, but Hyster Company is in the business of tailoring its products to meet the customer's needs. "When meeting with customers, we ask 'What would you need to make your operation perfect?'" explains Mick McCormick, vice president of robotics and automation.
This gives Hyster a significant amount of insight in how to customize a lift truck for a customer. "But it also gives us insight to critical future needs that we can build into our base lift truck designs," he says, noting that the company's efforts in robotics have been an outgrowth of those discussions.
Hyster manufactures lift trucks for demanding operations. McCormick notes that the company originally started operations more than 90 years ago. "The heritage goes all the way back to the logging industry in the Pacific Northwest," he says, adding that Hyster evolved over time into the material-handling sector.
Today, Hyster caters to a client base comprised of a "who's who" in the heavy manufacturing arena, including the automotive, paper and natural resources sectors. "We have a strong history and legacy in the manufacturing environment," he says.
Value Add
McCormick has 30 years of experience in the material-handling industry. "It's been a phenomenal experience, just watching the change and impacts on the industry over time," he says.
He recently contributed to the "Material Handling & Logistics U.S. Roadmap 2.0," a report that looks at how trends will impact the logistics and material-handling industries. One trend that is having a major impact, he notes, is urbanization.
Urban populations are growing, making it more difficult for legacy manufacturing facilities on the outskirts of these urban centers to recruit and retain employees. "This is really changing the way manufacturers are looking at how they allocate their capital from an automation standpoint," McCormick says.
Manufacturers have to look beyond automating in just their core value-add activities. During that process, "[You're] trying to define what are your labor-intensive factors that don't contribute to your value-add as much as others and how do you automate that," he says.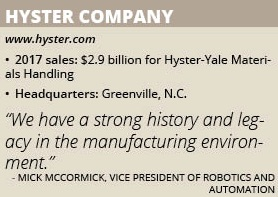 Dual Mode
Manufacturers have long used customized automated guided vehicles (AGVs) for short-run production. "What we've really tried to do is step away from that highly-customized, low volume, AGV product and really look at how we can apply this to the masses," he says.
Hyster currently offers three robotic models and is working to integrate robotic solutions across product lines. All of these products are dual mode, both able to be driven conventionally or put into robotic mode and run autonomously.
This allows manufacturers to shift labor to the highest value-add areas of their operations. "Customers are able to scale up slowly and minimize disruption to their operations," he says.
There has been a significant interest from customers wanting to explore the impact of automation on their operations. "We've also seen a significant growth in demand for expanded capabilities and lift truck models as well as systems commissioning," McCormick adds.
Marrying Technologies
As Hyster added robotics to its lift trucks, it formed relationships with technology companies that offered guidance and system commissioning capabilities. "Those two core competencies really complement our focus on building tough and reliable lift trucks," McCormick says.
These technologies are seamlessly integrated into the lift truck, allowing robotics to be viewed as an alternative to a human. "It's taking the skill sets of our partner companies and marrying them to the core competencies of Hyster Company," he says.
Hyster robotic lift trucks can quickly integrate into existing operations by mapping structural features to self-locate and navigate. They do not require laser reflectors, guide wires or magnets. The mapping process, McCormick notes, can last from a few days to a week or longer, "depending on how complex your interface is and how big of a fleet you're commissioning."
These robotic solutions are helping Hyster customers realize both operational and labor savings. However, McCormick asserts, robotic lift trucks should not be viewed as a way to reduce headcount, but rather as a way to reallocate resources to where they add the most value.
Robotic lift trucks help users "best utilize the people you have," he says. "The real benefit is the ability to used skilled labor in more operations."
Strong Future
McCormick sees a strong future for Hyster robotic solutions. "I think there's a tremendous, untapped opportunity for this to become the most significant portion of all lift truck sales," he says.