Innovation in action
With over 100 years of experience in providing the best quality products, Ideal Boilers stands at the forefront of the domestic and commercial heating markets, leading the industry in setting new standards and challenging technological boundaries
When considering the high-efficiency, technologically-advanced boilers of today, there is one company that can be proud of its involvement in their evolution. Ideal Boilers has been a pivotal player in the introduction of British-made, affordable and reliable heating products into homes across the UK and beyond throughout its history; and as Doug Lloyd, COO of Ideal Boilers, began by highlighting, the company is very proud of its achievements. "We have introduced many revolutionary products to the market over the last century," he revealed. "The Ideal Cookanheat, launched in the early 1920s, was a radical product for the UK heating market and its success firmly placed the Ideal brand on the map. The simple combination of a cooker and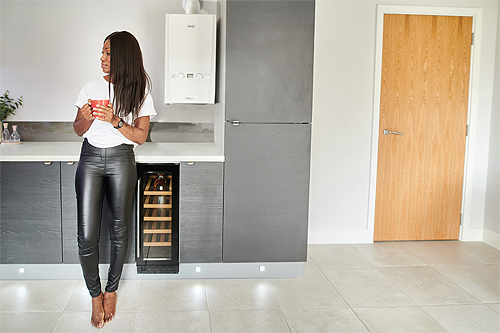 boiler allowed thousands of homes to enjoy central heating at a lower cost than any other appliance available at the time.
"The launch of our Logic range in 2009 was another landmark moment for the business. Its arrival meant we could offer customers our most efficient boiler to date – with more than 90 per cent of the heat released from burning fuel being recycled back into the system – further guaranteeing our quality, reliability and exceptional value.
"Today, Ideal Boilers is leading the UK's domestic and commercial heating markets, driving the industry forward in setting new standards, challenging technological boundaries and constantly evolving to meet new regulatory targets."
The principles of quality, innovation and value that underpin the activities of Ideal Boilers were created in 1906 at the time of its founding and for more than 110 years, innovation has remained integral to Ideal Boilers' DNA. "It's central to everything we do and is firmly engrained in our principles, as we strive to provide market-leading heating appliances that meet and exceed our customers' needs," Doug agreed.
"Alongside innovation, I believe our people-centric approach and ability to be flexible also underpin our continued success," he added. "Ever since we first started doing business, we've continued to evolve. We have great relationships with our industry bodies, regulators, our merchant and installer partners, and our customers – having our finger on the pulse means we can adapt quickly to changes in the market and constantly meet new regulatory requirements."
To get an idea of the scale of Ideal Boilers' growth and success, Doug shared some impressive figures on the company's output – by the end of this year, Ideal Boilers will have sold more than 420,000 domestic boilers in the UK market. "This means that one of every four new domestic boilers being installed across the country at the moment bears the Ideal name," he stated. "The same level of success can be found in the world of commercial and industrial boilers, where the Ideal name and connection is even more prevalent. More than one in three commercial and industrial boilers installed in 2019 will have come from our factory in Hull.
"The Logic range of domestic boilers is our best-seller. With its state-of-the-art technology and best-in-class reliability, it delivers exceptional value without compromising on performance. The Logic range was commended by the Queen's Award judges in 2019 and has received Good Housekeeping Reader Recommended status for the last three years."
Furthermore, Ideal Boilers' commitment to innovation shines through not only in its products but also in the way in which it operates, and in its manufacturing processes. "We've adopted modern techniques, streamlined our suppliers and increased efficiency on the production line, to grow into an operation that's fit for purpose and able to accommodate continued growth," Doug explained. "As we've continued to grow, we've more than tripled our overall manufacturing output, and we've achieved this without increasing the footprint of the business. It is one of our greatest strengths that we can build industrial boilers and domestic boilers under one roof. This helps us keep overheads down and share best practice, while passing on the benefits to customers in terms of both product performance and cost savings."
Having previously referred to the reliability of the Logic range, Doug noted that thanks to the confidence Ideal has in the dependability of all its products, it is able to offer market-leading warranties: "This is a result of our endless work to eliminate component failures and operator mistakes. Our production process follows a no-fault forward method. In short, this means that the output of every stage of the process is tightly controlled. Any error or component fault is detected and rectified before the product can pass to the next stage. More than 200 different checks are carried out throughout the manufacturing process, and all of our boilers are rigorously tested using air to simulate the flow of water and gas, so that we are confident they are fully functional before they leave the factory.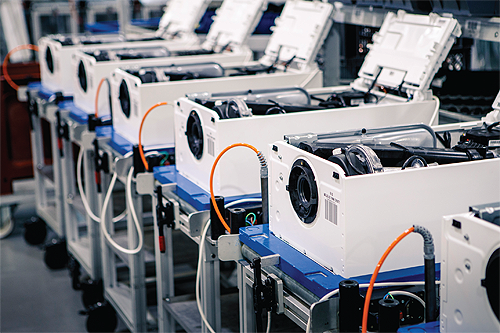 "From a customer's perspective, our reliability record is what keeps us ahead of the game – it's impossible to under-estimate the importance of winning people's trust. When I first joined the company, a boiler warranty typically lasted just 12 months; now we're talking about up to 12 years.
"The Ideal Max range, for example, comes with a ten-year warranty as standard and can be extended by an extra two years when installed by a Max Accredited Installer. The warranties we can offer are testament to the stringent tests and quality checks each boiler must pass before it is allowed to leave the factory. At the end of the day, the boiler is the beating heart of the home, and people want to be confident that it will deliver on its promises, year in year out."
As we head into the New Year, Doug noted that 2019 represents another 12 successful months for Ideal Boilers, having seen increased market share, higher employee numbers and two Queen's Awards for Enterprise – in the International Trade and Innovation categories. He also pointed out a significant event from 2015 that has undoubtedly contributed to the business' continued success. "Four years ago Ideal Boilers was acquired by Groupe Atlantic, and I think it was one of the best things that's happened to us," he said. "Groupe Atlantic is well-established as the market leader in France, and we have a fantastic opportunity to further grow the Ideal brand in the UK with its support. The synergy between the two businesses was clear from the outset, not just in terms of the combined product range we can offer, but also the core values that we share, including a real desire to invest in our long-term future."
Doug also pointed out that Groupe Atlantic's technical knowledge and support – especially when it comes to alternative heating solutions like heat pumps and water heaters – will stand Ideal Boilers in good stead to adapt to recent and ongoing legislative changes around de-carbonisation. "These latter areas could present a challenge, but we are committed to energy efficiency and will continue to innovate with the environment in mind," he added reassuringly.
Groupe Atlantic may have brought a certain 'je ne sais quoi' to Ideal Boilers but the company remains steadfastly British, proud of its roots in Hull, which Doug identifies as 'part of our identity'. He emphasised how important the city is to the business, both in terms of history and also as a valued source of exemplary staff members. "We pride ourselves on having employees that have been with us a long time, and we're fully committed to employing people from the local community," he said. "Generations of families come through our doors and it makes me hugely proud that people choose to spend long careers here," he continued. "Over the last ten years we've grown our workforce from 546 to 835 people, with our market share more than tripling to over 25 per cent in the same period. This success is down to the commitment and hard work of all of our employees – we simply wouldn't be where we are today without them."
Looking into 2020 and beyond, the future looks incredibly bright for Ideal Boilers. The company is predicting that its sales volumes and market share will continue to increase, as the investments it has made in improving efficiency, reliability and quality convert into rising customer demand for its range. "The future can be unpredictable at times, but there's one thing that's for certain: our core values of quality, innovation and value will remain at the heart of everything we do," Doug confirmed.
Having been with Ideal Boilers since 1987, Doug's perspective on the business and his experience in the market is unsurpassed, and he concluded with some thoughts on what he personally has found to be the most rewarding aspects of his time at the company. "The business has been awarded three prestigious Queen's Awards for Enterprise in the past ten years, which is something I'm immensely proud to have been a part of. Two of our award wins have been in the Innovation category – recognition for the way we live and breathe our founding principles each and every day. To be recognised at the highest level is a true honour and I have to say, going down to Buckingham Palace to collect the awards is right up there in terms of a career highlight!"
Ideal Boilers
Products: Boilers, controls and accessories