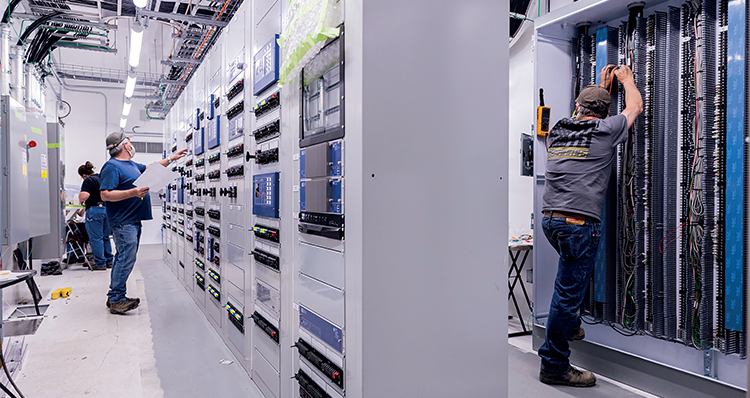 Powerful solutions
For over 30 years, IE has carefully crafted its uniquely practical and street-smart culture by hiring engineering experts with a deep understanding of the energy market
Since being founded in the mining community of Carbon County, Utah, IE has grown into one of America's leading critical infrastructure specialists. Over the past decade, the company has used its depth of knowledge in the mining industry to diversify its offering and translate its tried and tested concepts to new markets, such as data centers and renewable energy production. Today IE is taking on new horizons, with a focus on employee training, customer care, and future-thinking.
Being founded on four core principles has helped IE maintain its position as a market leader for over three decades. As the company's Chief Executive Officer, Phil Blackburn, explains: "I would definitely say that our owners – and their founding core principles – are one of the secrets of IE's success. We talk about our core principles a lot; our team has a relentless focus on customer needs, combined with a real emphasis on ingenuity and creativity. We also seek to harness raw engineering talent; our people have advanced practical capabilities, which has helped in growing the technical side of IE.
"Throughout the business there is a willingness to get involved shared by everyone; there is no task that is 'beneath' our management team. We're willing to jump in and be part of solving problems; we don't stand on the sidelines and expect our frontline to carry the operational load. We are willing to share the pain.
"Additionally, we have a very strong, very proud work ethic. Personal pride is another one of our four core values; there is a tremendous sense of personal investment from employees, everyone puts their absolute best into the products that we build. That culture has been part of our practice since the beginning, as our owner always says: 'I'll take ambition ten-to-one over capability, because I can teach the latter.'"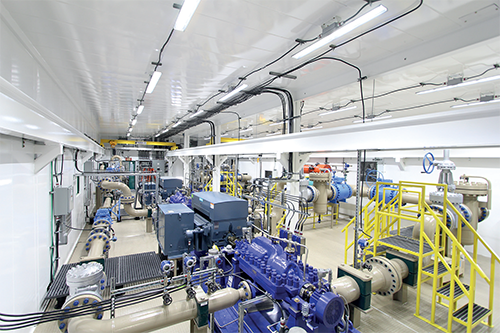 Staying true to these core principles is not the only way in which IE has honored its history in order to take on the future. As the company has moved into new market sectors, it has used its depth of knowledge in the mining industry to create unique new products for applications in the renewable energy, and oil and gas markets. "Diversification has been key over the last few years. Today the mining industry only makes up about 20 percent of our business, because we've built up our oil and gas business to match it in size. We also have rapidly grown in the renewable energy, and data center markets. At this point these are our two largest segments, so we are definitely very proud of the diversification we've achieved.
"The process has required a lot of innovation on our part, and we have been able to leverage our problem-solving DNA from mining to other sectors. It's important to understand that mining makes unique demands of its electrical infrastructure. Most of the products built for mining purposes will need to be made portable, whereas other infrastructures are fixed, so there's an extra degree of expertise and knowledge that we have found to be very applicable when solving problems and applying solutions to other sectors.
"We can take concepts from mining, and apply them to oil and gas, or data centers; it's interesting how our unique expertise in the mining industry is now helping us facilitate expansion into emerging markets. There's no industry that has personnel working in and around electrical equipment in the same way that mining does. Miners are constantly moving and rebuilding equipment, and meeting those needs has certainly provided us with a powerful kind of expertise," Phil discusses.
Specialist facilities
As IE's offering continues to grow, so does its impressive network of manufacturing facilities. With expansion work still underway at its headquarters in Utah, the company looks toward further growth, and investment in automation, as Phil reveals: "As an investment in our customers, we are tripling the size of our main facility in Utah. The site will be over 250,000-sq-ft, and we are on track to complete the expansion at the end of 2022.
"That facility also acts as our headquarters, where the majority of our corporate office and leadership team is located. We have a second facility in Denver that is 75,000-sq-ft, and we also have a factory in Illinois around the same size. We then have a 60,000-sq-ft facility in South Point, Ohio. In the last year we have acquired the land for an expansion on that site, so we hope to add another 50,000-sq-ft to that over the next few months.
"In addition, we have recently introduced the FrameCAD to our operations; this highly automated piece of equipment is capable of producing enclosure walls, as it can cut, punch and bend steel. With this technology we are able to make heavy-gage steel framing studs, and enclosures for enclosure walls, a lot faster."
Each facility has an important role to play in the design and manufacturing process, as Phil elaborates: "At our headquarters, we do a couple of highly specialized processes. We manufacture custom dry-type transformers, and other very specific kinds of equipment, using state-of-the-art facilities. We also produce highly technical electronic components, such as relays and circuit breakers. We manufacture all of those more standardized products in Utah, and the rest of our facilities focus on bespoke, turnkey designs.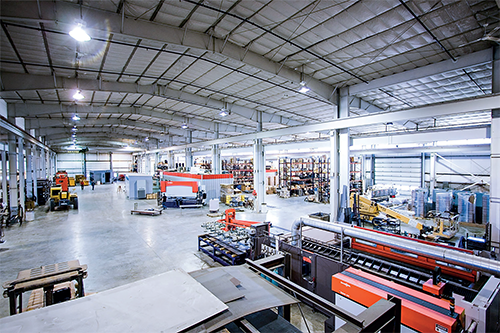 "Our custom products go through a unique design process, which is highly specified, according to the customer's specific application. We also create a custom manufacturing process for each design. This process happens at all of our locations to some extent, and that's because we have local access demands at each facility. We want to minimize shipping costs, and we also want to be as accessible as possible to customers and external evaluators. Customers often come in to tour our facilities or perform Factory Acceptance Testing (FAT's), so it's important that we have a good location, relative to them, in order to offer that experience."
With state-of-the-art facilities, and an unparalleled depth of knowledge, it comes as no surprise that IE has worked on a number of major projects in recent months. Two high profile projects include delivering over 100 battery modules for the Sanborn Edwards Combined Solar and Energy Storage Plant, the world's largest battery storage facility, and a turnkey data center for Foxconn, best known as Apple's trusted contract manufacturer for its products.
"When FoxConn built a large manufacturing facility in Wisconsin, it received nationwide press. We were very excited to work with them, especially when they opted for a modular layout, which we were able to design and build using our unique capabilities. The end product was a custom, 200KW data center, full of the most cutting-edge equipment; we provided a turnkey solution, including all electrical and mechanical delivery systems. It was a really great project for us," says Phil.
Projects like this highlight IE's enthusiasm, and drive. The company's dedication to creative and curious engineering saw its revenue grow 18 percent in 2021, and, with no signs of slowing down, this growth is predicted to increase to 25 percent by the end of 2022.
As IE continues to go from strength to strength, its leaders are on the lookout for passionate individuals, who are driven by a desire to learn, as Phil concludes: "Our workforce is the heart and soul of everything we do here. IE's competitive strategy, at the end of the day, just comes down to the quality and commitment of our people. Our work is demanding and our team is extremely dedicated. As part of our growth in 2022, it's our goal as leaders to continue investing in training and support, in order to continue to build a world-class workforce.
"We are looking to add employees in the near future. We're hoping to find individuals that we can train and develop; if they can bring the ambition and motivation, we can teach them the skill-set."
IE
www.ie-corp.com
Services: Electronic and mechanical infrastructure solutions