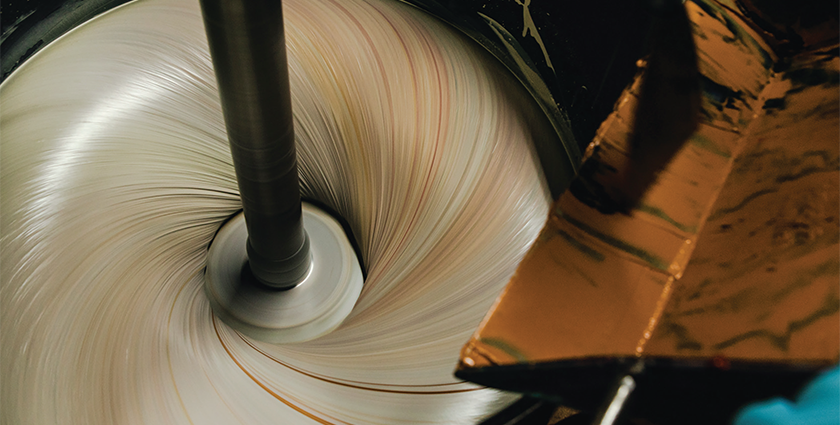 If these walls could talk, they would recommend one company to cover them: Newmor
Since its founding in 1967, Newmor has become one of the world's leading specialist producers of wallcovering solutions and interior finishing products. As the Wales-based manufacturer celebrates 55 years in business, Managing Director, David Johnston, sits down with us to shed some light on the inner workings of the company.
Over the last three decades, Newmor has diversified its range of services considerably, tapping into previously unexplored territory. At the fore of that shake up and expansion has been the exporting of goods; in fact, as David points out, Newmor now exports its products to more than 75 countries around the world.
Running alongside that, the company has similarly spread its wings and taken flight; satellite offices are located in Poland, Dubai, and Saudi Arabia. Infrastructural growth of this kind means that Newmor is acutely attuned to changes in the market and has been able to continually diversify its product offering and sales channels. But what truly separates Newmor from its competitors? David believes he has an answer.
"First, the number of products we make and the diversity of those products allows us to sell to many different markets, and that is one of our key differentiators," he contends. "For instance, we will make a product at the lower end of the spectrum for, say, the caravan and leisure industry high volume and low cost. However, we are also manufacturing high-end wallcoverings and interior finishing products for hospitality, residential, and bespoke project markets. The price is significantly different – but so is the quality and the technology involved. Recently, we launched a number of products for the high-end residential market under the brand name John Morris, which is a nod to our founder."
Not only that, but as one of the few remaining UK-based manufacturers within the wallcoverings niche, Newmor is able to quickly pivot on its rotating axis of creativity and react to clients' needs accordingly. Another key differentiator is the fact that Newmor never rests on its laurels. As mentioned, the company orbits around a rotating axis, which is itself fueled by an ambition to stay ahead of the curve and on top of the latest design trends.
Fashion forward
"We never look at just one area," explains David. "Rather, our research and design teams explore a number of different sectors, drawing inspiration from across the board: high street fashion, social media, shows, as well as taking advice from industry experts and colorists. All these merge, and we use this research to publish a trends forecast at the beginning of each year, which allows us to stay up-to-date with the latest styles and developments in the field.
"At the moment, we are seeing a lot of traction for the New Romantics, which means very deep colors; it is a pop culture movement that started in the 1970s and is inspired by the Victorian dandy," says David. "Very flamboyant, indeed! By drawing from trending styles such as this, we are building and developing an engaging product portfolio that is alive and responding to our ever-changing cultural context.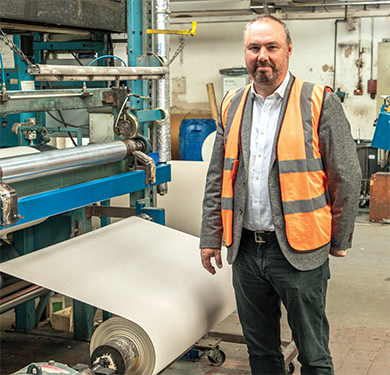 "Another way we stay actively engaged in our evolution is through embracing new technology," he goes on. "Recently, for example, we introduced a new X-Rite system, which works with Pantone colors and allows us to very easily and quickly match our colors on a consistent basis from batch-to-batch. Therefore, with technology such as this, when we remake a product, we can quickly match it with very tight tolerances. We are also able to adapt procedure and make adjustments on-the-go, and that has been a huge step for us. With that comes efficiency gains since product can flow through the production stage at a faster rate."
Innovative approach
Looking ahead, Newmor intends to capitalize further on new technology, equipment, and procedures. But, for David at least, true progress must come from innovation and product development. "There is no getting away from it: we manufacture vinyl wallcoverings," he admits. "Consequently, we must remain cognizant of that fact and endeavor to develop a product that is more environmentally friendly and sustainable. This will mean working in collaboration with our suppliers, and although this will be a challenge, we are on the right path to make it happen – and it needs to. The general market, as well as individuals, will demand it. For the business, it is important that we remain aware of what is required from us – both now and going forward – because, in doing so, we are securing an exciting and prosperous future."
If these walls could talk, what would they say? If our interview is anything to go by, then they would probably say: Make it Newmor.
www.newmor.com