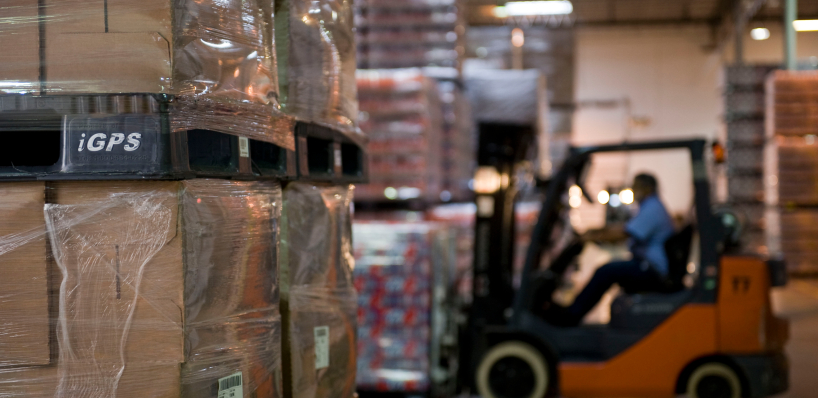 Although wood pallets still dominate the supply chain, more companies and business are starting to recognize the advantage of using plastic pallets to transport and store their goods.
Orlando, Fla.-based iGPS Logistics is leading the shift in the pallet-rental business from wood to plastic pallets. It is the leading plastic pallet pooling service provider in North America.
"We consider ourselves a part of market change," CEO Jeff Liebesman says. "In a relatively short period of time we have gained a major foothold in an industry traditionally dominated by wood and we believe that over time more and more businesses will come to recognize the unique product and services we offer."
iGPS considers itself an industry leader of innovative, world-class supply chain solutions leveraging sustainable shipping platforms while focusing on creating value for its customers, investors and employees.
The company's plastic pallets with radio frequency identification (RFID) tracking capabilities have placed it in the category as the world's first and only large-scale supplier of an all-plastic RFID-tagged pallet pool. Each iGPS pallet has four identical RFID tags embedded in its frame, enabling shipment tracking in real time.
"Our company is committed to being on the leading edge of supply chain innovation," Liebesman says. "The centerpiece is our unique 100 percent recyclable GMA spec plastic pallet — it's lighter, stronger, safer and greener than the legacy wood block pallet that hasn't changed in decades."
Saving Money
iGPS' business model provides manufacturers and retailers with compelling advantages. Being a part of the grocery goods supply chain, iGPS' plastic pallets are better designed for the industry when compared to their wood alternatives.
"Its unique features translate into compelling advantages over wood, most significantly a dramatic reduction in a customer's total cost of business — a savings of as much as $4 per pallet load," Liebesman says. "The savings occur in several areas—lower transport expense, less product damage and reduced damage to warehouse equipment."
Weighing 50 pounds, iGPS pallets are 35 percent lighter than the typical multi-use wood pallet. A typical wood rental pallet weights between 75 to 80 pounds. This 27-pound weight savings per-pallet makes our pallets easier to handle and saves up to 2,200 pounds per truckload, which translates into tremendous fuel and transport savings.
"Because our pallet is 35 percent lighter and requires less fuel to move shipments, companies also reduce their carbon footprint," Liebesman adds. "We even have a calculator on our website that enables companies to see how positive an impact they can have on the environment by switching to iGPS."
iGPS' business model has been created with sustainability as a cornerstone. Its pallets are 100 percent recyclable. Should a pallet become damaged, it will be ground up and remolded into new pallets, making its useful life indefinite. In addition, iGPS plastic pallets are incredibly durable platforms that can make in excess of 100 trips in their lifetime before they become unfit for the purpose.
An independent consulting firm recently conducted a first-ever comparison of the full environmental impact of iGPS' all-plastic pallet versus the typical multi-use rented wood pallet available on the market today.
The study covered all aspects of environmental impact, including contribution to global warming, ozone layer depletion and acidification. It concluded that iGPS' all-plastic pallet had dramatically less environmental impact than the pooled multi-use wood pallet—on every dimension measured.
When it comes to protecting contents, iGPS pallets feature a 97 percent top-deck coverage which provides for greater rigidity and contents protection than the typical multi-use wood pallet which has, at most, 87 percent top deck coverage.
"Any disruption to the manufacturing or automation in warehousing supply chain is enormously expensive," Liebesman adds. "We are really focused on ensuring that our product reduces the total cost of business in the supply chain."
Sanitization Service
Unlike wood pallets, which readily absorb liquids and can provide a breeding ground for bacteria, iGPS pallets are impervious to liquids and do not present a health risk.
"Unlike wood, our pallet will not absorb bacteria or mold, an important consideration in light of today's enhanced focus on food safety," Liebesman says. "Plastic is easily maintained in a cleaner state and can be sanitized if required."
iGPS now offers a pallet sanitization service that can remove 96 percent to 100 percent of bacteria, enabling customers to satisfy the enhanced standards of the Food Safety Modernization Act. "You can't do that with wood," Liebesman adds.
Last year, the company signed an agreement with PURE Bioscience, Inc., creator of a patented, non-toxic silver dihydrogen citrate antimicrobial sanitization solution.
PURE's proprietary solution is mist-spray applied to the surfaces of iGPS' plastic pallets to quickly eliminate microorganisms, preventing cross contamination. Test results demonstrated rapid efficacy (consistently over 96 percent reduction in bacteria counts), coupled with a highly favorable safety profile.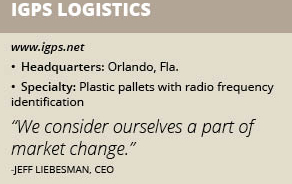 "The testing results from this new process on our plastic pallets are truly extraordinary," Liebesman says. "Through our partnership, we can now offer customers a level of hygiene and peace of mind far beyond all industry standards or current capabilities."
The newly developed PURE pallet sanitization solution helps food transportation operations to comply with the Food Safety Modernization Act requirement that transport equipment be sanitized to prevent food contamination.
Under ordinary circumstances, plastic pallets are generally cleaned with simple detergent and water. In addition, iGPS pallets do not need to undergo heat treatment, which can result in mildew, or fumigation with methyl bromide.
Safer Than Wood
Uniform size, shape and weight is another desirable feature of iGPS pallets. Unlike wood pallets, iGPS pallets are consistent in appearance and performance. With no broken boards or protruding nails that can injure workers and damage products and equipment, they work well in automated environments. "Wood pallets, which are sometimes handled by hand, can also cause splinters," Liebesman says. "Plastic will not."
In addition, iGPS pallets have undergone extensive testing and have received various certifications under FM Approvals 4996 and UL 2335. These certifications mean that the fire performance of iGPS pallets is equal or superior to wood, and that they are fully compliant with NFPA 13 fire sprinkler standards.
In addition, iGPS offers the world's only rental pallets that weigh 50 pounds, meet both GMA and ISO 8611-3 requirements and easily hold 2,800 pounds. The company's pallets are in use by many Fortune 100 companies nationwide and have passed a variety of tests and challenges. They continue to demonstrate exceptional durability in the supply chain.
"We are in the grocery supply chain," Liebesman says. "We focus primarily on produce, protein, dairy, pet food, pharmaceutical, beverages, bagged produce, canned goods and private label. Some of the largest top brands are our customers."
Any industry that ships unitized loads can benefit from iGPS' services. Some examples include grocery, pharmaceutical, consumer electronics and consumer packaged goods industries.
Innovative Technology
Having plastic pallets with radio frequency identification (RFID) tracking capabilities increases supply chain visibility.
The ability to tag a pallet with RFID is a major breakthrough in product traceability. iGPS has been at the forefront of technology advancements.
"Our customers are leading brands in a variety of sectors, primarily grocery and Big Box," Liebesman says. "They are 'early adopters,' which explains why they are market leaders — they are always looking for ways to innovate. We're proud to be part of the solution."
Each iGPS pallet contains four redundant Gen 2 RFID tags embedded in its frame. All tags are readable in three ways — via RFID, bar code, or alphanumerically. Each pallet carries a unique serial number that can be tracked throughout the supply chain, reducing administrative costs and facilitating billing reconciliation.
"We will always remain at the forefront of innovation," Liebesman says. "We are totally committed to research and development and constantly innovating new design and improvements to our plastic pallets and service offerings."
iGPS operates a pooled pallet rental and management system. Its customers can contract for the exact number of pallets they need, rather than having to stock for peak seasons and keeping idle pallets in storage.
"There are essentially three pooling companies in our industry in the U.S.," Liebesman says. "Two are wood and then there's us. At this time, we are the smallest of the three."
Companies that have been using wood pallets – which are difficult to RFID-tag and track – can readily upgrade to iGPS pallets and avoid the expense of purchasing and maintaining a pallet inventory.
In addition, iGPS pallets weigh a lot less than wood, their weight never varies, they consistently measure 48 inches by 40 inches in dimension, retain their shape and unlike wood pallets (whose size, weight and shape aren't consistent), iGPS pallets allow customers to plan their shipments to closer tolerances and improve the volume of goods moved per load.
"We are investing a lot of money and resources in growing our fleet of pallets with the world's most advanced plastic pallets," Liebesman says. "The demand is out there. We might be the largest buyer in the United States of plastic pallets at this time.
I believe this commitment to aggressively growing our fleet of pallets, perfectly aligns iGPS with the grocery supply chain needs of improving efficiencies, driving down total cost of business, improving safety and hygiene. We will continue to support the growth driven by the shift towards plastic pallets and our service offering by increasing iGPS's investment into growing its fleet."
The One And Only
iGPS is North America's only pallet pooling service that provides 48-inch by 40-inch plastic pallets. Its platform enables larger load patterns and is ideally suited for automated environments.
The company takes pride in helping its customers by providing them with pallets that generate measurable savings in transport, reduced product damage and other operational efficiencies.
It is also the world's only multi-use pallet to receive NSF Food Equipment Certification. Its platform is a major advance in supply chain hygiene since it will not absorb fluids that can lead to contamination and never requires treatment with toxic pesticides or fungicides.
"The grocery supply chain has about 780 million pallet issues per year," Liebesman says. "The majority of that is wood. Plastic is a small part of that. But we are seeing a lot of conversion to plastic and I think that will continue."
Liebesman, who has been with iGPS since 2013, has over 20 years combined experience in the asset pooling business including through his South African-based company Palogix International. Palogix is a market leader in providing global supply chain solutions and pooling services for returnable packaging goods, including pallets and folding and fixed plastic containers. Palogix International services an extensive range of industries throughout Southern Africa,North America, South America and Europe.