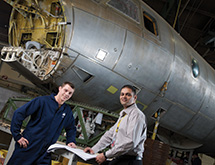 When the Canadian Department of National Defence (DND) needs aircraft maintenance, it turns to IMP Aerospace & Defence. "We're the largest military aircraft maintenance organization in Canada providing in-service support on seven aircraft fleets for our Royal Canadian Air Force," Vice President of International Marketing Carl Kumpic says.
Based in Halifax, Nova Scotia, IMP Aerospace & Defence is a business unit of IMP Group International Inc., which provides services to multiple sectors, including aerospace and defense, aviation, airlines, healthcare, information technology, hospitality and property management. Executive Chairman Kenneth C. Rowe started the company in 1967 as Industrial Marine Products (IMP) Ltd.
The company began as a modest operation that distributed products for the commercial marine industry. Over time, IMP Group grew through acquisitions and today employs over 4,400 employees. Its IMP Aerospace & Defence business unit has several operations of its own, Kumpic notes.
These include IMP Aerospace, which offers engineering and maintenance support to the DND and other international customers for fixed and rotary wing aircraft. Its IMP Aerostructures division manufactures and integrates structural assemblies and components for clients such as Boeing, Lockheed Martin Corp., Bombardier and Bell Helicopter.
Its IMP Electronic Systems division designs, manufactures and repairs wire harnesses and electrical components. Both Aerostructures and Electronic Systems represent "our core manufacturing divisions," Kumpic says.
IMP Aerospace & Defence also has Cascade Aerospace, which offers depot-level engineering and maintenance support to DND and international military and commercial customers; and Canadian SAR Helicopter, which supports Canada's CH-149 Cormorant search-and-rescue helicopters. Its IMP Naval & Land Services division offers comprehensive Integrated Logistics Support, engineering, hardware manufacturing and supply chain management.
Kumpic credits IMP Group's success to its diversity. "Within the aerospace and defense sector, we have a number of skills we can draw upon, including manufacturing services and technical services," he says.
Its diversity also is reflected in its client base. In addition to its work for the DND, "We've done work for the Royal Norwegian Air Force, the Spanish Navy and the Mexican Air Force," he says, noting that the company wants to grow its business outside of Canada. "As well, within our core manufacturing divisions, we're taking as much advantage as possible with our current favorable exchange rate."
Streamlining Systems
IMP Aerostructures and IMP Electronic Systems have embraced lean manufacturing concepts, Kumpic says. "We use these processes to ensure our high quality is maintained and that we remain cost competitive," he says, noting that this has contributed to winning the Boeing Gold Performance Award two years in a row.
IMP has benefited from the use of Oracle's JD Edwards OneWorld ERP software. "That has allowed us to efficiently plan our material requirements so we can streamline purchases as best we can by taking in consideration the lead time of our suppliers with production demand," he says.
As well, IMP Aerospace & Defence works with local vendors that supply and manage supplier-owned inventories at its locations. "They ensure that minimum quantities are maintained within our operation at all times," Kumpic says.
"The vendors own the material until we actually issue it to the job," he says. "We're always looking at innovative ways to improve our productivity and maintain a high level of customer satisfaction."
A Major Player
IMP Aerospace & Defence has coped with drops in defense and aerospace spending in Canada. Over the past year, "There have been significant budget constraints and we're seeing higher global competition," Kumpic says. "It's been a challenge."
Despite these conditions, IMP Aerospace & Defence continues to maintain a strong position. Thanks to the recent acquisition of companies like Cascade Aerospace, "We're being recognized as a major player in Canada and we're receiving performance awards from our clients," Kumpic says.
He notes that IMP wants to develop a presence in other areas, including the United States. "There is a significant bit of defense business there," he says, noting that the company seeks new partnerships. "Given IMP's strong technical capabilities and Canada's weaker currency exchange to the U.S. dollar, our products and services represent excellent value to the U.S. marketplace."